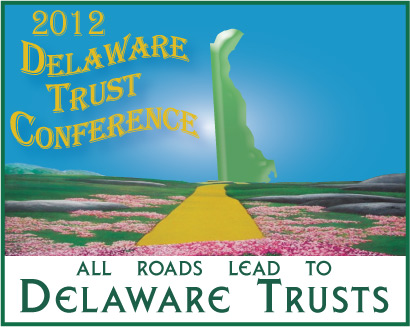 2012 Delaware Trust Conference
"All Roads Lead to Delaware Trusts"
October 2nd & 3rd
Hotel du Pont, Wilmington, Delaware
On the journey to effective estate planning all roads truly lead to the Delaware Trust product. The 2012 Delaware Trust Conference will highlights the advantages of Delaware Trusts. Click on the link below to view the conference agenda.
2012 Delaware Trust Conference Agenda
Thank You to All Our Sponsors for Helping to
Make the 2012 Delaware Trust Conference a Success!
Platinum Sponsor
UBS Trust Company
Gold Sponsors
The Goldman Sachs Trust Company
J.P. Morgan Trust Company of Delaware
PNC Delaware Trust Company
Potter Anderson & Corroon LLP
Richards Layton & Finger
Wilmington Trust
Young Conaway Stargatt & Taylor, LLP

Silver Sponsors
Brown Brother Harriman Trust Company of Delaware, N.A.
The Bryn Mawr Trust Company of Delaware
Christiana Trust, a division of WSFS Bank
Commonwealth Trust Company
Cooch & Taylor, P.A.
Gordon, Fournaris, Mammarella, P.A.
Morris James
Morris, Nichols, Arsht & Tunnell
Newton One Advisors
Reliance Trust Company of Delaware
SunTrust Delaware Trust Company

Bronze Sponsors
Bayard
Christie's
Delaware Economic Development Office
Fiduciary Trust International
New Jersey Bankers Association
Santora CPA Group
Tighe & Cottrell, P.A.

SPACE IS LIMITED! REGISTRATION TODAY!
2012 Delaware Trust Conference Agenda
Total Credits for Conference: 15.5 (including 2.0 Ethics Credits)