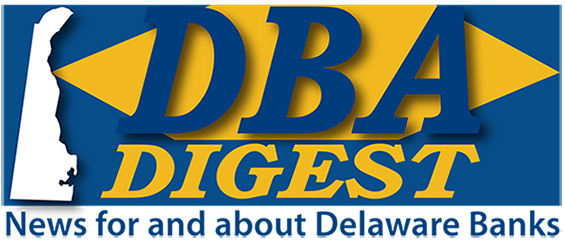 August 16, 2019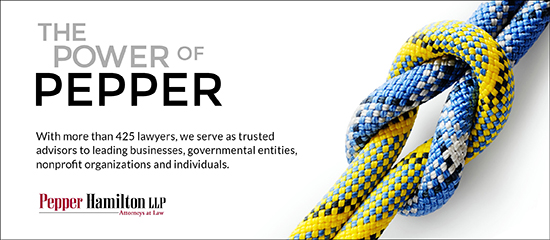 DBA Trust Committee Meeting - Friday, September 20th
9:00 a.m. - Offices of Connolly Gallagher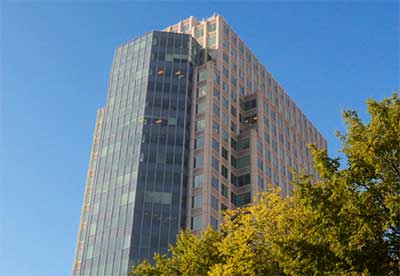 Trust professionals, mark your calendar for the next meeting of the DBA Trust Committee meeting, Friday, September 20th, 9 a.m., at the offices of Connolly Gallagher, in Wilmington. The meeting will feature: an update on the Trust Act from Greg Weinig of Connolly Gallagher; OSBC Proposed Amendment to Procedures for Applications to Form a Bank, Bank and Trust Company or Limited Purpose Trust Company; updates on the 2019 Delaware Trust Conference and plans for the next round of Foundations of Delaware Trust courses. Space is limited. Please RSVP to Greg Koseluk if you would like to attend.


Save the Dates - November 7th & 8th - Women Connect!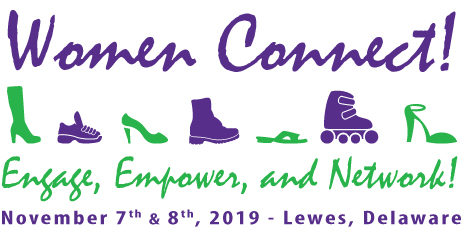 Save the dates for the next Women Connect event - November 7th and 8th in Lewes, Delaware. Thursday night features a reception with filmmaker Melissa Davey and special screening of her film "The Beyond 60 Project," a documentary initiative about women over the age of 60. The next morning will feature engaging speakers, including Susan Rocco, founder and host of "The Women to Watch" Radio program.


Save the Date for "Compliance '19" - November 19th - 21st - Wilmington University Brandywine Campus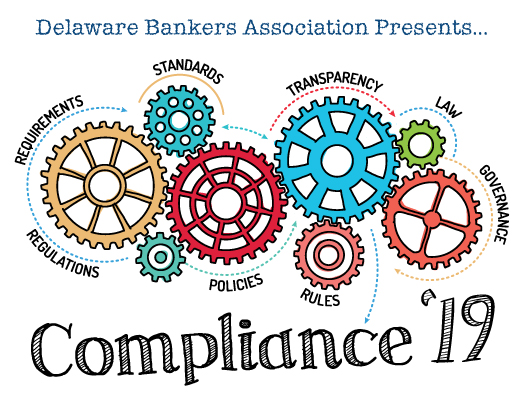 Save the date for the DBA's annual Compliance School: Compliance '19! This year's event will be Tuesday through Thursday, November 19th - 21st at Wilmington University's Brandwine Campus. Compliance '19 will shine a spotlight on a number of ongoing, current and pending changes and will feature detailed discussions of emerging issues in consumer lending, deposits/operations, risk-management, audit, and AML/BSA/OFAC. Best of all, the School offers a valuable opportunity for peer exchange. Topics include: • BSA/AML/OFAC • Fraud • Cybersecurity • CRA • TRID • Beneficial Ownership • Elder Abuse • Flood Insurance • Reg. CC • Updates to compliance manuals and guides, and much more! Stay tuned for the full agenda and registration!
Sponsored by Pepper Hamilton, LLP!



2019 FDIC Director's College- Registration Now Open!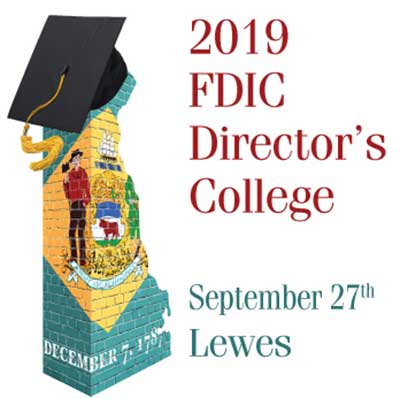 Registration is now open for the 2019 FDIC Director's College, September 27th at the University of Delaware Virden Center, in Lewes. The FDIC Directors' College is an interactive program that provides ongoing education on current topics of bank supervision to bank directors, senior officers, corporate secretaries, and board advisors. The course is designed to help directors and trustees, both new and experienced, stay abreast of the ever-changing regulatory environment. This year's agenda includes: Conversation with Regulators; Liquidity Managment; CRE Stress Scenario Analysis; Assessing Fintech Strategies; and, more. Click on the link below to see the detailed agenda and access the registration form.



Don't Miss the All-Star Lineup at the 2019 Delaware Trust Conference! Register Today!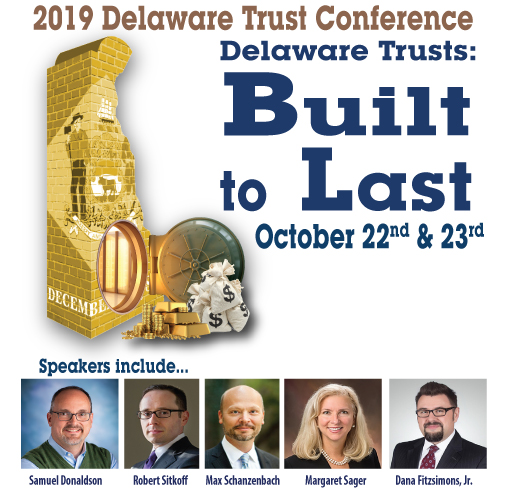 Wealth Management Professionals, don't miss the All-Star lineup of the nation's top trust, legal and wealth management experts at the 2019 Delaware Trust Conference. Get the latest information on maximizing the benefits on Delaware trusts along with a wide array of information for trust practitioners from across the nation! See Sam Donaldson, Robert Sitkoff, Margaret Sager, and many more! Click on the link below to see this year's great line-up of speakers and topics, and to access the registration form!



Brandywine Health Foundation Names Gawthrop Greenwood's P. Kristen Bennett to Executive Board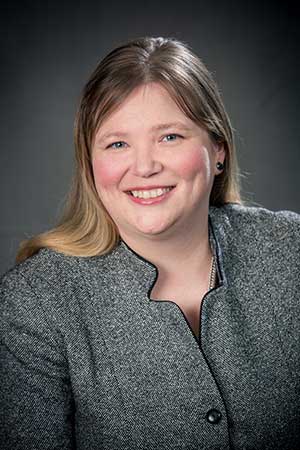 P. Kristen Bennett, an attorney and partner with the full-service law firm Gawthrop Greenwood, PC, has been named by the Brandywine Health Foundation to its Executive Board. "In her first year, Ms. Bennett has played a critical role as a member of our board of directors, and we are pleased to have her advance to the Executive Committee as she expands her responsibilities to serve as Governance Chair," said Vanessa Briggs, President and CEO of Brandywine Health Foundation. "On the heels of the foundation rolling out its new strategic plan, this role will help to institutionalize effective governance and development practices as Ms. Bennett leads the committee in revising bylaws. Additionally, she will oversee the selection of new board members."
54 Richards, Layton & Finger Attorneys
Named in Best Lawyers in America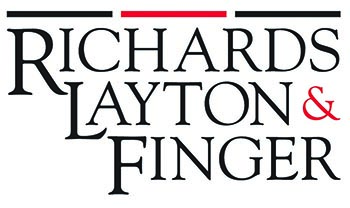 Fifty-four Richards, Layton & Finger attorneys have been named in the 2020 edition of The Best Lawyers in America, more lawyers than from any other Delaware firm. Richards Layton is also ranked first in Delaware in four practice areas: Business Organizations (including LLCs and Partnerships), Commercial Litigation, Corporate Law, and Securitization and Structured Finance Law. In addition, four firm attorneys—Kelly E. Farnan (Patent Litigation), Eric A. Mazie (Securitization and Structured Finance Law), Mark V. Purpura (Business Organizations, including LLCs and Partnerships), and Gregory P. Williams (Bet-the-Company Litigation)—have been selected as 2020 Wilmington, Delaware Lawyers of the Year, an award presented to one outstanding lawyer in each practice area in a designated metropolitan area. "Our firm is filled with bright, talented, hard-working attorneys who consistently get good results for our clients," says Doneene Keemer Damon, president of Richards, Layton & Finger, "and we're honored that Best Lawyers continues to recognize our truly exceptional lawyers."
Best Lawyers® Recognizes 32 Morris James Attorneys
in 33 Practice Areas


Thirty-two Morris James attorneys in 33 practice areas were selected by their peers for inclusion in The Best Lawyers in America© 2020 edition. Additionally, three of those attorneys were named "Lawyer of the Year" for their respective practices, including Keith E. Donovan for Personal Injury Litigation - Plaintiffs, Richard Galperin for Personal Injury Litigation – Defendants, and Robert G. Gibbs for Health Care Law. Congratulations to Nicholas J. Caggiano, Lewis C. Ledyard, III, and Michael M. Ledyard for being recognized for the first time.
33 Potter Anderson Attorneys Named to
the 2020 Best Lawyers® List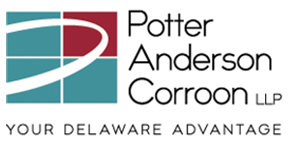 Thirty-three Potter Anderson attorneys have been included in the 2020 edition of The Best Lawyers in America. View the full listed via the link below.
Pepper Hamilton Attorneys Speaking at LEND 360

Pepper Hamilton is proud to continue sponsorship of LEND360, one of the most active conferences in the online lending space. LEND360 is the go-to event that connects every angle of the online lending industry and offers unparalleled networking and learning opportunities with the best and brightest in the industry. This year's conference takes place in Dallas, TX on September 25–27, 2019. Richard P. Eckman will present "An Update From Washington: Federal Level Updates in Consumer Lending." Gregory J. Nowak with speak on "Innovations and Trends in Fintech Payment Technologies." And Mark T. Dabertin will address "Challenges to Bank-Fintech Partnerships: A Legal Landscape and Potential Solutions." Follow the link below for agenda, registration, and a special registration discount offer.
Ballard Spahr Honored by Human Rights First for Outstanding Pro Bono Service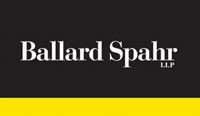 Human Rights First will present Ballard Spahr with its 2019 Marvin E. Frankel Award, which recognizes the firm's exceptional pro bono service to refugees and asylum seekers. Since 2001, Ballard Spahr has partnered with Human Rights First to provide legal representation to indigent asylum seekers in the Washington, D.C. area. Firm attorneys have taken on a number of complex asylum matters, including the case of a Nigerian woman fleeing death threats from Boko Haram and, later, the derivative asylum claims of her children. Ballard Spahr lawyers secured asylum for the family, which reunited in the U.S. earlier this year. Human Rights First is a non-profit organization dedicated to protecting human rights in the United States. It works to protect refugees, defend persecuted minorities, and combat torture.
| | |
| --- | --- |
| | For more information on DBA programs and events visit www.debankers.com or click on the logo at right to redirect to our website. |


Delaware Bankers Association
8 W. Loockerman Street
Dover, DE 19903