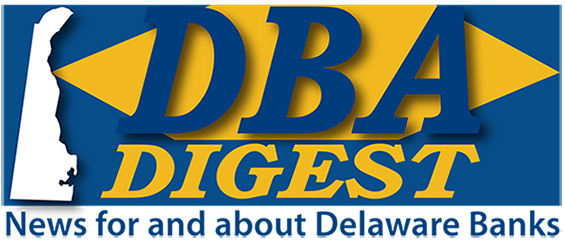 August 30, 2019

News Journal Top Workplaces 2019
Seven DBA Members Honored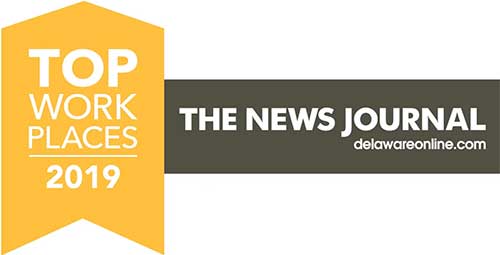 Seven DBA Members and Associate Members have been honored in the 2019 News Journal Best Workplace Awards. In the large company category (400 or more employees) WSFS Bank, and Discover Financial Services ranked in the top ten (first, and seventh, respectively). In the mid-size category (100 to 399 employees) Morris James LLP ranked eleventh. In the small company category (less than 100 employees) Connolly Gallagher (3rd); NCALL (9th); Santora CPA Group (11th); Belfint, Lyons, & Shuman, P.A. (16th) were recognized.

In the Special Awards Category, Rodger Levenson, President and CEO, WSFS Bank, was recognized for Leadership (Large Company). Discover Financial Services was cited for their Benefits. Connolly Gallagher LLP was recognized in the Values category. NCALL was cited for Work/Life Flexibility. Congratulations to all the honorees!



Registration Now Open! - Women Connect!
November 7th & 8th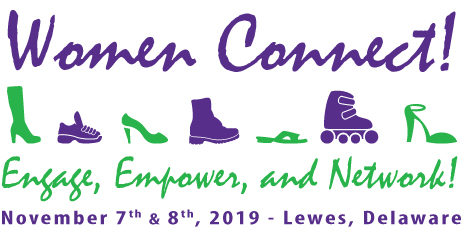 Registration is now open the next Women Connect event - November 7th and 8th in Lewes, Delaware. Thursday night features a reception with filmmaker Melissa Davey and special screening of her film "The Beyond 60 Project," a documentary initiative about women over the age of 60. The next morning will feature engaging speakers, including Susan Rocco, founder and host of "The Women to Watch" Radio program, and Michelle DiFebo Freeman, the Founder and CEO of the Carl M. Freeman Foundation. Attend one event or both! Sponsorship opportunities also available! Join Platinum Sponsor, Capital One; and Silver Sponsor, The Bryn Mawr Trust Company of Delaware. Click on the link below for the full agenda, registration form, and sponsorship information.



DBA Trust Committee Meeting - Friday, September 20th
9:00 a.m. - Offices of Connolly Gallagher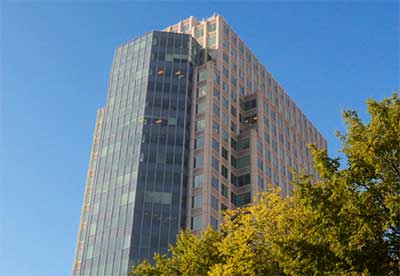 Trust professionals, mark your calendar for the next meeting of the DBA Trust Committee meeting, Friday, September 20th, 9 a.m., at the offices of Connolly Gallagher, in Wilmington. The meeting will feature: an update on the Trust Act from Greg Weinig of Connolly Gallagher; OSBC Proposed Amendment to Procedures for Applications to Form a Bank, Bank and Trust Company or Limited Purpose Trust Company; updates on the 2019 Delaware Trust Conference and plans for the next round of Foundations of Delaware Trust courses. Space is limited. Please RSVP to Greg Koseluk if you would like to attend.


2019 FDIC Director's College- Registration Now Open!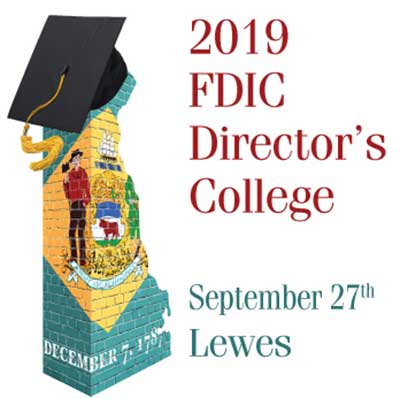 Registration is now open for the 2019 FDIC Director's College, September 27th at the University of Delaware Virden Center, in Lewes. The FDIC Directors' College is an interactive program that provides ongoing education on current topics of bank supervision to bank directors, senior officers, corporate secretaries, and board advisors. The course is designed to help directors and trustees, both new and experienced, stay abreast of the ever-changing regulatory environment. This year's agenda includes: Conversation with Regulators; Liquidity Managment; CRE Stress Scenario Analysis; Assessing Fintech Strategies; and, more. Click on the link below to see the detailed agenda and access the registration form.



Don't Miss the All-Star Lineup at the 2019 Delaware Trust Conference! Register Today!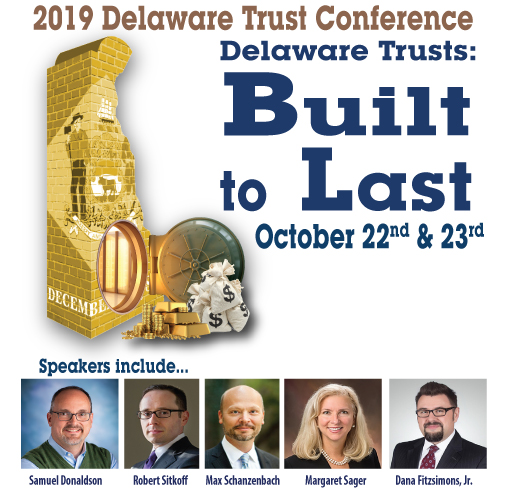 Wealth Management Professionals, don't miss the All-Star lineup of the nation's top trust, legal and wealth management experts at the 2019 Delaware Trust Conference. Get the latest information on maximizing the benefits on Delaware trusts along with a wide array of information for trust practitioners from across the nation! See Sam Donaldson, Robert Sitkoff, Margaret Sager, and many more! Click on the link below to see this year's great line-up of speakers and topics, and to access the registration form!



WSFS Financial Completes Integration and Rebranding of Beneficial Bank into WSFS Bank


WSFS Financial Corporation has completed the systems integration and rebranding of Beneficial Bank into its primary subsidiary, WSFS Bank. All Beneficial Bank accounts have successfully converted to WSFS Bank accounts. All legacy Beneficial Bank Customers, now WSFS Bank Customers, have full access to WSFS Bank services and solutions, including more than 90 retail banking offices across Delaware, the City of Philadelphia, southeastern Pennsylvania, and southern New Jersey; and a network of nearly 500 WSFS ATMs. WSFS President and Chief Executive Officer, Rodger Levenson said, "We welcome our newest Customers to WSFS Bank. This integration and rebranding effort caps a year-long process to thoughtfully combine the two longest-standing community banks of the Greater Delaware Valley to create the largest locally headquartered bank with the benefit of over 300 combined years of service to our region." He continued, "At more than $12 billion in assets, WSFS Bank now fills a long-standing gap between big banks and smaller community banks in the Greater Delaware Valley. This unique market positioning will enable us to continue delivering sustainable high performance for years to come."
Save the Date for "Compliance '19" - November 19th - 21st - Wilmington University Brandywine Campus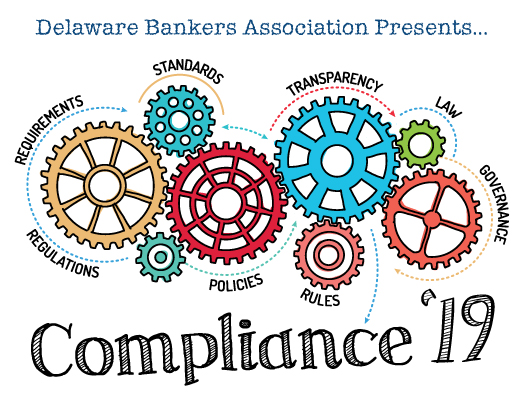 Save the date for the DBA's annual Compliance School: Compliance '19! This year's event will be Tuesday through Thursday, November 19th - 21st at Wilmington University's Brandwine Campus. Compliance '19 will shine a spotlight on a number of ongoing, current and pending changes and will feature detailed discussions of emerging issues in consumer lending, deposits/operations, risk-management, audit, and AML/BSA/OFAC. Best of all, the School offers a valuable opportunity for peer exchange. Topics include: • BSA/AML/OFAC • Fraud • Cybersecurity • CRA • TRID • Beneficial Ownership • Elder Abuse • Flood Insurance • Reg. CC • Updates to compliance manuals and guides, and much more! Stay tuned for the full agenda and registration!
Sponsored by Pepper Hamilton, LLP!



Is Your Institution in Compliance with the Labyrinth of Cybersecurity Regulations?


The Capco Center of Regulatory Intelligence provides the latest intelligence, thought leadership and leading-edge regulatory insights into risk, information security and compliance issues. Capco SMEs provide frequent white papers to assist readers in understanding issues that are facing the industry and our clients. With the continuous stream of domestic (both federal and state) and foreign regulations around protection of personal information, it is understandably confusing. This white paper presents Capco's 31 leading cyber practices and compares them to domestic regulations as well as the EU's GDPR. It also compares three of the more common cyber security frameworks to Capco's 31 showing where they are in alignment and if followed, puts you in a greater position for compliance with the labyrinth of regulations.
| | |
| --- | --- |
| | For more information on DBA programs and events visit www.debankers.com or click on the logo at right to redirect to our website. |


Delaware Bankers Association
8 W. Loockerman Street
Dover, DE 19903