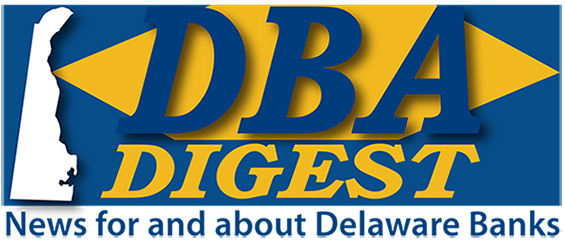 August 31, 2018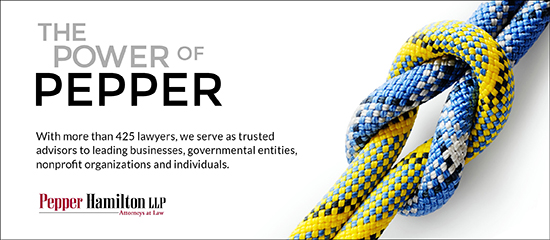 Delaware Primary!
Remember to Vote - THURSDAY, SEPTEMBER 6th!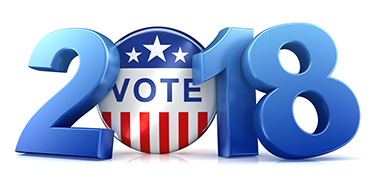 Your vote is important! Please remember to vote in the Delaware Primary, Thursday, September 6th. In order to vote, Delaware residents must be registered as a Democrat to vote in the Democratic Primary, or as a Republican to vote in the Republican Primary. For more information on the primary, including where to vote, please follow this link: https://ivote.de.gov/voterlogin.aspx



News Journal Top Workplaces 2018
Seven DBA Members Honored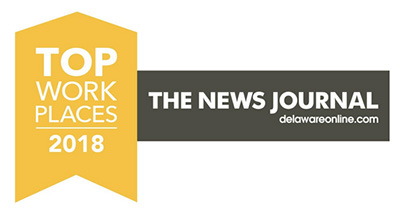 Seven DBA Members and Associate Members have been honored in the 2018 News Journal Best Workplace Awards. In the large company category (400 or more employees) WSFS Bank, and Discover Financial Services ranked in the top ten (two, and eight, respectively). In the mid-size category (100 to 399 employees) Morris James LLP ranked eleventh. In the small company category (less than 100 employees) Connolly Gallagher (6th); Gunnip & Company LLP (7th); Bayard, P.A. (13th); Belfint, Lyons, & Shuman, P.A. (25th) were recognized. Congratulations to all the honorees!



M&T Bank Names Randy Kunkle Regional CRA Officer for the Delaware, Greater Philadelphia, and Eastern Shore of Maryland Markets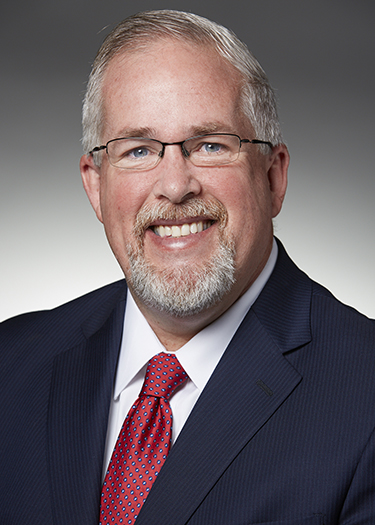 J. Randall "Randy" Kunkle was named Vice President, Regional CRA Officer for M&T Bank's Delaware, Greater Philadelphia, and Maryland Eastern Shore markets. In his new role, Kunkle is responsible for developing and implementing Community Reinvestment Act (CRA) programs to meet the credit and banking needs of the low-to-moderate income population in these markets. M&T Bank recently received an "Outstanding" Community Reinvestment Act rating from the Federal Reserve Bank of New York, representing the highest possible rating of how well the bank meets the credit needs of its communities. M&T has earned the highest rating awarded by the Federal Reserve Bank on each of its period CRA exams since 1982. "M&T Bank is pleased to welcome Randy Kunkle to our team as we continue to expand the bank's positive impact on our communities throughout Delaware, Philadelphia, and the Eastern Shore," said President of M&T Bank's Delaware Region Nick Lambrow.



Christopher Benjamin Named
Community Bank Delaware Vice President


Community Bank Delaware is pleased to announce the promotion of Christopher Benjamin to Vice President in our Lending Group. Chris Benjamin joined the Bank in 2016. Within this time, Chris has been successful in growing the Bank's loan portfolio, adding new relationships and managing existing customers. President Wm. Jack Riddle states "Chris is the type of person that exudes personality and knowledge all in one, and when you add 26 years of experience in lending and sales, it is understandable why he automatically connects with customers." Mr. Benjamin holds a Bachelor of Science degree from Salisbury University with a Major in Finance and Psychology. Mr. Benjamin's office is in Lewes where he will continue to focus on helping grow the consumer and business loan portfolio base throughout Sussex County.



Get Ready for the Tricks and Treats of Delaware Trusts - October 23rd & 24th! Register Today!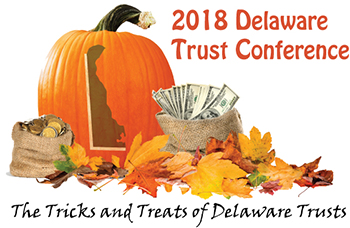 Wealth management professionals learn the wealth management tricks to treat your clients to all the benefits of Delaware Trusts! The thirteenth annual Delaware Trust Conference will highlight the unique advantages of the First State's trust environment. Over fifty of the nation's top trust, legal and wealth management experts will provide the latest information on using Delaware trusts to the maximum benefits for you and your clients. The Delaware Trust Conference is an ideal opportunity tailored to the needs of: Trust Professionals, Portfolio Managers, Financial Advisors, Attorneys, CPAs, CTFAs, Wealth & Asset Management Services Executives, Executive Trust Officers, Investment Officers, Investment Managers, and Trust Department Managers. Follow the link below to find the full conference agenda and registration information.



FDIC Directors' College - September 28th - Lewes Delaware!



The FDIC Directors' College is an interactive program that provides ongoing education on current topics of bank supervision to bank directors, senior officers, corporate secretaries, and board advisors. The course is designed to help directors and trustees, both new and experienced, stay abreast of the ever-changing regulatory environment.
Sessions include: Emgering Credit Risk; BSA/AML; a Case Study on Strategic Decisions and the Effect on CRA; and, more! Click on the link below for full agenda and registration information.



Sallie Mae to Award $25,000 College Scholarship to High School Junior or Senior From Delaware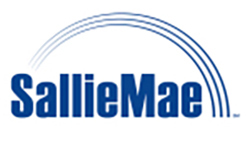 A high school junior or senior from Delaware will receive a $25,000 Bridging the Dream Scholarship from Newark-headquartered Sallie Mae, the nation's saving, planning, and paying for college company. The scholarship is one of seven Sallie Mae will award to deserving high school juniors and seniors this fall. Sallie Mae's Bridging the Dream Scholarship Program recognizes students who have excelled both inside and outside of the classroom, but whose financial circumstances or other obstacles in life may not allow them to pursue a college education. High school counselors and community leaders can nominate students now through Sept. 27. "The Bridging the Dream Scholarship Program is central to our mission at Sallie Mae of helping aspiring minds create the lives they imagine," said Martha Holler, senior vice president, Sallie Mae. "The program also highlights the great work of school counselors and community leaders who nominate these exceptional students and share in that important goal of making the dream of college a reality. We look forward to learning about all of the great students right here in our backyard."


Peter Gordon Named Friend of the Academy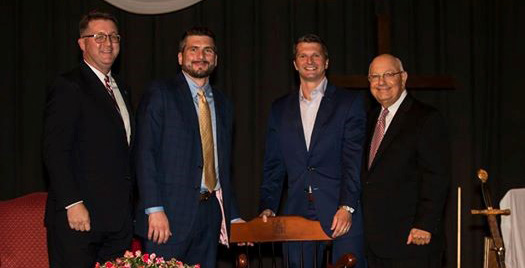 On June 3, 2018, Peter Gordon was awarded the Friend of the Academy award from Saint Edmond's Academy. Saint Edmond's presents the Friend of the Academy award to an individual or individuals who have demonstrated sincere commitment to Saint Edmond's during and after their time as students. Award winners have proven to be engaged, dedicated, supportive and faithful to the mission Saint Edmond's Academy stands for and have also shown support for the advancement of Saint Edmond's educational work. Since graduating in 1966, Peter has stayed engaged with Saint Edmond's, helping to navigate some charitable and legal issues, and he continues to support Saint Edmond's as it enhances the education and experience for its students. Peter's three sons, Michael, David and Mark, also attended the Academy, and Michael and Mark are both attorneys at Gordon, Fournaris & Mammarella, P.A. with Peter. Due to a scheduling conflict, Peter was not able to attend the ceremony, but Michael and Mark were honored to accept the Friend of the Academy Award on Peter's behalf (photo above).
Pepper Hamilton Alert: Maryland Court Clarifies Rules for Foreign Statutory Trusts In Foreclosure Proceedings


The Maryland Court of Appeals' decision in Blackstone v. Sharma provides much-needed clarity to mortgage debt owners. The case, which consolidated four separate appeals, centered on whether the Maryland Collection Agency Licensing Act (MCALA) requires principal actors of Maryland's mortgage market to obtain a collection agency license. Blackstone, 2018 WL 3691347, at *1 (Md. Aug. 2, 2008). The court held that foreign statutory trusts do not need to be licensed as collection agencies under MCALA before initiating foreclosure proceedings in the state. The court analyzed the plain language and legislative intent of MCALA, as well as subsequent and related legislation, to reach its determination that statutory trusts fall outside the regulatory scope of the act. The court's decision clarifies Maryland foreclosure procedures — in effect, green-lighting those foreclosure actions that were previously halted by lower court decisions.
Home Equity Line of Credit: Recent Significant
Developments Affecting Bank HELOCS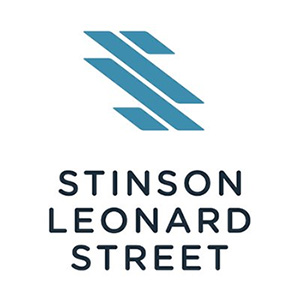 The Tax Cuts and Jobs Act of 2017 ("TCJA"), made major tax law changes, including limiting individual deductions and the mortgage interest deduction. U.S. home equity is estimated to be more than $5.8 trillion, double the level in 2011, according to Bloomberg. The growth in home equity is attributable to increases in home values and selling prices. Beginning in 2018, taxpayers may deduct interest on $750,000 of new qualified residential mortgages. Under prior law, up to $1 million was eligible for home mortgage deduction and another $100,000 in HELOC indebtedness was eligible as a home mortgage deduction. The prior deduction for HELOCs, was eliminated as a separate deduction under the TCJA. View the full HELOC Powerpoint presentation byTimothy R. McTaggart, Partner, Stinson Leonard Street LLP, at the link below.
K&L Gates and Singapore's Straits Law Practice Receive Legal Services Regulatory Authority Approval Following Combination Discussions


Global law firm K&L Gates LLP and Singapore firm Straits Law Practice LLC have been in discussions regarding a combination of K&L Gates' Singapore office with Straits Law, for which the firms have received approval from the Singapore Legal Services Regulatory Authority. The combination is now subject to the agreement of the partners of both firms and the subsequent signing of documents, with a targeted effective date of 1 January 2019. The combination would expand Straits Law's full-service practice offering to a global level while also allowing K&L Gates to provide clients with legal services involving Singapore law. N. Sreenivasan, SC, Managing Director of Straits Law, and David K.Y. Tang, K&L Gates' Managing Partner, Asia, said: "The combined talents and resources of our lawyers in Singapore will allow us to seamlessly serve both local and international clients in Singapore and in the region."
| | |
| --- | --- |
| | For more information on DBA programs and events visit www.debankers.com or click on the logo at right to redirect to our website. |


Delaware Bankers Association
8 W. Loockerman Street
Dover, DE 19903