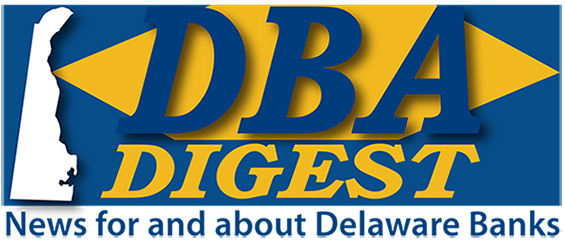 August 9, 2019

LAST DAY TO SAVE!
Extended Delaware Trust Conference Discounted Early Bird Registration Ends TODAY!




Wealth Management Professionals, today is the final day to take advantage of the Discounted Early Bird Registration period for the 2019 Delaware Trust Conference! This year's conference features a stellar line-up of the nation's top trust, legal and wealth management experts. Get the latest information on maximizing the benefits on Delaware trusts along with a wide array of information for trust practitioners from across the nation! Click on the link below to see this year's great line-up of speakers and topics, and to access the registration form!



2019 FDIC Director's College- Registration Now Open!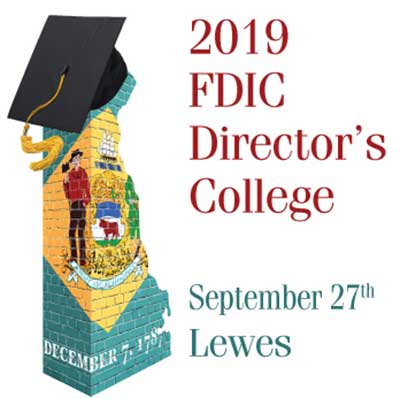 Registration is now open for the 2019 FDIC Director's College, September 27th at the University of Delaware Virden Center, in Lewes. The FDIC Directors' College is an interactive program that provides ongoing education on current topics of bank supervision to bank directors, senior officers, corporate secretaries, and board advisors. The course is designed to help directors and trustees, both new and experienced, stay abreast of the ever-changing regulatory environment. This year's agenda includes: Conversation with Regulators; Liquidity Managment; CRE Stress Scenario Analysis; Assessing Fintech Strategies; and, more. Click on the link below to see the detailed agenda and access the registration form.



DBA Trust Committee Meeting - Friday, September 20th
9:00 a.m. - Offices of Connolly Gallagher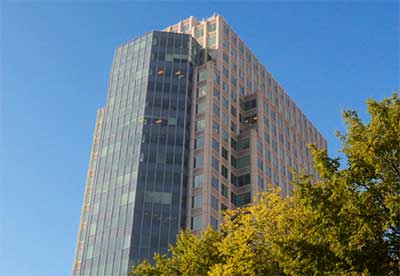 Trust professionals, mark your calendar for the next meeting of the DBA Trust Committee meeting, Friday, September 20th, 9 a.m., at the offices of Connolly Gallagher, in Wilmington. The meeting will feature: an update on the Trust Act from Greg Weinig of Connolly Gallagher; OSBC Proposed Amendment to Procedures for Applications to Form a Bank, Bank and Trust Company or Limited Purpose Trust Company; updates on the 2019 Delaware Trust Conference and plans for the next round of Foundations of Delaware Trust courses. Space is limited. Please RSVP to Greg Koseluk if you would like to attend.


Save the Dates - November 7th & 8th - Women Connect!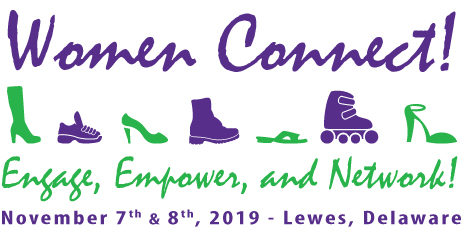 Save the dates for the next Women Connect event - November 7th and 8th in Lewes, Delaware. Thursday night features a reception with filmmaker Melissa Davey and special screening of her film "The Beyond 60 Project," a documentary initiative about women over the age of 60. The next morning will feature engaging speakers, including Susan Rocco, founder and host of "The Women to Watch" Radio program.


Sallie Mae's Donna Vieira Appointed To Delaware Plans Management Board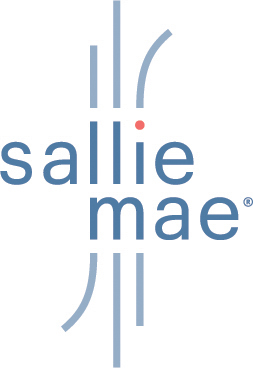 Donna Vieira, executive vice president and chief marketing officer at Sallie Mae, has been appointed to the Plans Management Board (PMB) by Delaware Governor John Carney. Vieira will serve a two-year term as an at-large member, expiring in May 2021. "I am pleased to welcome Donna to the Plans Management Board," said Colleen C. Davis, Delaware State Treasurer. "As an industry veteran with extensive knowledge in both the financial sector and in marketing, Donna provides a balanced perspective to the Board. Having Donna's expertise at the table will undoubtedly prove to be invaluable to our Board and to the residents that benefit from its work." PMB was created in 2016 and is an 11-member board and fiduciary for the state's voluntary savings plans, namely the 529 Educational Savings Plan, which helps families pay for education expenses, 529A ABLE Savings Plan for individuals with disabilities, and the Deferred Compensation Program, which offers three retirement savings plan for state employees.



Pepper Hamilton Attorneys Speaking at LEND 360

Pepper Hamilton is proud to continue sponsorship of LEND360, one of the most active conferences in the online lending space. LEND360 is the go-to event that connects every angle of the online lending industry and offers unparalleled networking and learning opportunities with the best and brightest in the industry. This year's conference takes place in Dallas, TX on September 25–27, 2019. Richard P. Eckman will present "An Update From Washington: Federal Level Updates in Consumer Lending." Gregory J. Nowak with speak on "Innovations and Trends in Fintech Payment Technologies." And Mark T. Dabertin will address "Challenges to Bank-Fintech Partnerships: A Legal Landscape and Potential Solutions." Follow the link below for agenda, registration, and a special registration discount offer.
Ballard Spahr Alert: CA Supreme Court: Class Certification Doesn't Require Evidence That Class Members Can Be Ascertained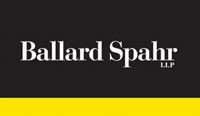 In a unanimous decision that will make it easier for plaintiffs in California state courts to obtain class certification, the California Supreme Court ruled that the ascertainability requirement for certification of class actions filed under the State's class action rule or its Consumer Legal Remedies Act (CLRA) does not incorporate a requirement for the representative plaintiff to supply evidence showing how class members would be individually identified. In Noel v. Thrifty Payless, Inc., the plaintiff filed a putative class action in state court on behalf of retail purchasers of an inflatable outdoor pool sold in packaging that allegedly misled buyers about the pool's size. In addition to asserting a CLRA claim, the plaintiff alleged claims under California's Unfair Competition Law and the state's false advertising law.
| | |
| --- | --- |
| | For more information on DBA programs and events visit www.debankers.com or click on the logo at right to redirect to our website. |


Delaware Bankers Association
8 W. Loockerman Street
Dover, DE 19903