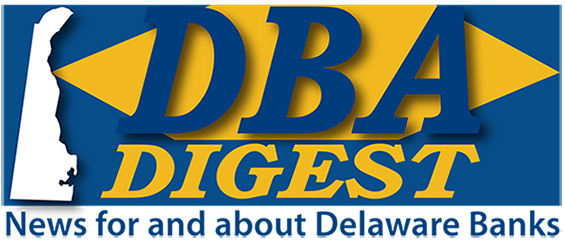 August 28, 2020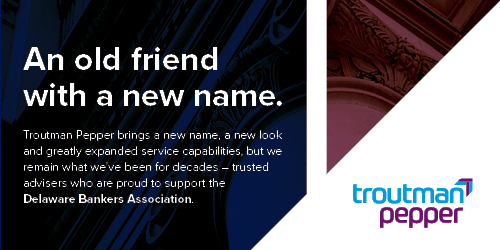 Only One Week Left! Save $300!
Reserve Your DISCOUNTED Seat at the
2020 Delaware Trust Conference TODAY!


Wealth Management Professionals your window of opportunity to save is closing! The early-bird discounted registration for the 2020 Delaware Trust Conference ends September 4th! Save $300 while getting your all-access pass to t he 2020 Delaware Trust Conference, featuring more sessions, more interaction, and greater flexibility for attendees, speakers, sponsors and exhibitors. The conference will be live October 19th and 20th, and sessions will also be accessible on-demand through November 30th! This isn't like Facetime or Zoom... this is fully interactive experience! Watch the video above to see what you can expect!

And there's still time to save on discounted early-bird registration!
Earn up to 22 credits, and at your pace through November 30th!

Sponsors and Exhibitors - you can reserve your space at the conference. All sponsors Gold level and above receive free booth space in the virtual exhibition hall!

Follow the link below to access on-line registration, sponsorship, and exhibitor information, and to see the conference agenda!
News Journal Top Workplaces 2020
Honors Eight DBA Members!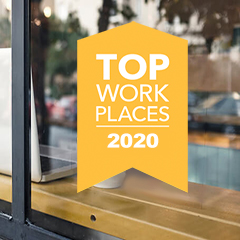 Eight DBA Members and Associate Members have been honored in the 2020 News Journal Best Workplace Awards. In the large company category (400 or more employees) WSFS Bank, and Discover Financial Services ranked in the top ten (one, and three, respectively). In the mid-size category (100 to 399 employees) Morris James LLP ranked seventh. In the small company category (less than 100 employees) Connolly Gallagher (5th); Santora CPA Group (11th); NCALL (13th); Belfint, Lyons, & Shuman, P.A. (19th); Commonwealth Trust Company (20th) were recognized. Congratulations to all the honorees!

Register Today! FDIC Director's College - September 25th!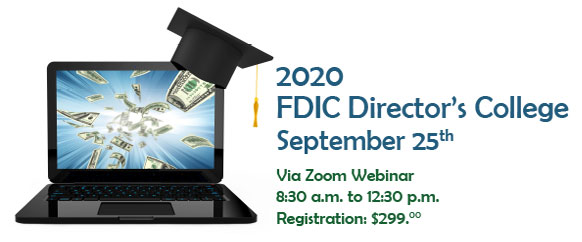 Registration is now open for the 2020 FDIC Director's College, September 25th live on the Zoom Webinar Platform, 8:30 a.m. to 12:30 p.m. The FDIC Directors' College provides ongoing education on current topics of bank supervision to bank directors, senior officers, corporate secretaries, and board advisors. The course is designed to help directors and trustees, both new and experienced, stay abreast of the ever-changing regulatory environment. This year's agenda includes: Board Governance During Uncertain Times; Problem Loan Oversight; Conversation with the Regulators; Economic Update; and, Guidance for New Directors. Follow the link below to register.


ABA Virtual Washington Fly-In, Northeast Region, October 5th and 6th! Free! Register Today!

Join fellow bankers and industry leaders from across the Northeast for a virtual meeting with agency leadership and lawmakers. In partnership with state bankers associations, ABA is hosting this year's Washington Fly-in to ensure policies crucial to the banking industry remain front and center, and to provide a forum for critical questions from your bank. You will not want to miss out on this opportunity to speak directly to regulators about the need for commonsense policies and smart reform that will help America's banks better serve their communities and grow the economy. The Northeast Regional Virtual Washington Fly-in begins Oct. 5th with an in-depth discussion with ABA experts on key issues facing our industry at the federal level, followed by discussions with: Federal Reserve Board Governor Michelle Bowman OCC Acting Comptroller Brian Brooks CFPB Director Kathy Kraninger FDIC Chairman Jelena McWilliams


Don't Miss the Next Mid-Atlantic Speaker Series Session - September 11, 9:00 a.m - Alex Vogel of The Vogel Group with a Political Update!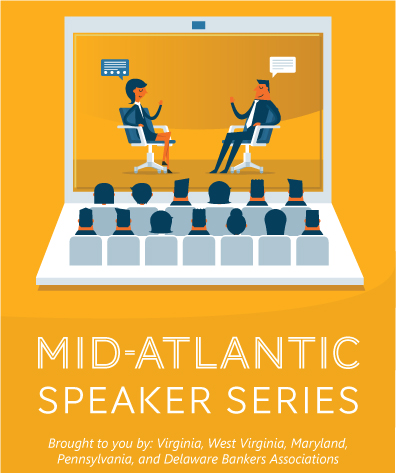 Join us on September 11th for a timely political update from Alex Vogel of The Vogel Group. Alex Vogel is the Chief Executive Officer of The Vogel Group. Alex started the company after a decade leading Mehlman Vogel Castagnetti, one of the most successful lobbying and government affairs firms in Washington, DC. In the years prior to launching Mehlman Vogel Castagnetti Inc., Alex served as Chief Counsel to Senate Majority Leader Bill Frist, M.D. Prior, Alex was General Counsel for the National Republican Senatorial Committee (NRSC) and Deputy Counsel for the Republican National Committee (RNC).


The DBA has partnered with the bankers associations in Maryland, Pennsylvania, Virginia and West Virginia to bring nationally recognized speakers to you each month. The series will take place once a month through December. One registration includes all six sessions!

Each event will be at 9:00 a.m. See the link below for more information on other sessions and registration!


Delaware Bankers Association
Launches New Member Portal for
Online Registrations and More!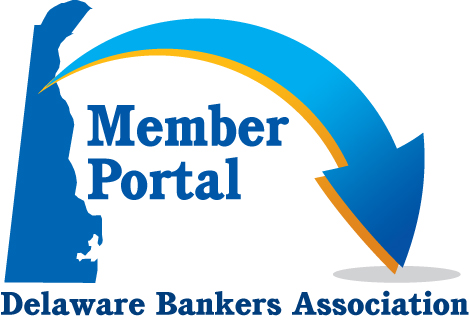 Have you checked out the Delaware Bankers Association's new online members portal? The portal will provide members easy access to update their personal information and to register and pay online for upcoming DBA events! Log into the portal via the link below, and use the Personal Profile link (on the left hand sidebar) to create your log in.

Questions, suggestions, or comments? Please email Corinne Stayton: corinne.stayton@debankers.com

Northern Trust Insights Live Webinar -
Captial Markets Five-Year Outlook - September 2nd

Join CIO Bob Browne and Wealth Management CIO Katie Nixon for a discussion on our newly published Capital Market Assumptions five-year outlook. September 2, 2020 at 11 a.m. ET
BMT Market Insights:
Like the Pandemic Never Even Happened

Last week we witnessed two monumental events – the S&P 500 surpassed its previous high set back in February and Apple Inc. (AAPL) became the first U.S. company to achieve a $2 trillion market capitalization. The remarkable S&P 500 recovery, during an ongoing pandemic, marked the quickest recovery of a 30% decline or worse in history. It took just 103 trading days to erase the S&P's 35.41% decline, supported by substantial monetary and fiscal policy stimulus. Apple's rise to the $2 trillion club comes just two years after breaking the $1 trillion level in August 2018.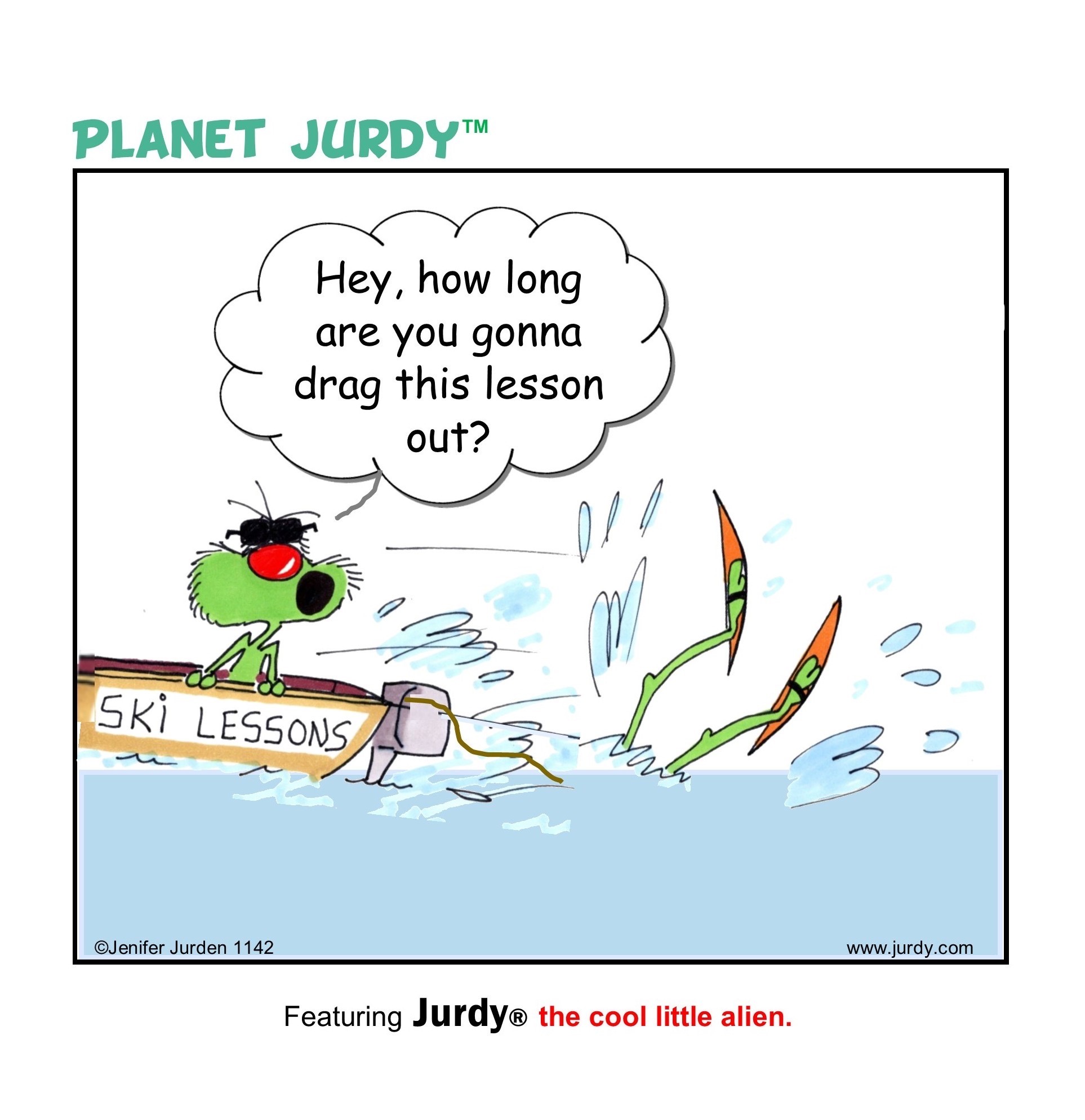 Jenifer Jurden is a Cartoonist from Wilmington who has graciously provided her Planet Jurdy cartoons for the DBA Digest. Jurdy® is her other-worldly "Hero of Happyness" whose cartoons bring levity to humans worldwide.
Matthew D'Emilio and Thomas Uebler Honored by The Best Lawyers in America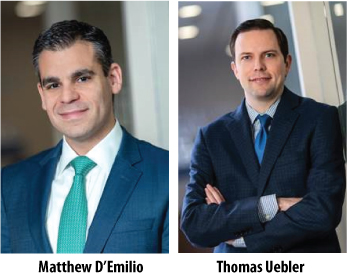 McCollom D'Emilio Smith Uebler LLC partners Matthew D'Emilio and Thomas Uebler were honored by The Best Lawyers in America. D'Emilio was recognized for his work in trust and estates. Uebler was recognized for his work in trusts and estates litigation. D'Emilio focuses his practice on estate planning and wealth transfer, estate and trust litigation, estate and trust administration, business transactions, and tax law. Uebler focuses his practice on fiduciary and corporate litigation in the Delaware Court of Chancery and other Delaware courts, as well as statutory and fiduciary duties under Delaware law.

Best Lawyers® Recognizes 36 Morris James Lawyers



Thirty-six Morris James lawyers in 28 practice areas were recognized by The Best Lawyers in America© 2021. Inclusion in Best Lawyers is based exclusively on peer review. The methodology, utilized for more than 30 years, was designed to accurately capture the unanimity opinion of leading lawyers about the professional abilities of their colleagues within the same geographical area and legal practice area. The 2021 Best Lawyers list is based on a wide-ranging national survey involving detailed valuations of leading lawyers by their peers. Included on the list are four lawyers who were named "Ones to Watch" for their outstanding professional excellence: Al Carroll for Commercial Litigation, Corporate Governance, Compliance Law and Corporate Law; Ross Karsnitz for Commercial Litigation and Personal Injury Litigation - Plaintiffs; Ryan Keating for Health Care Law; and Reneta Green-Streett for Personal Injury Litigation – Plaintiffs. Additionally, three lawyers were named "Lawyer of the Year" for their outstanding practices: Gretchen Knight for Family Law, Dave Williams for Employment Law – Management, and Rich Galperin for Health Care Law. See the full list of honorees via the link below.

Starting September 14th - Wilmington University:
Diversity, Leadership, and Innovation at Work




Wilmington University is excited to announce the introduction of our brand-new professional development course, Diversity, Leadership, and Innovation at Work. This online course offers hands-on training in high-demand skills, led by real-world-experienced instructors, to anyone seeking to enrich their career or personal development. Upon completion of this course, participants will be able to: 1. Understand key diversity and inclusion concepts, as well as their impact on the world of work. 2. Describe the importance of effective leadership in achieving and maintaining a diverse workforce. 3. Demonstrate the impact of workplace diversity on organizational success. The three-week, non-credit course has been changed to beginning on Monday, September 14th. Upon completion of the course, participants are eligible to apply one (1) college credit toward a Human Resource or equivalent academic program.

| | |
| --- | --- |
| | For more information on DBA programs and events visit www.debankers.com or click on the logo at right to redirect to our website. |


Delaware Bankers Association
8 W. Loockerman Street
Dover, DE 19903