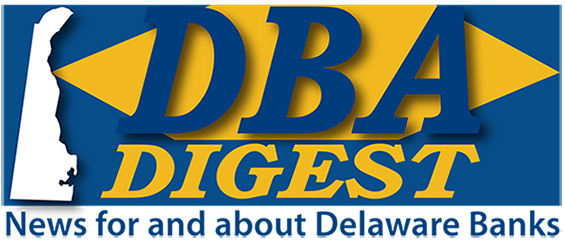 February 8, 2019

2019 Teach Children to Save Day
Volunteer Registration Now Open!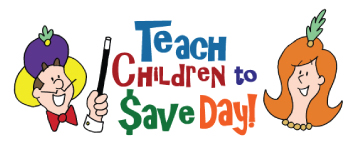 Attention Banker Volunteers! Registration for 2019 Teach Children to Save Day is now open! Teaching is fun and easy. All materials - book, lesson, instruction video - are provided. 4th and 5th grade classrooms are available statewide for April 8th through April 12th. This year's lesson is from the new book "The Great Investo and Muscles O'Money," and teaches kids how to get financially fit by setting goals, budgeting, and saving! The book was written and illustrated by Greg Koseluk and was made possible by a grant from Capital One. Sign up and teach at the link below!


2019 Foundations of Delaware Trusts Wraps Up with Session on Investment Basics - Flashdrives Coming Soon!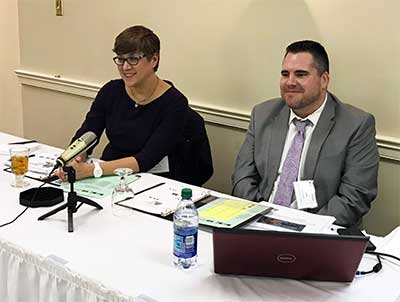 Margaret Creed, VP and Chief Portfolio Strategist, Wilmington Trust, and
Gregory Wood, VP, The Northern Trust Co. of Delaware, presented "Investment Basics," the third and final session of 2019 Foundations of Delaware Trusts on Wednesday. The session, along with all 14 Foundations of Delaware Trust sessions will be available soon on audio/slide flashdrive for in-house training.


Strengthening Communities Forum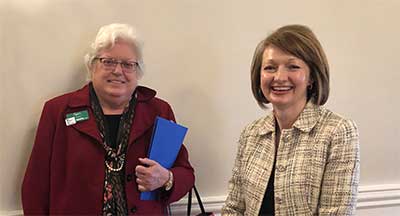 Terri Hasson, Director, Community Reinvestment, WSFS Bank, and Chair of the DBA's Strengthening Communities Committee, welcomes Krista Shonk, VP, Regulatory Compliance, American Bankers Association to Tuesday's Forum.


CRA and Community Development professionals convened for the DBA's Strengthening Communities Forum on February 5th at the University & Whist Club in Wilmington. Speakers included: Krista Shonk, Vice President, Regulatory Compliance Policy, American Bankers Association; Joan Hoge-North, Vice President for Philanthropy, Delaware Community Foundation; and, Jane C. W. Vincent, Senior Fellow and Adjunct Faculty, University of Delaware, School of Public Policy, Center for Community Research and Service.


Save the Date for the Next Women Connect Event - May 7th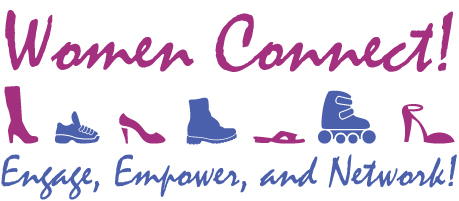 The next Women Connect event will be held at Deerfield Country Club in Newark on May 7, 2019 from 8:30 AM – 4:00 PM. The conference will focus on personal, community, family, and professional well-being. The morning will feature two panel discussions on Women Leadership and Education along with a keynote speaker during lunch. The afternoon sessions will feature speed sessions on Financial Fitness, Philanthropy, and Community. Confirmed speakers are Bob Eaddy, Bryn Mawr Trust Company of Delaware, Trisha Hall, Connolly Gallagher LLP, Carla Lawson, Caesar Rodney High School, along with Amanda Bullough, Wendy Smith, and Carlos Asarta from the University of Delaware. Additional speakers are still being confirmed.
Sponsorships Available!



First State Fintech Lab Announces Advisory Board



The First State Fintech Lab announced the appointment of an Advisory Board comprised of state and national leaders to further support Delaware as a national and global financial technology leader. The Lab also announced the appointment of it's first cohort of Innovation Fellows . The Advisory Board plays a key role in directing and informing the work of the Lab. It is a collective, highly-focused group of industry, government, academic, and community leaders whose purpose is to ask and answer big questions and drive systemic change in order to strengthen and grow the fintech sector in the First State. The First State Fintech Lab's Advisory Board includes: J.C. Boggs, Partner, King and Spalding. Fmr U.S. Senate Banking Committee Counsel; Lynn Bromley , Founder and Principal, Fintech Advocate; Chip Connolly , Partner, Connolly Gallagher; Doneene Damon , Executive Director, Richards Layton & Finger; Yaya Fanusie , Senior Fello w, Foundation for Defense of Democracies (FDD); Megan Hannigan , Paypal; Aurora Harshner , Director of Recruiting, Coinbase; Sarah Hody , Attorney, Perkins Coie; Sarah Long , President and CEO, Delaware Bankers Association; Tim McTaggart , Fmr Delaware State Banking Commissioner; Robert Morgan , Vice President, Emerging Technology, American Bankers Association; Patrick Murck , Fellow, Berkman Klein Center, Harvard University; Bryon Short , former Delaware State Representative; Gene Truono , former Chief Compliance Officer, Paypal; Daniel Quan , Managing Partner, Banks Street Advisor. Fmr Senior Advisor to CFPB.
WSFS Bank Donates Building and Property to the People and Town of Wyoming, DE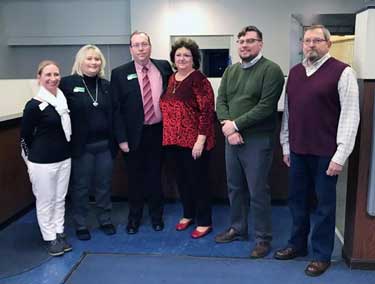 WSFS Bank formally donated its former Wyoming banking office to the people and Town of Wyoming, in a key handing ceremony that was attended by Wyoming Mayor Frankie Dale Rife, members of the Town Council and the community, and WSFS' local leadership team. This is WSFS' second property donation in recent years to benefit the local community. In 2015, WSFS was proud to donate a property and house to the Central Delaware Habitat for Humanity that sits on an adjacent lot to the former branch building. The house was renovated in 2018 with the help of the local community and WSFS volunteers and an $8,000 donation from WSFS Bank. Pictured from Left to Right: Shelly Kavanagh, Vice President, Southern Regional Manager, WSFS Bank; Barbara Harris, Assistant Vice President, Retail Office Manager of Canterbury, WSFS Bank; John Steele, Vice President, Director of Retail Operations, WSFS Bank; Frankie Dale Rife, Mayor of Wyoming; Doug Denison, Vice Mayor of Wyoming; Carlen Kenley, Wyoming Councilman.
Seven Promoted at Taylor Bank


Taylor Bank is pleased to announce the promotions of seven employees: Lee Chisholm, Yvonne Sample, Jennifer Scott, Lori Simon, Lisa Street, Kathy Allam, and Raymond Robinson. Lee Chisholm has been promoted to Vice President, Loan and Business Development Officer. Lee began his employment in March of 2006 as a Teller at 20th Street Branch. He later became Branch Manager of Snow Hill and then became a Loan Officer. Yvonne Sample has been promoted to Operations Supervisor of the Electronic Services Department. Yvonne began employment in May of 2001 where she started in the proof department, now evolved into electronic services. Jennifer Scott has been promoted to Assistant Vice President, Branch Manager and IRA and HSA Administrator. Jennifer Scott began employment in September of 2013 and manages branch operations at Main Office. Lori Simon has been promoted to Vice President, Branch Manager and CRA Officer. Lori Simon began employment in January of 2006 and manages the bank's newer location at Ocean Landing. Lisa Street has been promoted to Senior Loan Processor. Lisa Street began employment in September of 2015 in loan operations. Kathy Allam has been promoted to Director of Information Technology and Security. Kathy Allam began employment in November of 2008 where she started in branch operations and then later completed the management trainee program and was promoted to manage the IT and Electronic Services departments. Raymond Robinson has been promoted to Senior Vice President of Branch Operations. Raymond Robinson was rehired in August of 2003 where he served as a Branch Manager and continues to serve in a leadership role in branch operations.
Wilmington Area High School Student Ardavia Lee Surprised with $25,000 Scholarship from Sallie Mae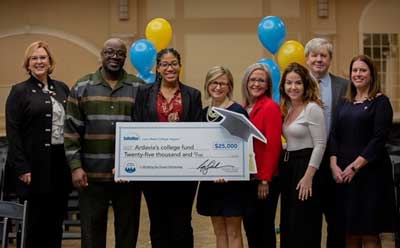 Ardavia Lee, a senior at Saint Elizabeth High School, was surprised with a $25,000 Bridging the Dream Scholarship from Delaware-headquartered Sallie Mae, the nation's saving, planning, and paying for college company. Lee, who assumed she was only a finalist for the scholarship, was revealed as the winner during an event at the Chase Center in front of her family, members of the Wilmington Fire Department, elected and community leaders, previous scholarship recipients, and hundreds of Sallie Mae employees. Lee was also surprised with congratulatory videos from all three members of Delaware's congressional delegation. Sallie Mae's Bridging the Dream Scholarship recognizes high school juniors and seniors who excel in academics, athletics, community service, or school activities, but whose financial circumstances may not permit them to fulfill their college dreams. Lee is one of only seven recipients from across the country. A model of resiliency, Lee is the daughter of fallen Wilmington Firefighter Lt. Ardythe "Ardy" Hope who died in 2016 fighting a fire in Canby Park. Despite the enormous setback, she has excelled in the community, the classroom, and on the court. School counselor Shannan Beck, who nominated Lee for the scholarship, was by her side for the surprise announcement.


| | |
| --- | --- |
| | For more information on DBA programs and events visit www.debankers.com or click on the logo at right to redirect to our website. |


Delaware Bankers Association
8 W. Loockerman Street
Dover, DE 19903