The DBA Celebrates 125 Years! Save These Dates!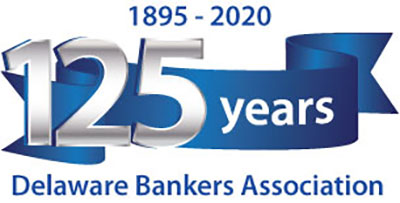 In 2020 the Delaware Bankers Association celebrates 125 of service to the banking industry in the First State. And we have an exciting schedule of events. Mark your calendars now...
April 27th - May 1st: 22nd Annual Teach Children to Save Week - Registration for banker volunteer teachers starts soon. Teaching is fun and easy. All materials - book, lesson, instruction video - are provided. 4th and 5th grade classrooms are available statewide. Sponsorships are available.
May 7th - Women Connect - The Waterfall, Claymont, 8:30 a.m. to 4 p.m. The next Women Connect event features an exciting lineup of speakers and topics including: "How to Negotiate Your Salary," with Cathleen Hitchens; "Building Your Brand," with Laura Meyer; "From Invisible to Influential," with Danielle Turcola; and, more. Be there to Engage, Empower, and Network!
May 14th - DBA 125th Annual Meeting & Dinner - Join the DBA and celebrate our 125th anniversary at the duPont Country Club, Wilmington. The keynote speaker will be Erin Arvedlund, financial writer for the Philadelphia Inquirer and Barrons and author of Too Good to be True: The Rise and Fall of Bernie Madoff. Sponsorships available!
October 19th & 20th - 2020 Delaware Trust Conference - Chase Center on the Riverfront, Wilmington. The 2020 Delaware Trust Conference provides attendees with the information and strategies to take advantage of the unique Delaware trusts atmosphere. Sponsorships and Exhibitor space available!