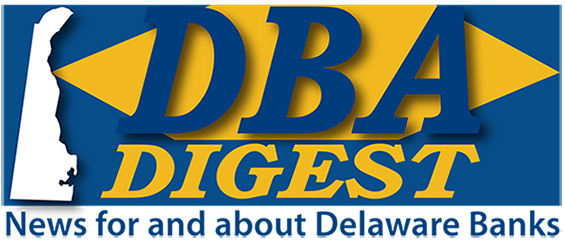 January 4, 2019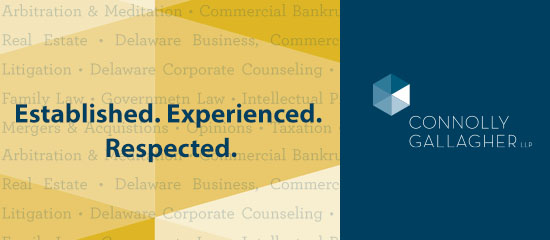 Delaware Bankers Association Welcomes
New Members of Delaware Legislature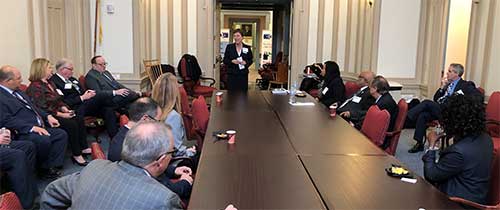 The Delaware Bankers Association held a "Meet and Greet" for the new members of the Delaware Legislature, Thursday morning, January 3rd in the Senate Hearing Room of Legislative Hall in Dover. The freshman class of 2019 along with leadership from the House and Senate met with bankers to stress the importance of the financial services industry in the First State. Thank you to our supporting sponsors for the event: The Bryn Mawr Trust Company of Delaware; Capital One; County Bank; JPMorgan Chase; M&T Bank; MidCoast Community Bank; New York Private Trust; Wells Fargo; and, Wilmington Trust.



WSFS Bank Completes Executive Leadership Transition: Rodger Levenson Appointed President and Chief Executive Officer, Mark A. Turner Assumes the Role of Executive Chairman of the Board of Directors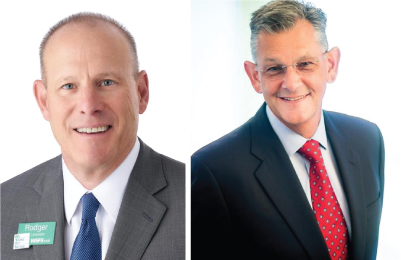 As planned, Rodger Levenson is the new President and Chief Executive Officer of WSFS Financial Corporation, the parent company of WSFS Bank, and a member of its Board of Directors. His new roles became effective January 1, 2019. Mr. Levenson is a long-time banker in the Greater Delaware Valley and has been a member of WSFS' executive leadership team since 2006, most recently serving as Executive Vice President and Chief Operating Officer. WSFS has also elevated Mark A. Turner from Chairman to Executive Chairman of the Board. Mr. Turner stepped aside from the roles of President and CEO on December 31, 2018, after a dozen years as WSFS' Chief Executive. "I am honored to become the 13th President and CEO in WSFS' 186-year-history and humbled by the trust that Mark and our Board have placed in me," said Mr. Levenson. "I join my fellow WSFS Associates in thanking Mark for his decades of service to our Company and the communities we serve, and I look forward to working with him in his new role. WSFS Bank will continue to deliver on our mission, We Stand For Service. We will be a catalyst for economic prosperity throughout communities in the Greater Delaware Valley and we will continue to innovate and invest in our Associates and our Bank to meet the rapidly changing expectations of our Customers."


New Year and Three All New Sessions of
Foundations of Delaware Trusts 2019!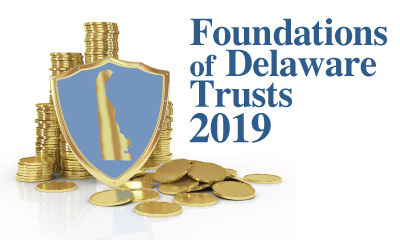 Wealth Management Professionals start the New Year right! Register today for the three new sessions of Foundations of Delaware Trusts at the University & Whist Club in Wilmington. Each session will be held on consecutive Wednesdays, 9 a.m. to 11 a.m., beginning January 23rd. Here's the line up and instructors:

January 23 - Key Information in a Trust Agreement
Cynthia D.M. Brown, President, Commonwealth Trust Co.
David Diamond, President, The Northern Trust Co. of Delaware

January 30 - Silent Trusts
Elizabeth King, President, Brown Brothers Harriman Trust Co. of DE
Vincent Thomas, Partner, Young Conaway Stargatt & Taylor, LLP

Februrary 6 - Investment Basics
Margaret Creed, VP and Chief Portfolio Strategist, Wilmington Trust
Gregory Wood, VP, The Northern Trust Co. of Delaware

Sign up for one, two, or all three! The course is perfect for new, as well as more experienced trust professionals looking to sharpen their skills! And as in previous sessions, all three will be available on an audio/slide flashdrive for in-house training. Sign up today! Space is limited! Click on the link below for registration information.


2019 DBA Washington Visit Sponsorships Now Available!





Sponsorships are now open for the Delaware Bankers Association's 2019 DBA Senior Executive Washington Visit Reception, March 6th at Del Mar de Fabio Trabocchi, 791 Wharf St. SW, Washington, DC. As in previous years, the reception provides a unique opportunity to meet and network with top leaders in both the financial services and legislative realms. Sponsors are allowed to bring two representatives from their firm to attend. Reception Sponsorship is only $1,500. Sponsorships are also available for the DBA Shuttle Bus Sponsorship. Your company's logo and message will be featured on the mini-bus used to shuttle executives around the Capital throughout the Washington Visit. Sponsorship includes placement of two interior signs. You may also include individual information packets at each seat. This offer also allows one representative from your firm to attend the Wednesday evening reception. Shuttle Bus Sponsorship is only $1,000. All sponsors receive: Recognition in the Washington Visit Agenda Book; Recognition on event signs; and, Recognition at the Washington Visit Reception. Join the prestigious list of sponsors including: The Federal Home Loan Bank of Pittsburgh (Platinum Sponsor), Discover Bank, and Richards, Layton & Finger, PA (Reception Sponsor). Please click on the link below to access the sponsorship form.


Fulton Bank, N.A. to Purchase the Wealth Business of Forney Financial in Altoona, PA.




Fulton Bank, N.A., based in Lancaster, PA, today announced that it has signed an agreement to buy the wealth management business currently conducted by Forney Financial Solutions, LLC, based in Altoona, PA. Forney Financial Solutions, LLC, which was established by John C. and Sherry G. Forney in 2001, currently has approximately $250 million in assets under management or administration. Fulton Bank, N.A., a subsidiary of Fulton Financial Corporation, is based in Lancaster, PA and has approximately $11 billion in assets under management or administration through its wealth management division, Fulton Financial Advisors.


Wilmington University Spring Semester Begins January 14th! All DBA Members Receive Tuition Discount





Let the new year provide a new boost for your career skills! Enroll in the spring semester at Wilmington University, beginning January 14th. A new partnership between Wilmington University and the DBA provides an incentive for employees of DBA Members and Associate Members to participate in college-level classes and degree programs at any of Wilmington University's campuses or online. The agreement, effective as of the 2018-19 academic year, enables DBA-affiliated employers to create new or customized educational programs for their employees through WilmU. The employees will be eligible to apply to WilmU's degree and certificate programs for free and receive a 10% tuition discount. Enrolled students are also able to take advantage of WilmU's Credit for Prior Learning transfer program and its many Work Integrated Learning opportunities. Click on the link below for more information.


Connolly Gallagher Elects Aaron Shapiro to Partner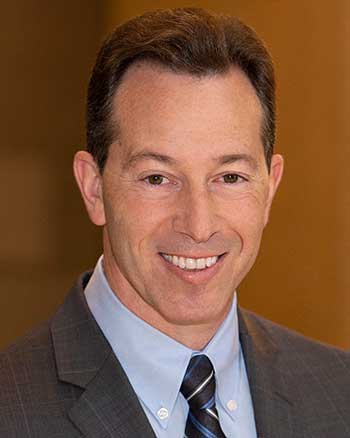 Connolly Gallagher LLP is pleased to announce that Aaron M. Shapiro has become a partner effective January 1, 2019. "Aaron previously served as the Labor Relations and Employment Practices Administrator for the state of Delaware and since joining the firm in 2017 he has worked hard to build a respectable labor law offering that we proudly provide to our valued clients," said Arthur G. ("Chip") Connolly, III, Managing Partner of Connolly Gallagher LLP. Aaron M. Shapiro is a member of the firm's Labor & employment group. His practice focuses labor relations, collective bargaining, administrative law matters, and government relations. Aaron is a 1995 cum laude graduate of Widener University School of Law. He is admitted to practice in both Delaware and Pennsylvania.


Kimberly Gill McKinnon joins Gordon, Fournaris & Mammarella, P.A. as a Director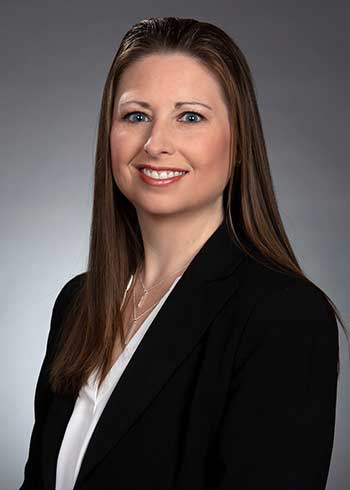 Kimberly Gill McKinnon has joined the firm as a Director with the Trusts and Estates department. Kimberly is a graduate of Dickinson School of Law of The Pennsylvania State University. She is a fellow of the American College of Trust and Estate Counsel and is AV Preeminent Peer Review Rated by Martindale-Hubbell. She is also a member of the American Bar Association (Business Law, Real Property, Trust & Estate Law Sections), a Former Chair of each of the Estates & Trusts Section and Taxation Section of the Delaware State Bar Association and the immediate past President of the Estate Planning Council of Delaware, Inc. Kimberly has experience representing numerous institutional fiduciaries, high net-worth individuals and families, and other attorneys in the areas of Delaware trust law and federal estate, gift and generation-skipping transfer taxation, as well as privately owned family companies and tax exempt organizations with respect to federal tax matters and formation and governance under Delaware law.


Morris Nichols Elects Jennifer Ying to Partnership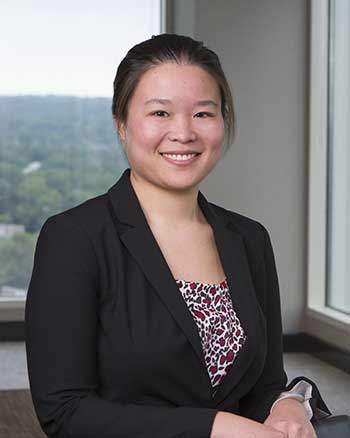 Morris, Nichols, Arsht & Tunnell LLP is pleased to announce that intellectual property litigator Jennifer Ying has been elected to the partnership, effective January 1, 2019. "We are delighted to have Jen become a partner of the firm and congratulate her on this important career accomplishment," said Andrew M. Johnston, chair of the Morris Nichols executive committee. Jennifer focuses her practice on patent, trademark, and trade secret disputes in federal and state court. Her experience encompasses all aspects of litigation from outset to trial and through appeal, and she has represented clients in various appellate courts across the country. In addition to her litigation practice, she also serves on the Merit Selection Panel for the U.S. District Court for the District of Delaware.


Morris James' Michael G. Owen Elected As Partner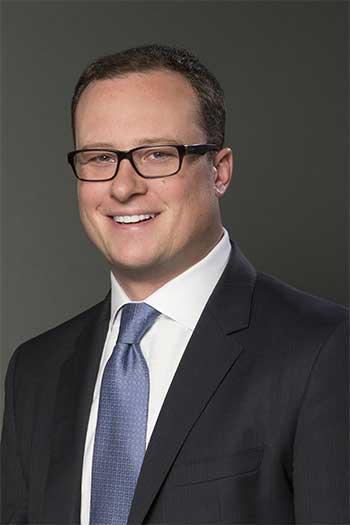 Morris James LLP is pleased to announce that Michael G. Owen has been elected partner effective January 1, 2019. Mike joined Morris James in 2012 as a member of the Personal Injury Group. His practice focuses on all areas of personal injury and workers' compensation. Mike has experience handling matters through all stages of litigation, including trial before Delaware state courts and hearings before the Delaware Industrial Accident Board. He is the current vice-president of the Randy J. Holland Delaware Workers' Compensation American Inn of Court, and is a Board Member of the Delaware Trial Lawyers Association and the Boys & Girls Clubs, Greater Wilmington. He is member of the bars of Delaware, Pennsylvania and New Jersey.


Myunghee Geerts Joins Cover & Rossiter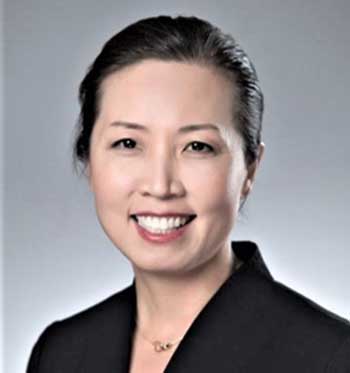 Cover & Rossiter is pleased to announce the addition of Myunghee Geerts, CPA as a Principal in the Tax Department. Geerts has 13 years of experience in public accounting. Prior to joining the firm, she was Senior Manager at Ernst & Young's Quantitative Services where she specialized in advising her clients with tax planning ideas to reduce their tax liabilities and mitigate risks associated with tax returns. Geerts also worked at KPMG and Santora Group CPA. Working with a wide variety of industries including bio science, technology, real estate, industrial tools and household hardware, and the automotive industry, she has provided numerous tax planning ideas and solutions for her clients. Marie Holliday, Managing Director, said, "We are fortunate to have Myunghee join the firm. Her broad experience as well as her passion for helping small businesses and entrepreneurs will open doors to new business opportunities for the firm."


Weiner Benefits Group Presents Workshop on
Training for a Harassment Free Workplace



On January 1, 2019 the new Delaware Discrimination in Employment Act (DDEA) becomes effective. The new Delaware law specifically addresses the prohibition against sexual harassment, sets an affirmative defense for employers, imposes mandatory notice distribution on employers with at least four employees within the state, and provides anti-sexual harassment training requirements for employers with at least 50 employees in the state. Supervisors and Managers should join us for this required interactive training workshop! To better support your business needs, Weiner Benefits Group is offering two different training dates to choose from either: January 16th or January 25th The training programs will be from 8:00 am to 10:30 am with a light breakfast fare at: Deerfield Golf & Tennis Club 507 Thompson Station Rd, Newark, DE 19711. The cost is $45 per person. Click on the link below for the full agenda and to register.



| | |
| --- | --- |
| | For more information on DBA programs and events visit www.debankers.com or click on the logo at right to redirect to our website. |


Delaware Bankers Association
8 W. Loockerman Street
Dover, DE 19903