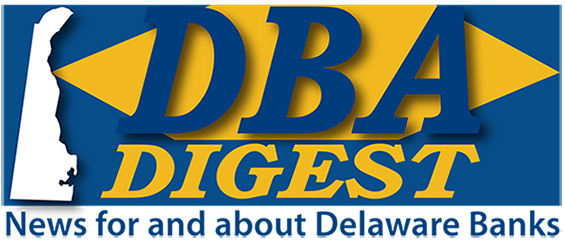 July 27, 2018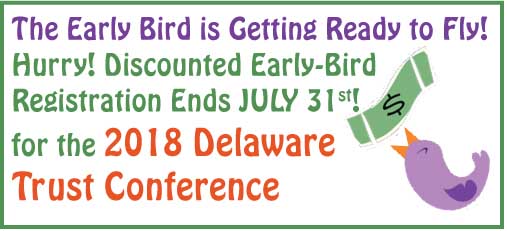 HURRY! DELAWARE TRUST CONFERENCE
DISCOUNTED EARLY-BIRD REGISTRATION ENDS TUESDAY!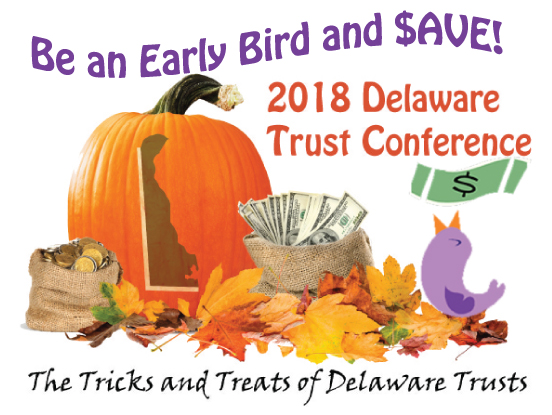 Wealth Management Professionals - There are only a handful of days left to take advantage of Discounted Early-Bird Registration for the 2018 Delaware Trust Conference! This year's conference, the 13th annual, will feature the Tricks and Treats of Delaware Trusts! Learn all the tricks you need to treat your clients at this premiere wealth management event highlighting the advantages of Delaware trusts! Visit the Trust Conference webpage for the agenda and discounted registration form. Sign up today! Hurry! Discounted registration ends Tuesday, July 31st!


Women Connect - August 15th - Dover Downs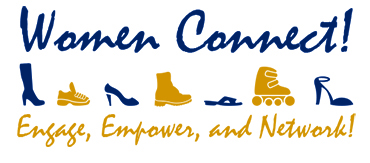 Join us for the next Women Connect event, August 15th, 8:30 a.m. to 1:30 p.m. at Dover Downs. Congresswoman Lisa Blunt Rochester will be the keynote speaker sharing her insights on issues affecting families in the State of Delaware. Other panels will feature conversations on integrating work/life issues, and a roundtable discussion with Delaware State Senators and Legislators. The event will also include a networking lunch. Don't miss this exciting, uplifting time to Connect! See the link below for the full agenda and registration form! Sponsorships also available! Join Platinum Sponsor: Capital One; and Silver Sponsors: The Bryn Mawr Trust Company of Delaware, and Charles Schwab Trust Company of Delaware. Register today! Space is Limited!


Great Investo Savers Club Kicks Off at
Kids Day at the Delaware State Fair - July 24th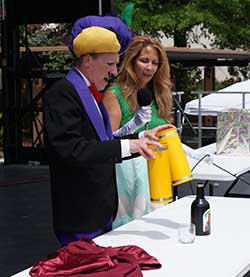 The Great Investo and Penny illustrate the magic of compounding during their show at the Delaware State Fair
DBA Staff and bank volunteers distribute Savers Club kits to Fair attendees.


This Tuesday, Great Investo and Penny performed two shows filled with Money Magic, fun, and audience participation as part of Kids Day at the Delaware State Fair. The event also saw the kickoff of The Great Investo Savers Club, a statewide club to teach the importance of saving and instill saving habits in kids between the ages of 8 and 11. Over 300 savings club kits were distrubted to fair goers. Each kit included a membership card, a savings diary, a wall poster to track savings goals, and stickers to make their own banks. The Club is made possible thanks to the Generous Sponsorship of... Barclays, Comenity, Fulton Bank, Capital One, M&T Bank, Shore United Bank, SmartyPig, WSFS Bank, Artisans' Bank, and Taylor Bank.



DBA Cybersecurity Committeee meets at Delaware Information and Analysis Center


Members of the DBA Cybersecurity gathered on Thursday, July 26th at the Delaware Information and Analysis Center (DIAC) in Dover. DIAC helps safeguard the community by serving as a dynamic security nexus. DIAC provided an overview of their purpose and their partner participation, discussed how the committee can get involved, and what additional trainings are available. The committee members were also given a tour of the facility. For more information on DIAC click on the link below.


Sallie Mae and Chegg Introduce Enhanced Studying and Tutoring Benefit for Undergrad Students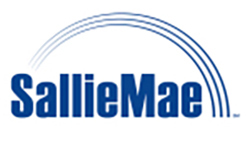 Sallie Mae, the nation's saving, planning, and paying for college company, and Chegg Inc. , a leading provider of digital student services, today introduced a newly enhanced studying and tutoring benefit to support student success. Study Starter is an exclusive benefit that gives students free 24/7 access to a suite of study support services from the Chegg platform. Sallie Mae is the first and only private student lender to offer this in-school benefit to its customers. Study Starter is now available to all Sallie Mae undergraduate private student loan customers and Sallie Mae Parent Loan customers with a new loan.


Shore United Partners with Sgt. Bell for Christmas in July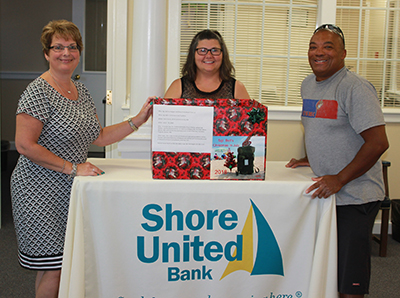 Pictured above left to right: Susan Welch, Felton Branch Manager of Shore United Bank; Kelly Willey, Assistant Branch Manager of Shore United Bank; Sgt. Bell the Rapper. Shore United Bank, a member of Shore Bancshares community of companies, is proud to support the 3rd Annual Christmas in July. Sgt. Bell the Rapper organizes a toy drive each year to help collect toys for children whose families are in local homeless shelters. Several Shore United Bank branches have come together to collect toy donations throughout the month of July. You can find a box at the following Shore United Bank locations: Felton, Milford, Camden, Dover, Denton and Ridgely.


Chambers HNW 2018 Recognizes Connolly Gallagher Trusts and Estates Group in Delaware Private Wealth Law

In its 2018 guide, Chambers High Net Worth ranked Connolly Gallagher LLP for Private Wealth Law in Delaware. Sources report the Trusts & Estates team are "hugely knowledgeable about the law as well as the various procedures and the court system in Delaware." Another source praises the team saying, "They are very oriented toward client service, their responsiveness is second to none and their level of commitment is unmatched." For Connolly Gallagher attorneys appear in the individual rankings of leading Delaware Private Wealth Law lawyers. Chuck Durante is "an all-around great lawyer." A market expert states, "He is very well informed on Delaware trust law and is exceptional with clients. He takes the time to understand the needs of clients as well as trustees and big trust companies. He understands the market very well." Gregory Weinig is lauded as "a leader of the future" with sources reporting "he is very responsive and brilliant with clients." Trisha Hall is "an emerging star." She is lauded as "thoughtful, analytical, and diplomatic." Scott Swenson is "a real up and comer." One market insider remarks "He is truly creative and a good listener, which is very important. He can assess the situation carefully."
YCS&T Partners Richard J.A. Popper and Vincent C. Thomas Recognized By Chambers High Net Worth 2018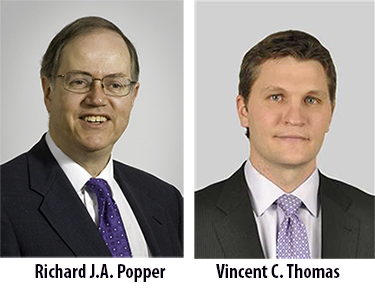 Young Conaway Stargatt & Taylor, LLP is pleased to announce that Partners Richard J.A. Popper and Vincent C. Thomas have been recognized in Chambers High Net Worth 2018 ("Chambers HNW"). Chambers HNW is the premier directory for the private wealth market. The publication ranks leading law firms and lawyers on the basis of their legal knowledge and experience, their ability, their effectiveness, and their client-service. The research is in-depth and client focused which makes the guide a must-read by industry-leading companies and organizations throughout the United States and worldwide. Clients note that the law firm of Young Conaway is "an excellent firm with some stellar lawyers on their books." The firm is "very well positioned to act for mid- to large-sized business owners who have both estate and business planning needs."
Morris Nichols Receives Band 1
Rankings from Chambers HNW

In its 2018 guide, Chambers High Net Worth ranked Morris, Nichols, Arsht & Tunnell LLP in the highest tier for Private Wealth Law in Delaware. Sources report the Trusts, Estates & Tax team is "extremely high-quality" with "good strength and depth." A market insider enthuses, "We go to them all the time as my colleagues and I think they are amazing. They are our first point of reference." Three Morris Nichols attorneys appear in the individual rankings of leading Delaware Private Wealth Law lawyers. Todd Flubacher (Band 1) is "a wonderful lawyer and one of the best in the business." Peers applaud his skill, noting "he can advise on anything to do with Delaware structures." Tom Pulsifer (Band 1) earns high praise as "a pioneer in this field" with sources reporting "he is a super bright guy and has very strong experience." Chambers sources say Kimberly Gill McKinnon (Band 2) is "fantastic and an excellent writer," "a very talented young lawyer," and "very thorough, smart." Morris Nichols remains the only law firm with two attorneys ranked Band 1 on the Delaware Private Wealth Law table.
Richards Layton's Trusts & Estates Group
Recognized in Chambers HNW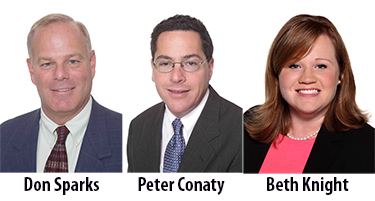 Richards, Layton & Finger's trusts and estates practice has received the highest ranking in Chambers HNW, the international guide to the world's leading high net worth advisors. The 2018 guide also recognizes all of the firm's trusts & estates directors—W. Donald Sparks, II, F. Peter Conaty, Jr., and Beth Gansen Knight—for excellence in Private Wealth Law. Chambers notes that Richards, Layton & Finger is "a top name in Delaware" with "a stellar reputation in the market." Clients report that the firm has "a great bench, and they have always been known to provide great and high-end service for clients" (Chambers HNW, 2018).
| | |
| --- | --- |
| | For more information on DBA programs and events visit www.debankers.com or click on the logo at right to redirect to our website. |


Delaware Bankers Association
8 W. Loockerman Street
Dover, DE 19903