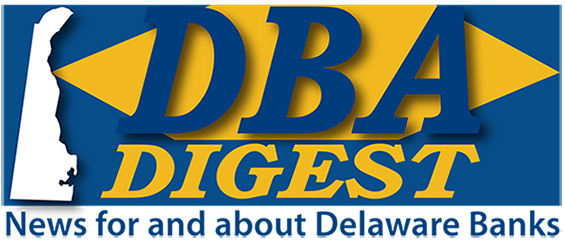 June 8, 2018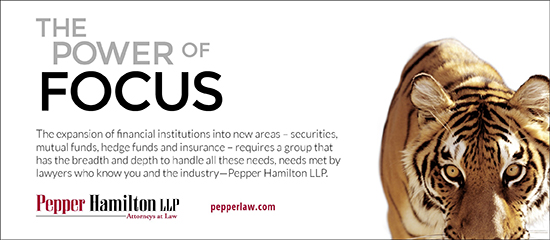 2018 Teach Children to Save Day Poster Contest Winner!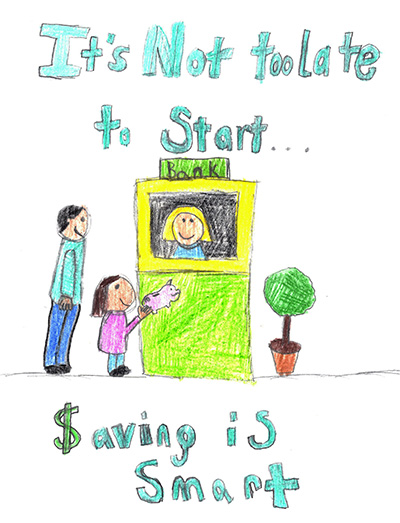 Each year students are invited to participate in a poster contest to illustrate the importance of saving. This year's first place winner was Julie Pent, a 4th grade student at Stokes Elementary School in Camden. Julie's poster, "It's Not Too Late to Start...$aving is Smart" is seen above. Julie received $100 for her winning entry. Two second place winners received $50 each. Nine entrants received honorable mention and were given copies of this year's book: "The Great Investo and the Winning Ticket." Congratulations to all the contestants and thank you!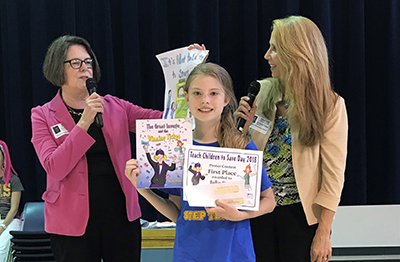 Dr. Bonnie Meszaros, Center for Economic Education and Entrepreneurship and Margaret Cregan, Delaware Bankers Association congratulate Julie Pent on her winning poster.
Registration Now Open - 2018 FDIC Directors' College - September 28th - Lewis, DE



Registration is now open for the 2018 FDIC Directors' College, September 28th at the University of Delaware Virden Center, Lewes, Delaware. The FDIC Directors' College is an interactive program that provides ongoing education on current topics of bank supervision to bank directors, senior officers, corporate secretaries, and board advisors. The course is designed to help directors and trustees, both new and experienced, stay abreast of the everchanging regulatory environment. Follow the link below for full agenda and registration information.


WSFS' Above Average Earnings and Revenue from Stable and Diversified Noninterest Sources Noted in A- Senior Debt Rating by KBRA



For a third consecutive year, Kroll Bond Rating Agency (KBRA) has reaffirmed the senior debt rating of A- for WSFS Financial Corporation, the parent company of WSFS Bank. The A- debt rating is among the highest that KBRA issues under its Bank Financial Strength Ratings scale. KBRA also reaffirmed WSFS' subordinated debt rating of BBB+ and a short-term debt rating of K2. WSFS Bank, the Company's main subsidiary, received strong credit ratings as well, including an A rating for deposit and senior unsecured debt, a subordinated debt rating of A-, and the short-term deposit and debt ratings of K1. "KBRA's reaffirmation of our high debt ratings is indicative that our Company's focus on delivering sustainable high performance, diversifying our fee income, and attracting and developing outstanding talent is giving us significant momentum," said WSFS' Dominic C. Canuso, Executive Vice President and Chief Financial Officer.


The Great Investo Savers Club -
Join the Growing List of Sponsors Today!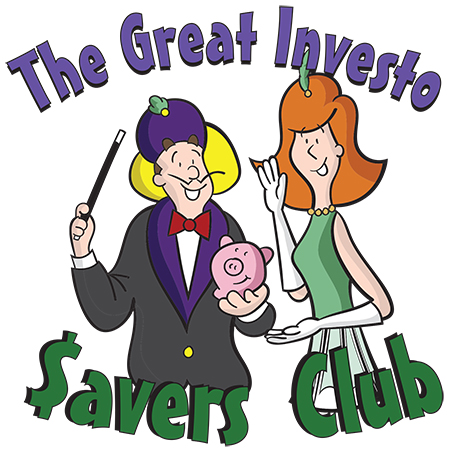 The list of bank sponsors is growing for The Great Investo Savers Club. The Club features the DFEA's trademarked characters, The Great Investo and his assistant, Penny. The Club is designed for children between the ages of 8 and 11 throughout the state of Delaware. Each member will receive a free savings kit including: a membership card; a 6-month Saving Diary with tips on setting goals and saving; a large wall poster to track their saving; a collapsible savings bank, and more! We're hoping for all our member banks to get involved in the sponsorship of the club. Join sponsors Barclays, Fulton Bank, Shore United Bank and WSFS Bank. Please contact Sarah Long or Greg Koseluk for information on sponsorship.

2018 Delaware Trust Conference!
Join Platinum Sponsor U.S. Trust Bank of America
and Diamond Sponsor WSFS Wealth - Christiana Trust
- Sponsorships and Exhibitor Space Now Available!



The prestigious list of sponsors is growing for the 2018 Delaware Trust Conference. The 13th annual edition of this premiere wealth management conference features the tricks you need to treat your clients to all the benefits of Delaware trusts! Join the growing list of sponsors including Platinum Sponsor: U.S. Trust Bank of America; Diamond Sponsor: WSFS Wealth - Christiana Trust; Gold Sponsors: Connolly Gallagher LLP; Gordon, Fournaris & Mammarella, P.A.; McCollom D'Emilio Smith Uebler LLC; and, Wilmington Trust. Silver Sponsors: BNY Mellon Wealth Management; and, NY Private Trust Company, a Delaware trust company. And Bronze Sponsors: Belfint, Lyons & Shuman, CPAs; Brown Brothers Harriman Trust Company of Delaware, N.A.; Cover & Rossiter, P.A.; Duane Morris LLP; and Santora CPA Group! Exhibition space is also available! Join exhibitors: First State Trust Company; Jackson National Life Distributors, LLC; Reich & Tang; and, Santora CPA Group. Visit the conference webpage via the link below for more information!



Greg Makosky joins
Artisans' Bank Commercial Lending Team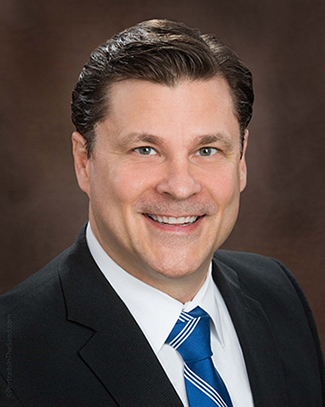 Artisans' Bank announced the addition of Greg Makosky to the Commercial Lending team as of early June. Mr. Makosky brings more than 20 years of vast work experience to Artisans' including being a small business owner as well as working as a business lender at WSFS. His insight to help other small business owners will contribute to Artisans' dedication to investing in our community. We welcome his expertise which will help in bridge the gap between a small business' current situation and its vision for the future. Having firsthand knowledge of the small business owners decisions that they face every day, Mr. Makosky will be able to comprehend this issues and help guide them to a financial solution that will benefit both parties. Mr. Makosky will be working out of our Rehoboth Commercial Office and lives with his family in Milford. He previously volunteered for Meals On Wheels and enjoys exercising, inventing, and spending time with his family.


Taylor Bank Hires New Personnel and Benefits Specialist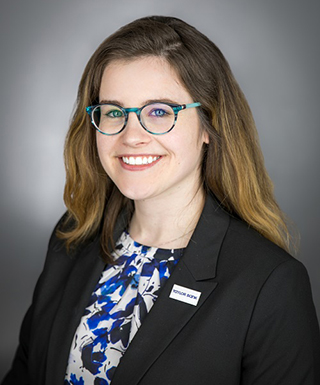 Raymond M. Thompson, President and Chief Executive Officer of Calvin B. Taylor Bank has announced that Rachel W. Mulholland has joined the bank as Personnel and Benefits Specialist. Ms. Mulholland will be responsible for supporting the human resources department, including administration of the bank's benefits, employee communications, HRIS, and other personnel related functions. Her office will be located at the bank's Main Office branch in downtown, Berlin. "We are excited to offer this opportunity to Rachel and look forward to seeing her continue to grow and share her knowledge with our team," stated Alysson DuPont, Vice President and Director of Human Resources.



Santora CPA Group Team Member Earns CPA License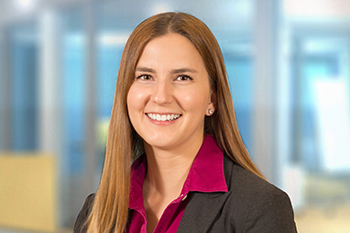 Santora CPA Group, a Newark-based Certified Public Accounting and Consulting firm, is pleased to announce that Sarah M. Grantham has earned her Certified Public Accountant (CPA) License in Delaware. Sarah joined the firm in July 2016 and is a Staff Accountant. She is a 2010 graduate of Western University in Ontario and a 2016 graduate of Goldey-Beacom College. Sarah is a member of the American Institute and Delaware Society of Certified Public Accountants. She also volunteers her time with the Wilmington Youth Rowing Association as Treasurer on the Board of Directors.
Belfint, Lyons & Shuman, CPAs June/July Focus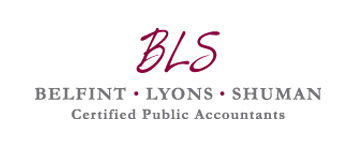 BLS is pleased to present the June/July 2018 issue of Focus. In it, we discuss: The ins and outs of Section 529 plans and Coverdell Education Savings Accounts; The distinction between employees and independent contractors; Making the most of IRA contributions and deductions; and, New revenue recognition standards that may apply when using GAAP
Pepper Hamilton Client Alert: Federal Reserve Proposes Rulemaking to Simplify the Volcker Rule


The Federal Reserve Board (FRB) has taken the first step toward providing banks meaningful relief from the Volcker Rule by soliciting public comment on a proposed rule that would simplify and streamline compliance. The proposed changes are the result of lessons learned by the FRB since the Volcker Rule went into effect four years ago, including the realization that not all financial institutions pose the same level of systemic risk. Publication of the proposed rule in the Federal Register is delayed pending comments and/or concurrence from the four other federal agencies that administer the Volcker Rule with the FRB. Those agencies are the Commodity Futures Trading Commission, the Federal Deposit Insurance Corporation, the Office of the Comptroller of the Currency, and the Securities and Exchange Commission.
Sallie Mae To Award $25,000 College Scholarship To Deserving High School Student In Delaware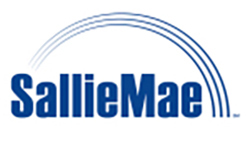 Sallie Mae announced that it will award a $25,000 college scholarship to a Delaware high school student as part of the company's Bridging the Dream Scholarship Program. The scholarship was made possible by the family of former executive Charlie Rocha, who made a generous contribution to the Bridging the Dream Scholarship Fund to honor his legacy. The Rocha family and Sallie Mae Chairman and CEO Raymond J. Quinlan made the announcement on Sunday at the company's second annual 5K race to support college scholarships. "One of the most fitting ways to honor my husband's legacy is to continue his good work," said Chrissy Rocha. "Charlie believed in this important scholarship program, but even more so, he believed in the exceptional scholarship recipients who overcome obstacles in their lives to make that dream of college a reality. My daughters and I are thrilled that a student from Delaware will benefit from this scholarship and honor Charlie's legacy and passion for education."
| | |
| --- | --- |
| | For more information on DBA programs and events visit www.debankers.com or click on the logo at right to redirect to our website. |


Delaware Bankers Association
8 W. Loockerman Street
Dover, DE 19903