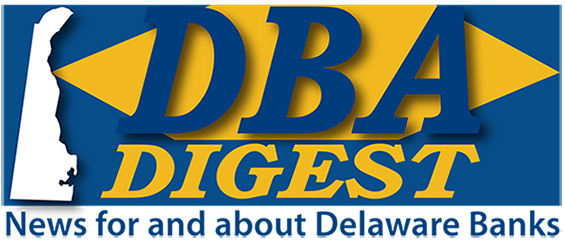 May 17, 2019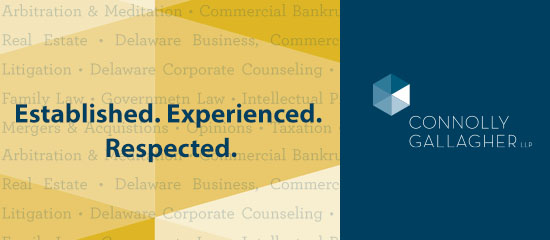 Delaware Bankers Association 124th Annual Meeting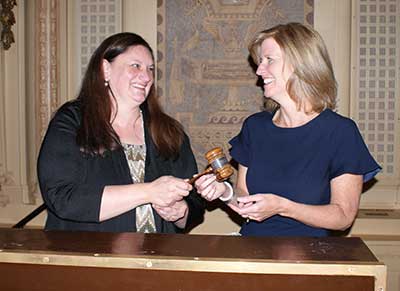 Cynthia D.M. Brown hands the Chair's gavel to incoming DBA Chair Elizabeth Albano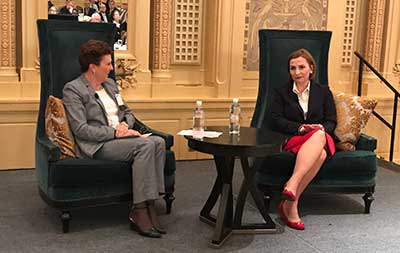 DBA President Sarah Long chats with FDIC Chairman Jelena McWilliams, the evening's keynote speaker
U.S. Senators Tom Carper and Chris Coons address the 2019 DBA Annual Dinner


Elizabeth D. Albano, Executive VP, Artisans' Bank, was elected the Chair of the Delaware Bankers Association last night at the DBA's 124th Annual Meeting in Wilmington. The DBA also elected and installed Joe Westcott, Market President, Delaware, Capital One, to the position of Chair-Elect. Other Members of the DBA Board of Directors are Directors at Large: Eric Hoerner - Chief Executive Officer, MidCoast Community Bank; and, Thomas M. Forrest, President & CEO, U.S. Trust Company of Delaware; and Directors: Cynthia D.M. Brown, President, Commonwealth Trust Company (Past Chair); Dominic Canuso, Executive Vice President and Chief Financial Officer, WSFS Bank; Bruce Colbourn, Market Executive, PNC Bank Delaware; Larry Drexler, General Counsel, Head of Legal & Chief Privacy Officer, Barclaycard US; Leslie Gillin, President, Co-Brand Card Services, Chase Bank USA, N.A.; George Kern, Regional Director, Bessemer Trust Company of Delaware; Lisa P. Kirkwood, SVP, Regional Vice President, TD Bank; Nicholas P. Lambrow, President, Delaware Region, M&T Bank; Tarrie Miller, SVP, Retail Banking and Marketing, County Bank; and, Matthew Parks, Director Community Reinvestment Act, Discover Bank. The evening's keynote speaker was Jelana McWilliams, the 21st Chairman of the FDIC.

Wilmington Trust Honored as
'Securitization Trustee of the Year' by GlobalCapital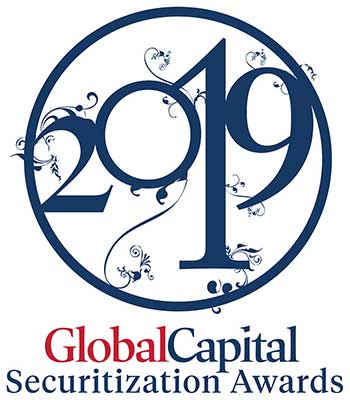 Wilmington Trust, N.A. was recognized as the "Securitization Trustee of the Year" for 2018 by GlobalCapital at their annual US Securitization Awards ceremony held in New York on May 8. GlobalCapital, owned by Euromoney, is a news, opinion, and data service covering the international capital markets. In 2017, Wilmington Trust was honored as "Overall Best Securitization Trustee of the Year" by GlobalCapital. GlobalCapital organizes the US Securitization Awards to recognize the best structured finance service providers in the industry. GlobalCapital conducted a nomination process earlier this year. The publication then used the nominations, combined with peer review among industry participants, as well as GlobalCapital's own research, to create the short list for each category. "We are proud to be recognized again for our work serving the securitization industry," said Patrick Tadie, head of Wilmington Trust's Global Structured Finance Division. "At Wilmington Trust, we continually strive to bring the best services, products, and people to our clients on every transaction. We continue to strive to provide the best service possible to our clients. We recognize that this award and other accolades would not be possible without the terrific industry partners we're privileged to know and support."



Shore United Bank Dover Days Festival Sponsor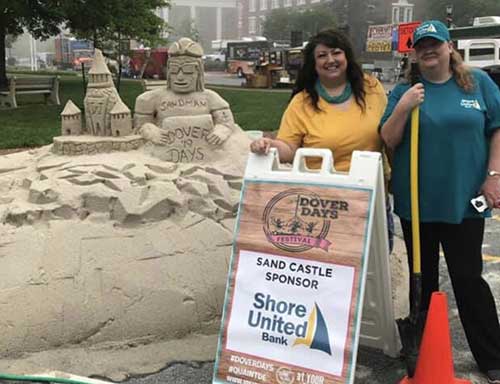 Left to right: Vickie Ebaugh, Asst. Branch Manager and Suzanne Smith, Head Teller, both of Dover, DE branch standing with sandcastle that Shore United Bank sponsored


Shore United Bank proudly sponsored and participated in the 86th Annual Dover Days Festival on May 4, 2019. The dedicated Shore United Bank employees from the Dover, DE branch attended to help run the booth. The Dover Days Festival is Kent County's Largest Festival and one of Delaware's Longest Running Events drawing approximately 50,000 visitors each year.



Hanna Ford Promoted to Operations Supervisor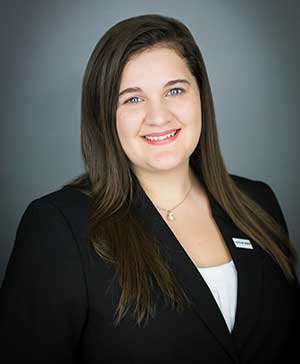 Taylor Bank is pleased to announce that Hanna Ford has been promoted to Operations Supervisor of the 20th Street Branch located in Ocean City, Maryland. Ford, a native of Worcester County, began her career at Taylor Bank as a Customer Service Associate in 2013. She has also served as an associate trainer, Senior Customer Service Associate and Management Trainee. In her new role, she is responsible for assisting with training and development of branch staff, and managing the overall operations of the branch. Ford is a participant in the bank's professional development program, and the Emerging Leaders Champion Program through the Maryland Bankers Association.



FIVE TIPS TO HELP THE CLASS OF 2019 GET READY TO PAY BACK STUDENT LOANS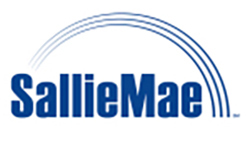 May is officially graduation season for college students, marking that pivotal transition from academia to adulthood. Navigating what's next often includes finding a job, deciding where to live, and preparing for other responsibilities like paying back student loans. Sallie Mae has tools and resources to help recent graduates get on the right track. The company's "Manage your student loans" is a one-stop source of straightforward, comprehensive information. It features practical tools, including a monthly budget worksheet and a loan payment estimator, as well as easy-to-understand explanations of complex subjects, like how interest accrues, how payments are allocated to principal and interest, and how to build a strong credit history.



Peter S. Gordon Elected as "At Large" Member of the Executive Committee of ACTEC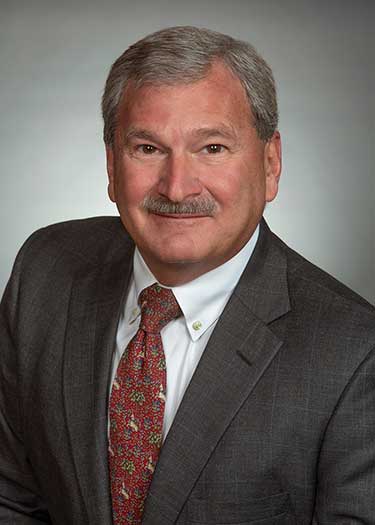 Peter S. Gordon, Esquire of Gordon, Fournaris & Mammarella, P.A. was elected for a three year term as an "at large" member of the Executive Committee of the American College of Trust and Estate Counsel ("ACTEC") during its annual meeting in La Quinta, California in March 2019. The Executive Committee constitutes the leadership team of the College. During his term on the Executive Committee, Peter will also serve as a member of the Board of Regents of the College. ACTEC is a professional society of peer-elected trust and estate lawyers who have demonstrated the highest level of integrity, commitment to the profession, competence and experience. Fellows are selected on the basis of experience, professional reputation and ability in the field of trust and estates and on the basis of having made a substantial contribution to these fields through lecturing, writing, teaching, and bar activities.
ABA Law Practice Today Features Managing Partner Keith Donovan

Keith Donovan discussed his leadership style and approach to law firm management with the American Bar Association's Law Practice Management Division. "I am a new managing partner, now in my second year. Our former managing partner gave me great advice: always focus on the best interests of the firm. I would add to that another piece of advice: results matter. Identify specifically the results that matter to your firm; develop a strategy to achieve those results; and have a way to measure the results," managing partner Keith Donovan said. Read the full interview via the link below.
33 Richards Layton Attorneys Named in Super Lawyers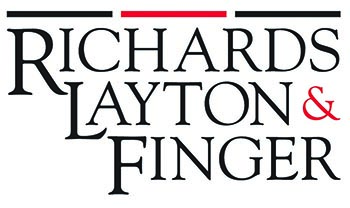 Thirty-three Richards, Layton & Finger attorneys have been recognized by Super Lawyers in its annual rankings of Delaware's leading lawyers, more lawyers than from any other Delaware firm. Gregory Williams, a director in the firm's Corporate Litigation group, is included on the Super Lawyers Top 10 list of the best lawyers in the state for the 13th consecutive year. See the full listing via the link below.
Ballard Spahr Alert: 11th Circuit Deepens Circuit Split on Standing: Holds FACTA Violation Creates Concrete Injury Based on Inherent Risk of Real Harm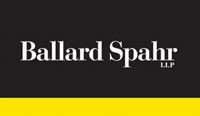 Last month, the U.S. Court of Appeals for the 11th Circuit issued an opinion in Muransky v. Godiva Chocolatier, Inc., which, sua sponte, vacated and reissued its earlier ruling in the same case: that consumers have standing to pursue claims for violation of the Fair and Accurate Credit Transactions Act's (FACTA) "truncation" rule. That rule prohibits merchants from printing "more than the last 5 digits of the credit card number or the expiration date" on a receipt. While the court did not expressly state its reasons for vacating its original opinion—issued in October 2018, in a split from the Second, Seventh, and Ninth Circuits—it noted that "the major change" appears in its Article III standing analysis—which is, of course, the basis of its holding. In particular, the court addressed the Third Circuit's recent decision in Kamal v. J. Crew Group, Inc., which reached the opposite conclusion on the same issue and criticized the 11th Circuit's original decision. In its new decision, the 11th Circuit attempts to address these issues through an amended standing analysis, which largely conflates the various standing principles and leaves an unclear picture of the 11th Circuit's view of standing in light of the U.S. Supreme Court's decision in Spokeo Inc. v. Robins.
| | |
| --- | --- |
| | For more information on DBA programs and events visit www.debankers.com or click on the logo at right to redirect to our website. |


Delaware Bankers Association
8 W. Loockerman Street
Dover, DE 19903