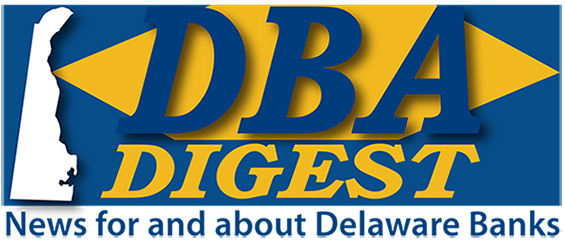 May 18, 2018

Delaware Bankers Association 123rd Annual Meeting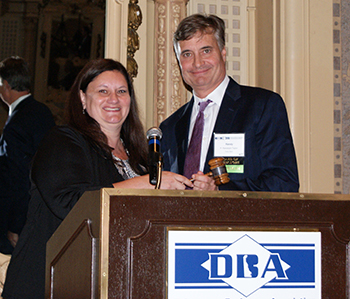 Outgoing chair Randy Taylor passes the gavel to
incoming chair Cindy Brown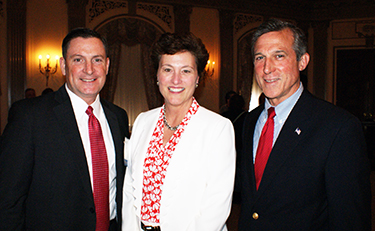 Keynote Speaker Lt. Col. Robert Darling, USMC (Ret.), DBA President Sarah Long, and Governor John Carney at the 123rd Annual DBA Meeting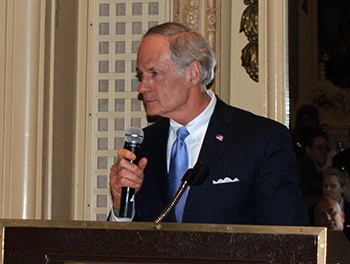 Senator Tom Carper addresses the 123rd DBA Annual Meeting



Cynthia D.M. Brown, President, Commonwealth Trust Company, was elected the Chair of the Delaware Bankers Association last night at the DBA's 123rd Annual Meeting in Wilmington. The DBA also elected and installed: Elizabeth D. Albano, Chief Financial Officer, Artisans' Bank, to the position of Chair-Elect. Other Members of the DBA Board of Directors are Directors at Large: Donna G. Mitchell, President & CEO, Deutsche Bank Trust Company Delaware; and, James Roszkowski, President, Discover Bank; and Directors: Dominic Canuso, Executive Vice President and Chief Financial Officer, WSFS Bank; Bruce Colbourn, Market Executive, PNC Bank Delaware; Larry Drexler, General Counsel, Head of Legal & Chief Privacy Officer, Barclaycard US; Eric G. Hoerner, Chief Executive Officer, MidCoast Community Bank; Thomas M. Forrest, President & CEO, U.S. Trust Company of Delaware; Leslie Gillin, President, Co-Brand Card Services, Chase Bank USA, N.A.; Lisa P. Kirkwood, SVP, Regional Vice President, TD Bank; Nicholas P. Lambrow, President, Delaware Region, M&T Bank; and, Joe Westcott, Market President, Delaware, Capital One.


UDaily: 20 YEARS OF TEACHING FINANCIAL LITERACY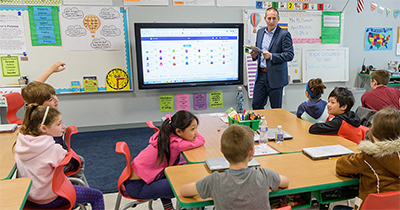 Joe Westcott, UD Class of 1998 and VP, Operations and Delaware Market president at Capital One, teaches a class of third-graders at William E. Cooke Elementary School in Hockessin. (Photo by Evan Krape)


Last week, thousands of Delaware elementary school students participated in Teach Children To Save Day (TCTSD). The national event, sponsored by the American Bankers Association (ABA), was produced locally by the Center for Economic Education and Entrepreneurship (CEEE) in the Alfred Lerner College of Business and Economics at the University of Delaware and the Delaware Bankers Association (DBA). To honor the 20th anniversary of TCTSD in Delaware, the state House of Representatives passed a joint resolution on April 18 designating the week of April 23 as Delaware's Teach Children to Save Week.


Fulton Financial Corporation
promotes commercial real estate team leader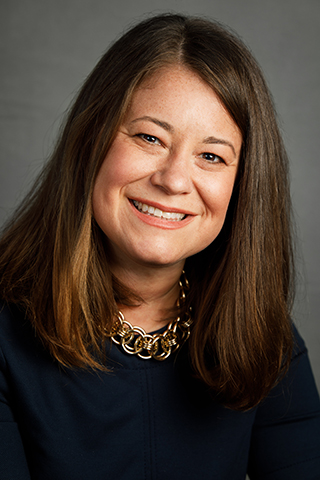 Meredith E. Roark, of Gwynedd Valley, has been promoted to commercial real estate team leader in Fulton Financial Corporation's Commercial Real Estate Lending Group. In this position, she will be responsible for managing and expanding commercial real estate relationships in the Philadelphia metropolitan area, which includes South and Central New Jersey and Northern Delaware. Roark joined Fulton Financial Corporation in 2016 and most recently held the position of commercial real estate relationship manager. Roark holds a Bachelor of Arts degree in Economics and English from Bucknell University.

Cinnaire Recognized as Best Nonprofit to Work For


Cinnaire, a non-profit Community Development Financial Institution (CDFI) that provides creative loans, investments and development services to support community development, was recently recognized as a 2018 Best Nonprofit to Work For by the Nonprofit Times, the leading business publication for Nonprofit Management. This is the fourth time Cinnaire has been selected for this prestigious list, with an overall ranking as 27 of the top 50 National Nonprofit organizations selected. The annual report is compiled with the help of Best Companies Group. The firm conducts a thorough organizational assessment. The multi-part process is designed to gather detailed data about each participating nonprofit. Cinnaire team members completed a questionnaire and a confidential survey. Board members, investors and our development partners were also contacted to provide input. "Our team is driven by our unwavering belief that all people deserve the opportunities provided by living in healthy communities, "said Mark McDaniel, Cinnaire president & CEO. "Being recognized as a Best Nonprofit for the fourth time is a testament to the commitment and passion of the Cinnaire team. We are honored to once again be named to this prestigious list and look forward to continuing to work together with our partners to advance communities."
Delaware Department of Justice Enforcement Attorney Returns to Morris James LLP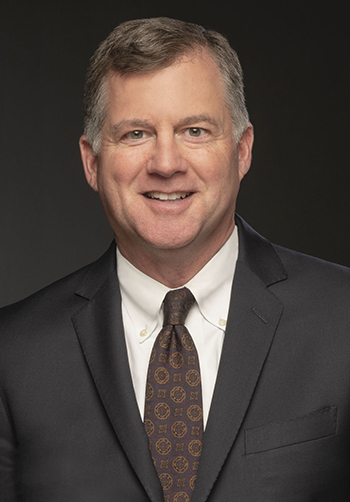 Morris James LLP is pleased to announce that Matthew F. Lintner has returned to the firm as a partner in the Corporate and Commercial Litigation Group. His practice focuses on corporate governance, corporate investigations, unfair trade practices and complex commercial matters. In 2012, Matt was appointed by Attorney General Beau Biden to be the Director of the Fraud and Consumer Protection Division for the Delaware Department of Justice, and in that position he was responsible for all civil and criminal enforcement under the securities, antitrust, consumer protection, data security and unfair competition laws in the State. Matt was also responsible for the prosecution of all corporate fraud, heath care fraud and charity fraud in Delaware.
Oral Revocation of TCPA Consent Ineffective Where Agreement Required Written Notice, Court Rules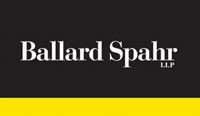 A consumer's alleged oral revocation of consent to receive autodialed or prerecorded calls to his cell phone was ineffective under the Telephone Consumer Protection Act (TCPA) when his credit card agreement provided that written notice was required to revoke such consent, an Ohio federal district court has ruled. In Barton v. Credit One Financial, the plaintiff had obtained a credit card from Credit One and, by using the card, had agreed to the terms of the cardholder agreement, which stated that he was "providing express written permission authorizing Credit One Bank…to contact you at any phone number (including mobile cellular/wireless, or similar devices)…for any lawful purpose. The ways in which we may contact you include live operator, automatic telephone dialing systems (auto-dialer), prerecorded message, text message or email." The agreement contained another provision titled "Communication Revocation," which stated, "if you do not want to receive communication as described [herein], you must (i) provide us with written notice revoking your prior consent [and include certain specified information.]"
| | |
| --- | --- |
| | For more information on DBA programs and events visit www.debankers.com or click on the logo at right to redirect to our website. |


Delaware Bankers Association
8 W. Loockerman Street
Dover, DE 19903