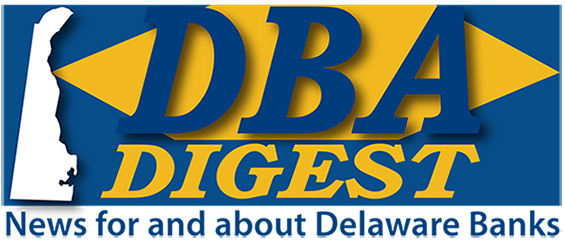 May 24, 2019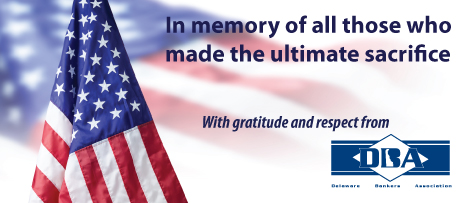 First David G. Bakerian Scholarships Awarded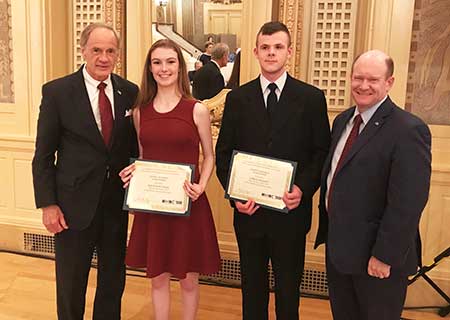 U.S. Senators Tom Carper and Chris Coons congratulate scholarship recipients Mackenzie Grier and Aaron Jackson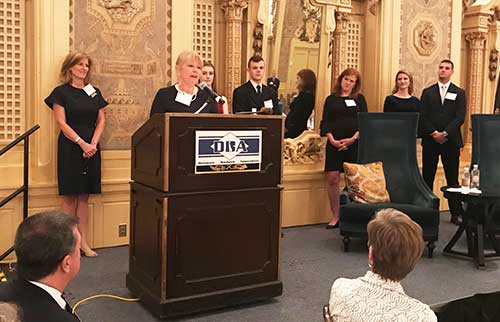 Pam Bakerian, David's widow, addresses the DBA Annual Dinner


The DBA announced the winners of the 2019 David G. Bakerian Scholarship Award at the 124th Annual Dinner, May 16th. The winners were Mackenzie Grier, a student at Concord High School, and Aaron Jackson, a student at Caesar Rodney High School. The scholarship, previously known as The Keys to Financial Success Scholarship, was renamed this year in honor of David G. Bakerian, the former president of the DBA and lifelong advocate for financial education. Both students participated in the Keys to Financial Success course. Each winner received a $2,500 scholarship. Scholarship winners are enrolled in the Keys to Financial Success elective that is taught in 31 high schools throughout Delaware to over 4,000 students. The course was developed in partnership with the University of Delaware's Center for Economic Education and Entrepreneurship (CEEE), Delaware Bankers Association, Federal Reserve Bank of Philadelphia, and Consumer Credit Counseling Service of Maryland and Delaware. Keys to Financial Success introduces students to the fundamentals of sound money management skills and basic financial planning concepts including Goals and Decision Making, Career Research, Money Management, Consumer Skills, and Risk Protection.

WSFS Bank Names New Small Business Director,
Anthony Ryan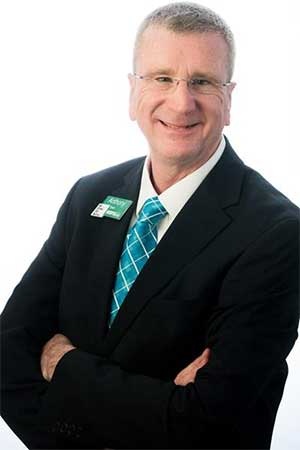 Long-time Greater Delaware Valley banker Anthony Ryan is the new Senior Vice President and Director of Small Business for WSFS Bank. He will lead a team of 18 small business lenders across WSFS Bank's expanded footprint, which now includes Delaware, the City of Philadelphia, Southeastern Pennsylvania and Southern New Jersey, following WSFS' recently completed combination with Beneficial Bank. Mr. Ryan will report to Glenn Kocher, Senior Vice President and Director of Retail Lending, WSFS Bank. "Anthony is the utmost dutiful banker to our small business Customers, owners and entrepreneurs, and a creative leader who has the right management experience to continue growing our small business banking segment," said Kocher. "We are excited for Anthony and our growing small business banking team." As Director of Small Business, Mr. Ryan will be responsible for the management, administration and strategic planning of the Bank's small business unit. In addition to overseeing the team of 18 small business lenders, Mr. Ryan will also manage the sales and credit functions that support small business banking at WSFS. He will also lead collaborations with the Bank's retail management and marketing teams on strategies to drive small business loan and deposit growth and increase market share.



Fulton Financial Announces Termination of Consent Order for the Corporation and Its Subsidiary, Lafayette Ambassador Bank




Fulton Financial Corporation announced that the Board of Governors of the Federal Reserve System has terminated the Consent Order which that agency issued on September 4, 2014 to Fulton Financial Corporation and its bank subsidiary, Lafayette Ambassador Bank. This order was originally issued for deficiencies in the company's Bank Secrecy Act and Anti-Money Laundering (BSA/AML) compliance program. Today's announcement follows the company's statements, released October 30, 2017, August 9, 2018, and January 15, 2019, that various regulatory agencies had terminated similar orders at five of the Corporation's other banking subsidiaries. "This completes the journey we have been on to strengthen our BSA/AML compliance programs," said E. Philip Wenger, Fulton Financial's Chairman and CEO. "I want to convey my thanks to our entire team of employees who worked diligently to build the company's enhanced and sustainable BSA/AML program. With the lifting of this order, the company will be able to move forward with plans to merge the two remaining subsidiary banks into its flagship bank, Fulton Bank, N.A. this fall."



BMT Market Summary - ECONOMIC DATA: TRADE WAR CONTINUES


The trade saga continued last week as both China and the U.S. indicated more tariffs are potentially on the way. The new developments follow President Trump's prior week decision to increase levies on $200 billion in Chinese goods from 10% to 25%. On Monday, May 13, Beijing retaliated by saying it will increase tariffs on $60 billion in U.S. goods while the U.S Trade Representative, Mr. Robert Lighthizer, announced it was laying the groundwork for a new round of potential tariffs on roughly $300 billion of Chinese imports. Needless to say, the equity markets were off to a rocky start to begin the week while bond yields dropped across the yield curve. Despite the tough stance from both sides, President Trump and Chinese President Xi Jinping are expected to meet at the upcoming G-20 Summit in Japan on June 28-29, 2019. The U.S. economy has been taking the trade war in stride after growing roughly +3.0% in 2018 as well as at an annualized rate of +3.2% in the first quarter of 2019. However, retail sales data for April 2019 indicated the U.S. economy and the U.S. consumer may be losing some steam.
Pepper Hamilton Alert: NY Signals the Importance of Technology in Consumer Financial Protection


The New York Department of Financial Services (NYDFS) recently surprised financial services' compliance and legal professionals by announcing the creation of a "Consumer Protection and Financial Enforcement Division." On April 29, acting NYDFS Superintendent Linda Lacewell announced that Katherine A. Lemire will be appointed the executive deputy superintendent of the new division, which combines the former Enforcement and Financial Frauds and the Consumer Protection divisions. While this may seem to merely be a restructuring to mirror the federal Consumer Financial Protection Bureau, it is actually building the state regulatory examination body of the future. The financial services industry is facing a technological revolution, and undergoing a dramatic shift in how financial services are delivered to consumers. We hear terms like "big data," "blockchain," "artificial intelligence," "cryptocurrency," and "digital wallet" every day, and they are the tools of the future for financial services. With this technological revolution, consumer protection also must continue to evolve, and state regulators must stay at the bleeding edge of these changes to ensure that consumers are not disadvantaged or harmed by them.
State Treasurer's 529 Day Promotes Saving For Education, Provides Free Delaware Children's Museum Admission

State Treasurer Colleen C. Davis and the Delaware College Investment Plan, known as the 529 Plan, are offering free admission to all Delaware Children's Museum guests on May 29, "529 Day." Treasurers nationwide celebrate this holiday to increase awareness of the need to save money in order to be financially college- and career-ready. "The Delaware Children's Museum's focus on hands-on learning helps to enhance the minds of our state's youth and engage young people in skills that they can use to thrive in the future. Of course, my personal favorite exhibit is the Bank on It room, where kids can learn about managing money," said Treasurer Davis. "Our 529 savings accounts can help encourage continued learning and skill building by helping young people to be college- and career-ready financially. I'm so glad that everyone will have the opportunity to learn, and play, at 529 Day."
| | |
| --- | --- |
| | For more information on DBA programs and events visit www.debankers.com or click on the logo at right to redirect to our website. |


Delaware Bankers Association
8 W. Loockerman Street
Dover, DE 19903