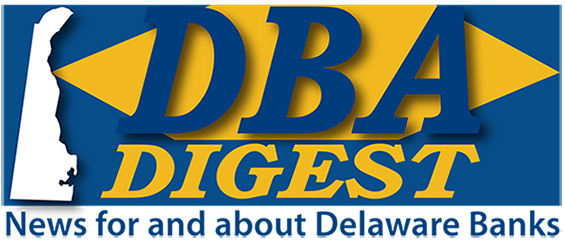 May 31, 2019

Comenity Presents The Great Investo and Penny's
Money Magic Show in New Castle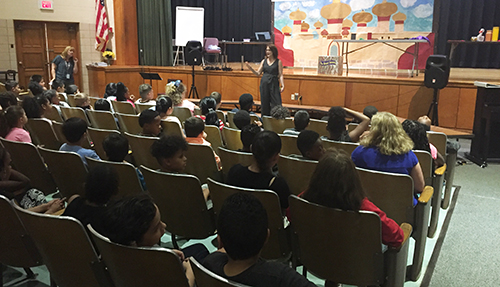 Martha O'Malley, Senior Director and Managing Counsel, Alliance Data, addresses the students at Eisenberg Elementary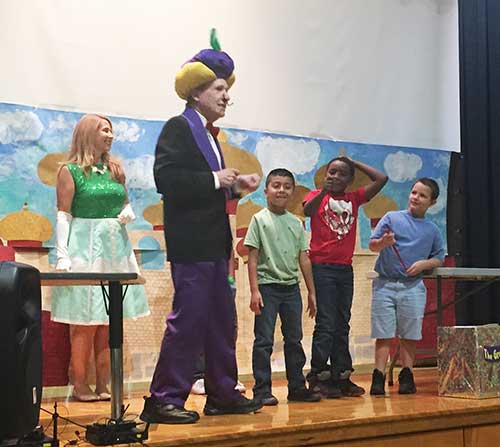 The Great Investo and Penny illustrate the magic of saving with the assistance of Eisenberg Elementary students


The Great Investo and Penny performed their Money Magic show for an assembly at Eisenberg Elementary School in New Castle, Wednesday, May 29nd. Presented by Comenity, the show illustrated the magic of setting goals, budgeting, and saving for over 90 third grade students. Martha O'Malley, Senior Director and Managing Counsel, Alliance Data, introduced the magic duo. Students who assisted in the magic tricks received copies of The Great Investo books, and all the students received Great Investo Savers Club kits.

2019 Delaware Trust Conference:
Sponsorships Now Available!




Sponsorships and Exhibitor Space is now available for the 2019 Delaware Trust Conference, October 22nd and 23rd, at the Chase Center on the Riverfront. Join Platinum Sponsor: Wilmington Trust - Gold Sponsors: Gordon, Fournaris & Mammarella, P.A.; and, Morris, Nichols, Arsht & Tunnell LLP - Bronze Sponsors: Belfint, Lyons & Shuman; Cover & Rossiter, P.A.; and, Santora CPA Group. And Exhibitors: Reich & Tang; and, Santora CPA Group. Click on the link below to visit the conference webpage and follow the links for Sponsorship Information and the Exhibitor Book.



WSFS Bank Welcomes Martin Lespada as Senior Vice President, Director of Retail Strategy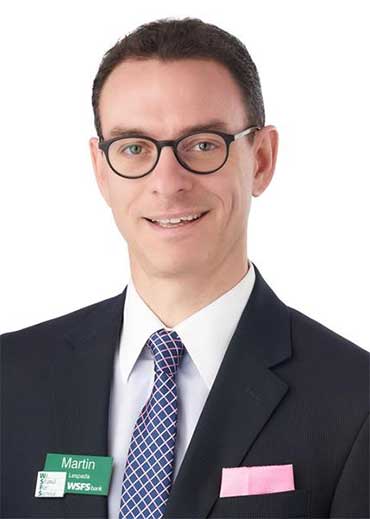 WSFS Bank has welcomed Martin Lespada as Senior Vice President, Director of Retail Strategy. Mr. Lespada will be responsible for the planning and execution of WSFS' retail-banking blueprint, management of the Customer channel delivery strategy, branch development and design, optimization of the branch network, retail performance management and retail operations. Mr. Lespada joins WSFS following a long career with Capital One at the bank's headquarters in Northern Virginia, most recently as Senior Director of Product and Customer Experience. Previously, he worked at PwC and KPMG. "We are thrilled to welcome Martin to WSFS Bank, a proven and creative leader whose unique and diverse background will be pivotal to our development and deployment of new innovative Customer delivery solutions," said WSFS' Rick Wright, Executive Vice President, Chief Retail Banking Officer. "His extensive background in developing and implementing product and Customer experience strategies will be integral in the execution of melding physical and digital delivery with the latest technology and actionable data to even better serve our Customers." Mr. Lespada received a B.S. in Finance from Universidad de Buenos Aires, Argentina, and an MBA from George Washington University in Washington, D.C. He is a driving force in diversity development and recruitment and is an active participant and supporter of the Montgomery Cheetahs, a special-education youth hockey club.



The Legal 500 Recognizes Morris Nichols Among Leading U.S. Law Firms for M&A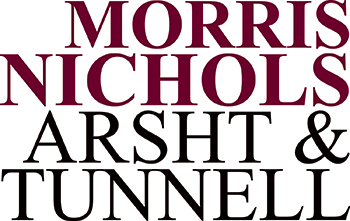 The Legal 500 United States released its 2019 edition today. Morris, Nichols, Arsht & Tunnell LLP is once again "highly rated" in the nationwide guide to the foremost law firms in the United States. "One of the best firms in Delaware generally," says one prominent source, "with particular strength in M&A litigation, [Morris Nichols] is my first call on Delaware matters." Another Legal 500 source commends Morris Nichols' team as, "Commercially minded, but at the same time technically precise." For the fifth year in a row, Morris Nichols appears in two mergers and acquisitions tables for "Dispute resolution: M&A: litigation: defense" and "M&A/corporate and commercial: M&A: middle-market (sub-$500m)."
9 Morris James Attorneys Named in Delaware Super Lawyers® and Rising Stars Lists


Morris James is pleased to announce that five of its attorneys have been named 2019 Delaware Super Lawyers®, and four additional attorneys have been selected as Delaware Rising Stars. Partner P. Clarkson Collins, Jr., recognized by Super Lawyers since 2007, was further honored by being named to the Delaware "Top Ten" list. Super Lawyers® selects outstanding lawyers from more than 70 practice areas throughout the United States who have attained a high degree of peer recognition and professional achievement. Only the top five percent of attorneys in each state are honored by Super Lawyers® in their annual list, and the Rising Star selection is limited to only 2.5 percent of eligible attorneys, according to Super Lawyers' website.
| | |
| --- | --- |
| | For more information on DBA programs and events visit www.debankers.com or click on the logo at right to redirect to our website. |


Delaware Bankers Association
8 W. Loockerman Street
Dover, DE 19903