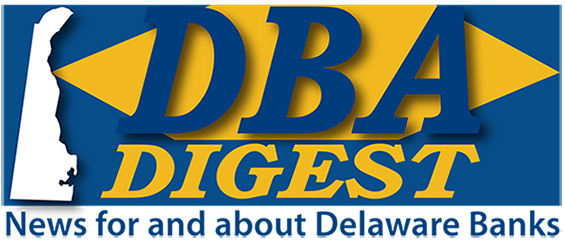 November 2, 2018
Support Financial Literacy in Delaware! AmazonSmile donations to the Delaware Financial Education Alliance
raised to 5%! Ends Today! Shop Now!




Thanks to customers shopping at smile.amazon.com, AmazonSmile has donated over $100 million to charities around the world! To celebrate, they're launching the biggest bonus donation to date — 5% for 5 days. From Oct 29 - Nov 2, Amazon is donating 5%, ten times the usual rate, on all eligible smile.amazon.com purchases. Through Nov 2, AmazonSmile is donating 5% (ten times the usual amount) to Delaware Financial Education Alliance when you shop at smile.amazon.com/ch/22-2549908. #AmazonSmile #StartWithaSmile


Last Call: Women Connect!
November 8th & 9th - Lewes, DE
Attend Either or Both!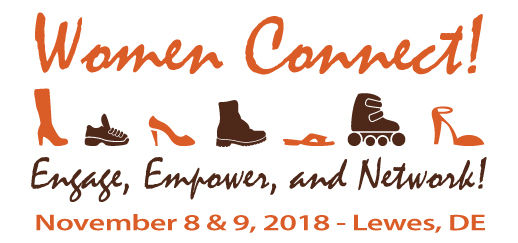 There's still time to register for the next Women Connect event, the evening of November 8th with a reception at Agave followed by an engaging seminar on November 9th at Fish On! The seminar will feature Jen Groover, tagged by Success Magazine and Entrepreneur Magazine as a "One-Women Brand" and leading "Serial Entrepreneur". Jen is the creator of the Butler Bag, the world's first compartmentalized handbag! Jen ranked #8 in the Top 51 Influencers of Human Potential by SAP and brings high energy and multi-faceted wisdom to her presentations. You'll also hear Kristen Visbal's inspiring story. Kristen, a resident of Lewes, is an American sculptor who specializes in lost-wax casting in bronze. Her most well-known work of public art is Fearless Girl, a 50" bronze figure installed in Manhattan's Financial District. There will also be ample opportunity to network. The reception will be held at Agave in Lewes from 6:30 PM – 9:00 PM on November 8th. Both Jen Groover and Kristen Visbal will attend the Thursday evening reception. The seminar will be held on November 9th at Fish On! from 8:30 AM – 1:30 PM.
Sponsorships are still available! Follow the link below for the agenda, and registration information.



Compliance Professionals Time is Running Out!
Don't Miss Compliance '18! Nov. 13th, 14th, & 15th!




Compliance professionals, you have less than one week left to take advantage of discounted early-bird registration for Compliance '18,
to be held November 13th, 14th & 15th at Wilmington University, New Castle. Sessions and topics include: Fair lending, Deposit Compliance, UDAAP, BSA/AML, Financial Elder Abuse, and more! Convenient full day and half-day sessions available! 18 DE & PA CLE Credits, CPE and CRCM Credits applied for. Space is limited! Register today! Click on the link below for the full agenda and registration information. Presenting sponsor: Pepper Hamilton, LLP




Artisans' Bank and Mountaire Farms Join Forces for the Thanksgiving for Thousands Food Drive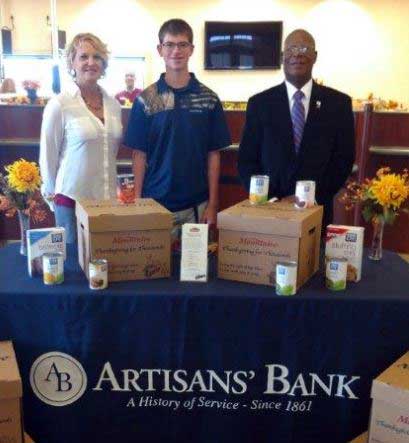 Colby Johnson, an Artisans' Bank customer, Arthur Campbell, Mayor of Milford and Deanna Smith, Vice President and Area Manager, pose with donation boxes that are located in the branch offices of Artisans' Bank in Kent & Sussex Counties. This annual food drive is a great example of a community coming together to help those in need. Mr. Johnson came into the Milford Branch and spoke to Ms. Smith about making Artisans' Bank a collection spot, giving all of the customers the opportunity to help local families with a food donation. Collection boxes will be available until mid-November. Mr. Johnson will then deliver the food to the Mountaire Farms warehouse in Selbyville, where volunteers will organize and pack the food boxes for distribution. If you would like to volunteer and for more information, please see the link below.


Taylor Bank Makes $50,000 Donation to Berlin Fire Company



Taylor Bank recently made a $50,000 donation to the Berlin Fire Company to support the construction of its new Station #3 to be located at 10837 Ocean Gateway, just east of Berlin. Taylor Bank President Ray Thompson commented, "Taylor Bank is proud to support the Berlin Fire Company in their fundraising efforts for this important new fire station. The Berlin Fire Company, through its career and volunteer members, provide an invaluable service to the residents and businesses of Berlin and its surrounding area, and their coverage area continues to grow. We are grateful for all that they do for us, and recognize they cannot maintain high quality and consistent fire suppression and emergency medical services without both private and public support."


Sallie Mae Offers Tips, Tools, and Resources to Help Students Prepare For and Manage Student Loan Payments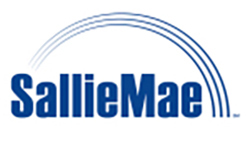 For those students who graduated last spring and borrowed to help pay for college, November marks the end of the six-month grace period and means the first payment on student loans are due. That said, according to recently released research, "How America Pays for College 2018," four in 10 families haven't researched any repayment topics. To help students prepare for, and responsibly manage, student loan payments, Sallie Mae — the nation's saving, planning, and paying for college company — offers a variety of free tips, tools, and resources. The company's managing your student loans resource is a destination for practical tools, including a monthly budget worksheet and a loan payment estimator, as well as easy-to-understand explanations of subjects, like how interest accrues, how payments are allocated to principal and interest, and how to build a strong credit history.


BMT Market Summary - Economic Growth Is Strong, Yet Equities Continue to Sell Off




According to the U.S. Bureau of Economic Analysis, third quarter 2018 real GDP rose 3.5%. As the chart below illustrates, this is the first time since 2014 that real GDP growth increased by at least 3.5% in two consecutive quarters. With economic growth showing no visible signs of abating and corporate profits at all-time highs, why has the stock market continued to fall precipitously? The S&P 500 Index declined nearly -4.0% last week alone, and it is down -9.1% for the month of October through Friday (Oct. 26).


October Proclaimed
Estate Planning Awareness Month in Delaware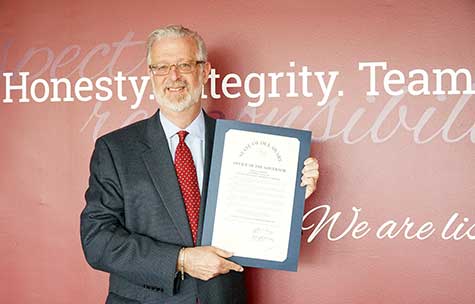 Belfint, Lyons & Shuman, P.A. (BLS), a certified public accounting and consulting firm, is excited to have been an integral part of securing Governor John C. Carney's proclamation to establish October as Estate Planning Awareness Month in Delaware. Jordon N. Rosen, CPA, AEP, Director – Estates and Trusts, is the Delaware Ambassador of the Financial Literacy Foundation and spearheaded this important effort in Delaware. The Financial Awareness Foundation's mission is to significantly help solve a major social problem dealing with the lack of financial awareness along with the financial illiteracy epidemic. They serve as a nonpolitical "financial awareness advocate" for the general public, the financial service, charitable gift planners and nonprofit professionals and their organizations, educational institutions, municipalities, and employers. To help address and solve the major social challenge of financial health, The Financial Awareness Foundation has two main goals - one being the establishment of National Estate Planning Awareness Month in all 50 states. "More than half of all adults don't have a will or any estate planning documents. Careful planning can prevent family members or other beneficiaries from being subjected to complex and unnecessary administration of a loved one's affairs. It also allows the individual to pass down not only material wealth, but also intellectual, social, and moral values to the next generation" states Jordon N. Rosen, CPA, AEP. "We are grateful to Governor Carney's office for recognizing the importance of estate planning by issuing this proclamation."


Roseman Elected President of
CSC Incorporators Toastmasters Club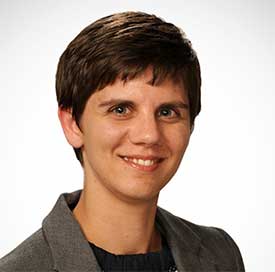 Cover & Rossiter's Luci Roseman was recently elected President of her local Toastmasters International club, CSC Incorporators Toastmasters Club. Joining Toastmasters International as part of her professional development plan has added tremendous value to her career at Cover & Rossiter, where she is currently a supervisor in the tax department. "I've taken on more of a leadership role with our newest staff members and have developed and presented various classes," Roseman said. "I'm constantly asking for feedback to continue to improve my communication and leadership skills," she added. Besides her professional development, Roseman has also seen the positive benefits Toastmasters has had in her personal life. An avid horseback rider in her spare time, she sees parallels between her hobby and her involvement with Toastmasters. "I think that Toastmasters and horseback riding feed off of each other," she said. "Whether you're in front of an audience or on top of a horse, it's important to hide any butterflies you may have, otherwise they'll sense that nervousness." In terms of leadership, just as with people, "It's important to establish trust in order for the horse to let you lead them."


Morris James Recognized in
Delaware Today Top Lawyers Survey



Morris James LLP is pleased to announce that 39 attorneys in 20 practice areas were recognized as Top Lawyers by their peers in a survey of Delaware attorneys conducted by Delaware Today magazine. Morris James had more top lawyers and top vote-getters than any other law firm in Delaware. Follow the link below for a full listing.


Richards Layton Attorneys Named
Delaware Today Top Lawyers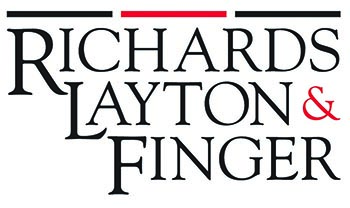 Nine Richards, Layton & Finger attorneys have been chosen as Top Lawyers in Delaware Today magazine's annual list of the best lawyers in the state. Two Richards Layton lawyers, Mark Purpura and Sara Toner, were designated as Top Vote-Getters in their respective practice areas; Sara for the third year, Mark for the fourth. The firm attorneys chosen as Top Lawyers and their areas of practice are: Mark D. Collins – Bankruptcy/Business; Mark J. Gentile – Corporate Law; Robert J. Krapf – Real Estate; Mark A. Kurtz – Business/Commercial Law; Mark V. Purpura – Banking Law; W. Donald Sparks II – Trusts & Estates; Sara T. Toner – Real Estate; Robert W. Whetzel – Environmental Law; Gregory P. Williams – Appellate.


Alan J. Kaplan is Named an NACD Board Leadership Fellow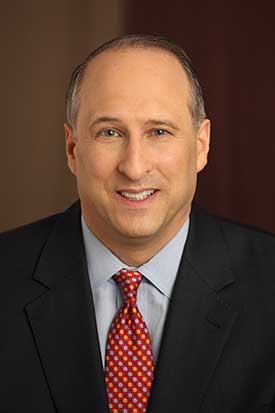 Kaplan Partners, a leading boutique executive search and talent advisory firm, today announced that the National Association of Corporate Directors (NACD) recently recognized Alan J. Kaplan, Founder & CEO, as an NACD Board Leadership Fellow. NACD Fellows stand within the highest echelon of those committed to excellence in the boardroom. As the highest standard of credentialing for directors and governance professionals, NACD Fellowship is a comprehensive and continuous program of study that empowers Fellows with the latest insights, intelligence, and leading boardroom practices—year after year. "I am honored to join the distinguished and diverse group of individuals who make up the NACD Fellow community and who are committed to advancing the highest standards of boardroom excellence," said Kaplan. "The resources, insights, and connections I've made through NACD Fellowship will be key assets for our clients, as well as to my professional growth as a director."


Pepper Hamilton: Ambiguous UCC Collateral Descriptions Part II: Another Snare for Private Equity Companies




On August 20, the U.S. Bankruptcy Court for the Central District of Illinois in In re I80 Equipment, LLC, No.17-81749, 2018 WL 4006294 (Bankr. C.D. Ill. Aug. 20, 2018) held that a secured party failed to perfect its security interest due to an insufficient description of the collateral listed in its UCC-1 financing statement. The financing statement failed to sufficiently describe the collateral because it referenced the definition of "collateral" in the underlying security agreement without attaching the security agreement to the financing statement.


| | |
| --- | --- |
| | For more information on DBA programs and events visit www.debankers.com or click on the logo at right to redirect to our website. |


Delaware Bankers Association
8 W. Loockerman Street
Dover, DE 19903