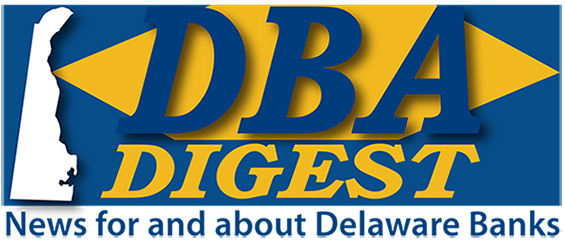 October 11, 2019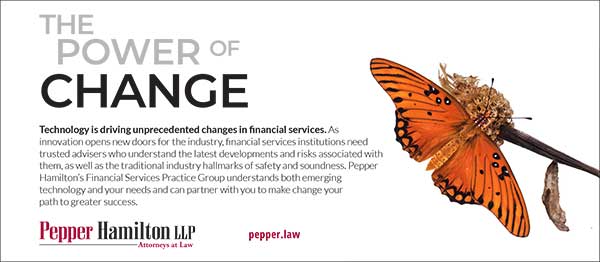 LAST CALL to Register for the
2019 Delaware Trust Conference!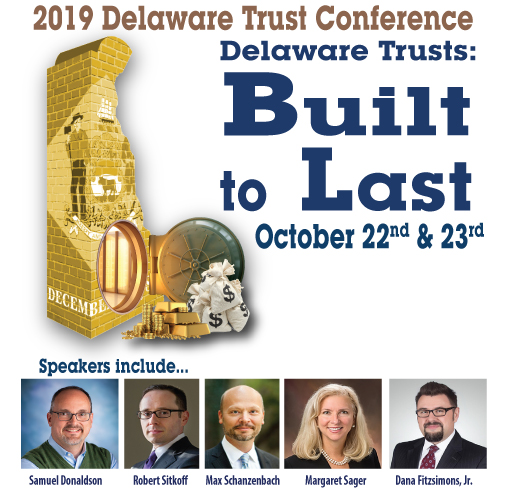 Wealth Management Professionals, this is your final opportunity to register for the 2019 Delaware Trust Conference! Don't miss our stellar lineup of the nation's top trust, legal and wealth management experts. Get the latest information on maximizing the benefits on Delaware trusts along with a wide array of information for trust practitioners from across the nation! See Sam Donaldson, Robert Sitkoff, Margaret Sager, and many more! Earn up to 15.0 CLE Credits, Including 2.0 Ethics Credits!
Click on the link below to see this year's great line-up of speakers and topics, and to access the registration form!



Women Connect! Sussex County!
November 7th & 8th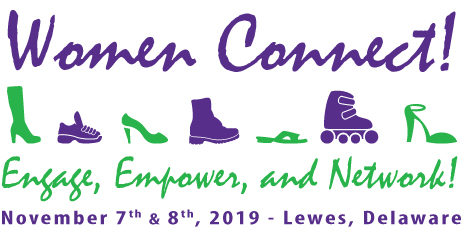 Registration today for the next Women Connect event - November 7th and 8th in Lewes, Delaware. Thursday night features a reception with filmmaker Melissa Davey and special screening of her film "The Beyond 60 Project," a documentary initiative about women over the age of 60. The next morning will feature engaging speakers, including Susan Rocco, founder and host of "The Women to Watch" Radio program, and Michelle DiFebo Freeman, the Founder and CEO of the Carl M. Freeman Foundation. Attend one event or both! Sponsorship opportunities also available! Join Platinum Sponsor, Capital One; Silver Sponsor, The Bryn Mawr Trust Company of Delaware; and, Bronze Sponsor: Charles Schwab Trust Company of Delaware. Click on the link below for the full agenda, registration form, and sponsorship information.



One More Week to Save with Early-Bird Registration for Compliance '19!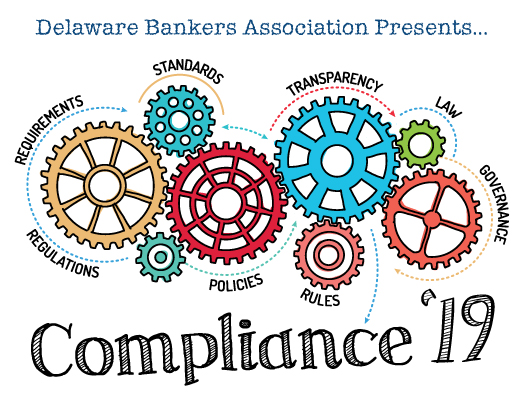 Only one week left to save with Discounted Early-Bird Registration for Compliance '19, the DBA's annual Compliance School! This year's event will be Tuesday through Thursday, November 19th - 21st at Wilmington University's Brandwine Campus. Compliance '19 will shine a spotlight on a number of ongoing, current and pending changes and will feature detailed discussions of emerging issues in consumer lending, deposits/operations, risk-management, audit, and AML/BSA/OFAC. Best of all, the School offers a valuable opportunity for peer exchange. Topics include: • BSA/AML/OFAC • Fraud • Cybersecurity • CRA • TRID • Beneficial Ownership • Elder Abuse • Flood Insurance • Reg. CC • Updates to compliance manuals and guides, and much more!
Sponsored by Pepper Hamilton, LLP.

Register before October 15th and Save!
Click on the link below for full agenda and registration information!



Calling all Mentors!
Volunteers Needed for UD Trust Minor Students!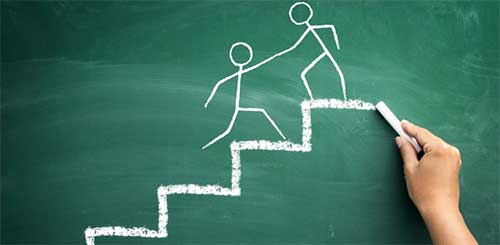 Join the UD Trust Minor Mentoring program and make a difference in someone's life! The program relies entirely on professional volunteers who are interested in mentoring a student. Mentors simply need to share their time and what they know based on their own professional development. The mentoring program makes this relationship as easy as possible by matching you with someone with similar interests. What's involved? The responsibility is at least one hour a month of contact with the student which can include shadowing at the Trust Conference and attending UD student mentoring events. For further information, contact Professor Jennifer McCloskey @ jzmac@udel.edu



Taylor Bank Plans New Branch in Onley, Virginia




Taylor Bank is proud to announce the planned opening of a new, full-service branch location in Onley, Virginia in summer 2020. Taylor Bank's Onley branch will be located at the corner of Market Street and Shore Parkway. This new location will offer new and existing customers a broad range of financial services powered by classic customer service and new banking technology. "We are extremely excited to build this new, full-service branch to better serve the needs of our community in Onley and the surrounding areas of Accomack County," said Raymond M. Thompson, President and CEO. "Taylor Bank is committed to the Eastern Shore of Virginia, and we are excited to explore new and innovative ways to provide access to quality financial services with this location."


Joy Barrist Speaks at "My Sister's Keeper" Event

Joy Barrist, commercial real estate partner at Potter Anderson, was recently a guest speaker at the My Sister's Keeper 4th Annual Tea Party on Saturday, October 5th. This organization provides a movement where girls can share, explore, think critically and develop self-confidence as they navigate their path and purpose in life. Barrist shared her story at the event and discussed what Rites of Passage can help girls develop their career path and what factors can help drive them to be successful. Potter Anderson was also a signature sponsor of the My Sister's Keeper 4th annual tea party.

Ballard Spahr Alert: Seventh Circuit: Reference to Amount of Static Debt as 'Current Balance' Didn't Violate FDCPA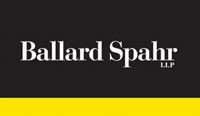 The Seventh Circuit held in Koehn v. Delta Outsource Group, Inc., et al. that using the term "current balance" in a collection letter to reference a static amount of debt was not misleading and did not violate the Fair Debt Collection Practices Act (FDCPA). The plaintiff alleged that a collection letter she received from the collection agency Delta Outsource Group, Inc. (Delta) was false, deceptive, and misleading in violation of the FDCPA because it referred to her debt as the "current balance" even though her account was static, meaning additional fees and interest could no longer be added. According to the plaintiff, the term "current balance" falsely implied that the "current balance" might increase, thereby misleading debtors to give such static debts greater priority than they otherwise would. Delta successfully moved to dismiss the complaint for failing to state a claim, arguing it was apparent on the face of the letter that no significant fraction of the population would be misled.

| | |
| --- | --- |
| | For more information on DBA programs and events visit www.debankers.com or click on the logo at right to redirect to our website. |


Delaware Bankers Association
8 W. Loockerman Street
Dover, DE 19903