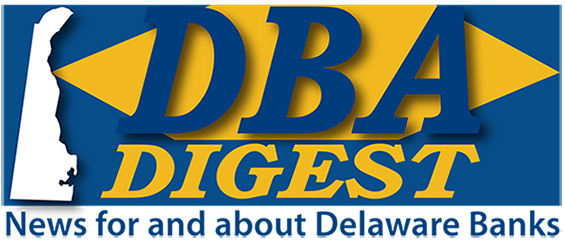 September 13, 2019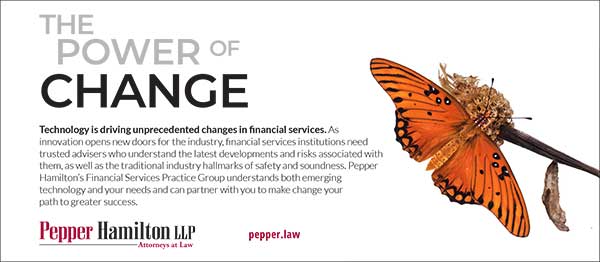 Corinne Stayton Named to DBT 40
by Delaware Business Times


Corinne Stayton, the Delaware Bankers Association's Event Planner has been selected as one of the Delaware Business Times' 2019 DBT 40. Honorees will be profiled in the Oct.15 issue of the Delaware Business Times and celebrated at a reception Oct. 23 at The Waterfall in Claymont.

"Each of our 2019 DBT 40 honorees are making contributions to our community through their professional and community achievement," said Delaware Business Times Publisher Rob Martinelli. "They represent a great cross-section of the entire Delaware community and are making a difference with their intelligence, initiative, and innovation." A panel that included local business leaders, past winners, and members of the DBT editorial team reviewed 90 nominations. The DBT 40 will be recognized Oct. 23, 2019, from 5:30-8:30 p.m. at The Waterfall, 3416 Philadelphia Pike in Claymont. Tickets can be purchased for $90 at the link below.



Last Call for 2019 FDIC Director's College!
Registration Closes Today, September 13th!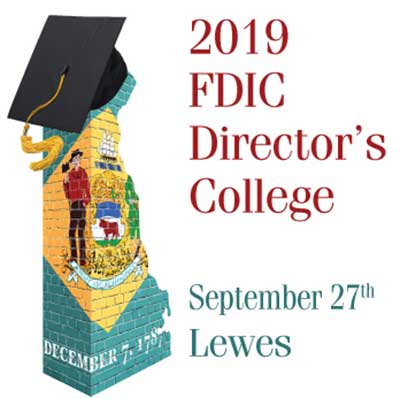 Today, September 13th is the last day to register for the 2019 FDIC Director's College, September 27th at the University of Delaware Virden Center, in Lewes. The FDIC Directors' College is an interactive program that provides ongoing education on current topics of bank supervision to bank directors, senior officers, corporate secretaries, and board advisors. The course is designed to help directors and trustees, both new and experienced, stay abreast of the ever-changing regulatory environment. This year's agenda includes: Conversation with Regulators; Liquidity Managment; CRE Stress Scenario Analysis; Assessing Fintech Strategies; and, more. Click on the link below to see the detailed agenda and access the registration form.



Don't Miss the All-Star Lineup at the 2019 Delaware Trust Conference! Register Today!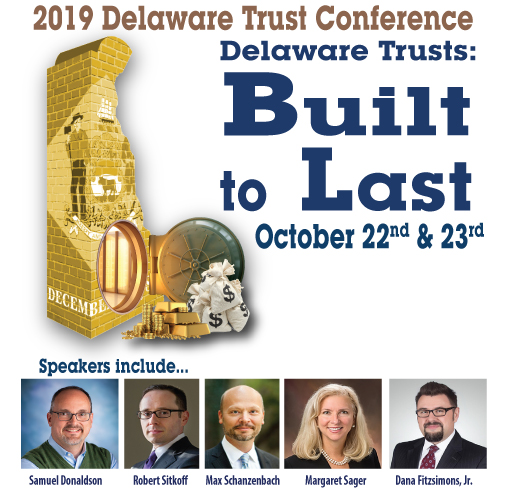 Wealth Management Professionals, space is filling up quickly for the 2019 Delaware Trust Conference. This year's conference features an All-Star lineup of the nation's top trust, legal and wealth management experts. Get the latest information on maximizing the benefits on Delaware trusts along with a wide array of information for trust practitioners from across the nation! See Sam Donaldson, Robert Sitkoff, Margaret Sager, and many more! Click on the link below to see this year's great line-up of speakers and topics, and to access the registration form!



DBA Trust Committee Meeting - Friday, September 20th
9:00 a.m. - Offices of Connolly Gallagher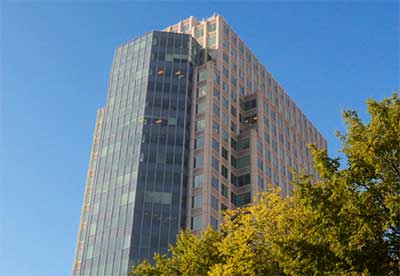 Last call, trust professionals for the next meeting of the DBA Trust Committee meeting, Friday, September 20th, 9 a.m., at the offices of Connolly Gallagher, in Wilmington. The meeting will feature: an update on the Trust Act from Greg Weinig of Connolly Gallagher; OSBC Proposed Amendment to Procedures for Applications to Form a Bank, Bank and Trust Company or Limited Purpose Trust Company; updates on the 2019 Delaware Trust Conference and plans for the next round of Foundations of Delaware Trust courses. Space is limited. Please RSVP to Greg Koseluk if you would like to attend.


Registration Now Open! - Women Connect!
November 7th & 8th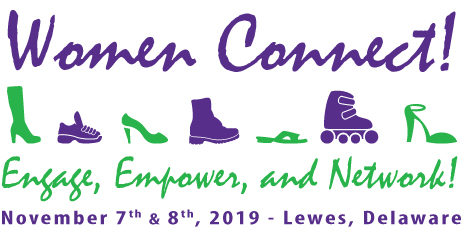 Registration is now open the next Women Connect event - November 7th and 8th in Lewes, Delaware. Thursday night features a reception with filmmaker Melissa Davey and special screening of her film "The Beyond 60 Project," a documentary initiative about women over the age of 60. The next morning will feature engaging speakers, including Susan Rocco, founder and host of "The Women to Watch" Radio program, and Michelle DiFebo Freeman, the Founder and CEO of the Carl M. Freeman Foundation. Attend one event or both! Sponsorship opportunities also available! Join Platinum Sponsor, Capital One; and Silver Sponsor, The Bryn Mawr Trust Company of Delaware. Click on the link below for the full agenda, registration form, and sponsorship information.



Save the Date for "Compliance '19" - November 19th - 21st - Wilmington University Brandywine Campus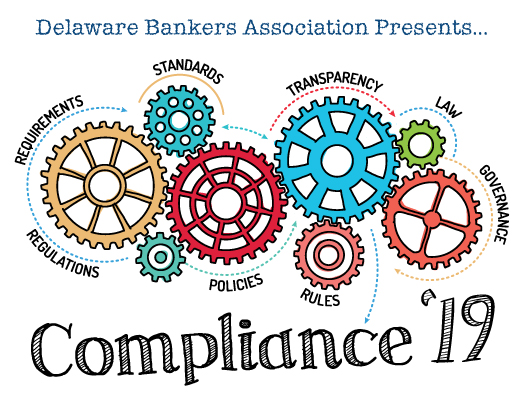 Save the date for the DBA's annual Compliance School: Compliance '19! This year's event will be Tuesday through Thursday, November 19th - 21st at Wilmington University's Brandwine Campus. Compliance '19 will shine a spotlight on a number of ongoing, current and pending changes and will feature detailed discussions of emerging issues in consumer lending, deposits/operations, risk-management, audit, and AML/BSA/OFAC. Best of all, the School offers a valuable opportunity for peer exchange. Topics include: • BSA/AML/OFAC • Fraud • Cybersecurity • CRA • TRID • Beneficial Ownership • Elder Abuse • Flood Insurance • Reg. CC • Updates to compliance manuals and guides, and much more! Stay tuned for the full agenda and registration!
Sponsored by Pepper Hamilton, LLP!



Delaware CPAs Mixer - September 26th -
Mystery! Networking! Drinks! Games! Prizes!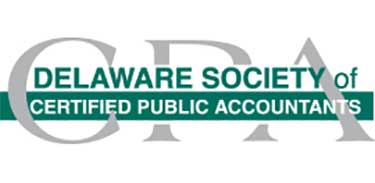 Invite your colleagues to join you for a fun-filled afternoon, Thursday, September 26, 2019 3:30pm – 7:00pm at Wilmington Brew Works 3129 Miller Road Wilmington, DE 19802! 3:30pm Doors & Bar Open; 4:00pm Speaker, Robert Anderson; 5:00pm Networking & Video Bingo.

Census Business Coalition - Census 2020 - Vital to America's Economy and Private Sector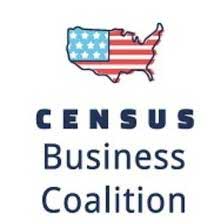 Governor John Carney signed an Executive Order creating the "Complete Count Commission" to get everyone organized for the next census. The DBA is part of the effort to help spread the word to the business community about the importance of the census. Please see the slides at the link below that outline the importance of the census to the economy, businesses and the entire community.

Taylor Bank Names New Human Resources Manager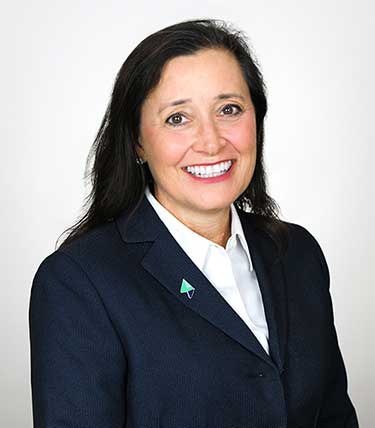 Taylor Bank is pleased to welcome Cindy Meyer as Human Resources Manager. In this role, Mrs. Meyer will lead all aspects of human resource strategy and execution for Taylor Bank's workforce, including compensation and benefits, talent acquisition, assessment, and development; and employee relations and engagement. Mrs. Meyer brings more than 18 years of human resources experience to this position, with a focus in payroll and benefits administration, benefit plan design, State and Federal labor laws, accounting, employee relations, recruiting, and employee communications. Prior to joining Taylor Bank, Mrs. Meyer served as Human Resources Manager at Peninsula Cardiology Associates in Salisbury, MD. Mrs. Meyer is a member of the Society for Human Resources Management (SHRM) and holds a Bachelor of Science degree in Economics from the University of Maryland College Park. "We are delighted to welcome Cindy to our Taylor Bank family," said Raymond M. Thompson, President and CEO. "Her experience and diverse background will prove to be an extremely valuable asset to the success of our organization."

Richards Layton "Has Maintained Its Perch Atop the State's Legal Landscape"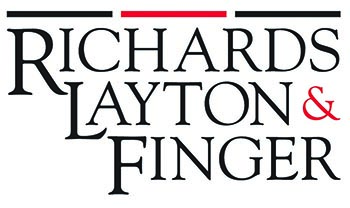 Richards, Layton & Finger has been selected by Law360 as a Delaware Regional Powerhouse. Law360 reports, "With a roster of homegrown attorneys bringing to bear its vast knowledge of Delaware's unique body of law, Richards, Layton & Finger, PA has maintained its perch atop the state's legal landscape by consistently getting high-profile courtroom wins in one of the busiest jurisdictions in the country." Richards Layton has been named a Regional Powerhouse every year since the award's inception in 2017. Law360 notes, "Whether it's working on multibillion-dollar mergers and acquisitions, guiding corporate restructurings, or defending clients' intellectual property rights, Richards Layton's successes in The First State have landed it on Law360's list of Delaware Powerhouse firms for 2019."

Connolly Gallagher Adds New Associate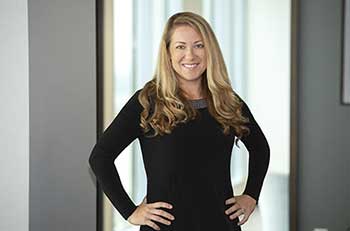 Connolly Gallagher LLP added attorney Stephanie Smiertka Riley to its commercial and intellectual property litigation practice as an associate. Her complex commercial litigation experience extends to both plaintiffs and defendants in business disputes, consumer protection claims, and pharmaceutical and medical device multi-district litigations. Riley is a member of the Delaware State Bar Association, American Bar Association and Rodney Inn of Court. She graduated from The George Washington University School of Law.

Cover & Rossiter Announces Recent New Hires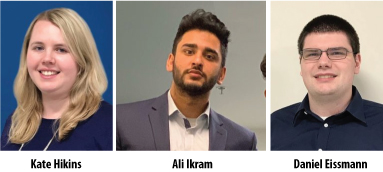 Cover & Rossiter is pleased to announce three new hires. Kate Hikins joined Cover & Rossiter in July as a Senior Accountant in the Tax department. Previously, she worked as the Financial Reporting Supervisor at Boyer & Boyer, in the areas of financial reporting and taxation. She graduated Summa Cum Laude from Wilmington University with a Bachelor of Science degree in Accounting. Having recently passed the CPA exam, she is in the process of obtaining her license in Maryland and permit to practice in Delaware. Ali Ikram joined the Audit department in June as a Staff Accountant. He graduated Cum Laude with a Bachelor of Science degree in Accounting from Goldey-Beacom College. He held internships at Zimny, Ratledge & Shaner LLC in their Tax department, Advance Publications in their Finance/Accounting/Treasury departments, and UMB Fund Services in their Fund Accounting department. Daniel Eissmann is a recent graduate of the University of Delaware with a Bachelor of Science degree in Accounting and Financial Planning, and a minor in Management Information Systems. He worked as an intern at Cover & Rossiter during his junior and senior years. Daniel will be working as a Staff Accountant in the Audit department.

Potter Anderson Adds Chancery Litigation Counsel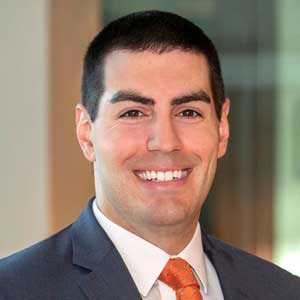 Potter Anderson & Corroon LLP today announced the addition of Nicholas D. Mozal as counsel in the corporate litigation practice. Mozal joins Potter Anderson after a clerkship with Vice Chancellor Morgan T. Zurn of the Delaware Court of Chancery. "We're thrilled to be growing our Corporate Group with additions like Nick Mozal," said Peter J. Walsh, Jr., chair of the firm's Corporate Group. "Nick's addition will strengthen our team's already-robust Chancery litigation practice as well as bolster our roster of lawyers who have served on or clerked at the Court of Chancery." Potter Anderson partner Myron T. Steele, former Chief Justice of the Supreme Court of Delaware, served as a Vice Chancellor for six years. Partners Peter J. Walsh, Jr., and J. Matthew Belger both clerked for the Delaware Court of Chancery prior to joining the firm.

| | |
| --- | --- |
| | For more information on DBA programs and events visit www.debankers.com or click on the logo at right to redirect to our website. |


Delaware Bankers Association
8 W. Loockerman Street
Dover, DE 19903