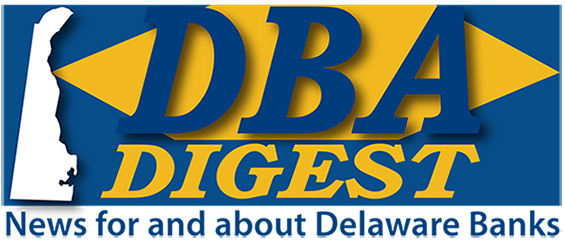 September 27, 2019

Calling all Mentors!
Volunteers Needed for UD Trust Minor Students!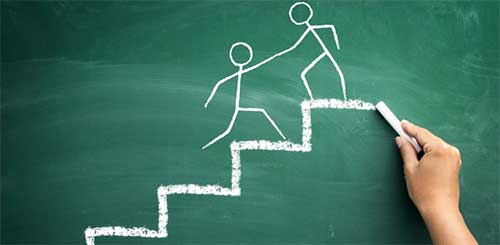 Join the UD Trust Minor Mentoring program and make a difference in someone's life! The program relies entirely on professional volunteers who are interested in mentoring a student. Mentors simply need to share their time and what they know based on their own professional development. The mentoring program makes this relationship as easy as possible by matching you with someone with similar interests. What's involved? The responsibility is at least one hour a month of contact with the student which can include shadowing at the Trust Conference and attending UD student mentoring events. For further information, contact Professor Jennifer McCloskey @ jzmac@udel.edu



Only Two Weeks Left to Register for the
2019 Delaware Trust Conference!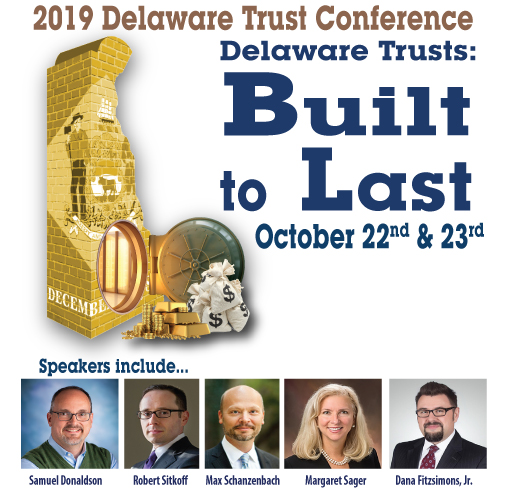 Wealth Management Professionals, Delaware Trusts are Built to Last, but your opportunity to register for the 2019 Delaware Trust Conference is quickly ending! This year's conference features an All-Star lineup of the nation's top trust, legal and wealth management experts. Get the latest information on maximizing the benefits on Delaware trusts along with a wide array of information for trust practitioners from across the nation! See Sam Donaldson, Robert Sitkoff, Margaret Sager, and many more! Click on the link below to see this year's great line-up of speakers and topics, and to access the registration form!



Women Connect! Sussex County!
November 7th & 8th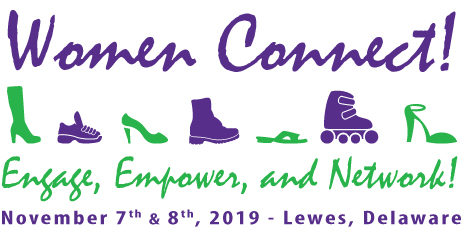 Registration is now open the next Women Connect event - November 7th and 8th in Lewes, Delaware. Thursday night features a reception with filmmaker Melissa Davey and special screening of her film "The Beyond 60 Project," a documentary initiative about women over the age of 60. The next morning will feature engaging speakers, including Susan Rocco, founder and host of "The Women to Watch" Radio program, and Michelle DiFebo Freeman, the Founder and CEO of the Carl M. Freeman Foundation. Attend one event or both! Sponsorship opportunities also available! Join Platinum Sponsor, Capital One; and Silver Sponsor, The Bryn Mawr Trust Company of Delaware. Click on the link below for the full agenda, registration form, and sponsorship information.



Discounted Registration Open for "Compliance '19"
November 19th - 21st
Wilmington University Brandywine Campus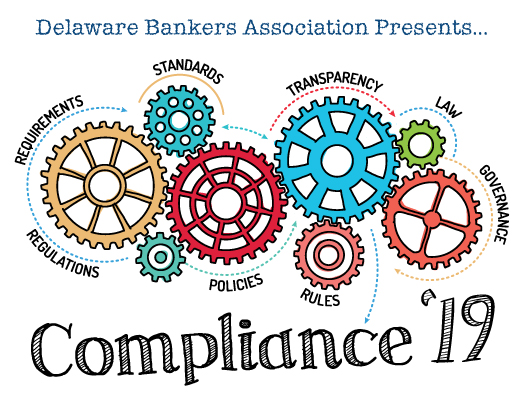 Discounted Early-Bird Registration is open for Compliance '19, the DBA's annual Compliance School! This year's event will be Tuesday through Thursday, November 19th - 21st at Wilmington University's Brandwine Campus. Compliance '19 will shine a spotlight on a number of ongoing, current and pending changes and will feature detailed discussions of emerging issues in consumer lending, deposits/operations, risk-management, audit, and AML/BSA/OFAC. Best of all, the School offers a valuable opportunity for peer exchange. Topics include: • BSA/AML/OFAC • Fraud • Cybersecurity • CRA • TRID • Beneficial Ownership • Elder Abuse • Flood Insurance • Reg. CC • Updates to compliance manuals and guides, and much more!
Sponsored by Pepper Hamilton, LLP.

Register before October 15th and Save!
Click on the link below for full agenda and registration information!



WSFS Bank's 'Icons' Video is Named 'Best in Show' by the American Bankers Association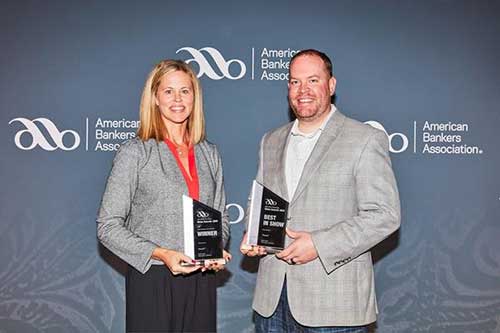 L-R: WSFS Vice President Kerry Sczepkowski, Director of Advertising and Creative Services, and Senior Vice President Justin Dunn, Chief Marketing Officer, accept two ABA Bank Marketing Video Awards for WSFS Bank's video ad, "Icons."
WSFS Bank's "Icons" video has earned two major awards from the American Bankers Association (ABA). "Icons" was the winner in the category of banks with more than $5 billion in assets, which includes more than 230 banks across the country and among the largest financial institutions. The video also scored highest from the nearly 400 entries by banks of all sizes to win the "Best in Show" award, the highest recognition presented by the ABA and the organization's fourth annual ABA Bank Marketing Video Awards. "Icons" is one of several multimedia creative pieces WSFS has rolled out in recent months as part of a marketing campaign that coincided with the Bank's expansion into the City of Philadelphia, and suburbs in southeastern Pennsylvania and southern New Jersey.

Taylor Bank Announces Completion of
Inaugural Professional Development Class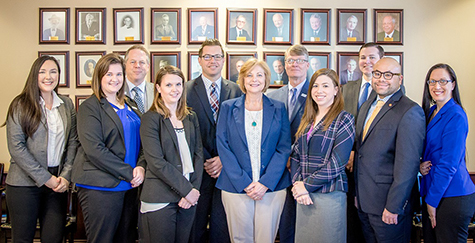 Taylor Bank is proud to announce the first group of individuals to complete its Professional Development Program. Established to meet the development needs of the bank's next generation, the program included quarterly interactive sessions devoted to competencies common to leadership, including: powerful communication, creating personal and organizational accountability, developing emotional intelligence, improving performance, time management and delegation, and more. The 2-year program concluded with a group project and presentation to the bank's executive team. To celebrate the occasion, the bank held an awards ceremony on Tuesday, September 17, 2019. "We are extremely proud of this inaugural class of professionals," said Raymond M. Thompson, President and CEO. "We applaud their accomplishment and thank them for their dedication, leadership, and contributions." The following individuals represent the Professional Development Class of 2019: Ashley DeMarr, Electronic Services Specialist / PT Corporate Trainer; Tori Grundman, Marketing Manager; Meagan Farber, Staff Accountant; Hanna Ford, Operations Supervisor; Sarah Matthews, Senior Customer Service Associate, and Atif Gaddis, BSA Officer.

Reliance Trust Company of Delaware
Becomes Arden Trust Company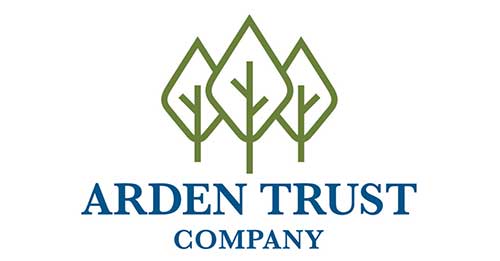 Reliance Trust Company of Delaware, an independent entity under the ownership of Kestra Financial, Inc., announced its rebrand as Arden Trust Company. Arden Trust leverages over 25 years of expertise to provide industry-leading, personal trust services across the country. The firm was acquired by Kestra Financial in December 2018. "We acquired Arden Trust Company to extend our platform capabilities by providing personal trust services in preparation for the generational transfer of wealth dictated by demographic trends," said James Poer, President and CEO of Kestra Financial, Inc. "The rebrand of Arden Trust speaks to our broader vision to grow our platform and ultimately, empower advisor success at every turn." The name "Arden," which means "great forest," was chosen to reflect the firm's mission to protect wealth and preserve familial legacies. The nomenclature is analogous to a forest's ability to survive through generations, similar to the legacies Arden Trust is in business to preserve. "Wealth transfer is a critical aspect of financial planning and the expanding value proposition of the advisor," said Michael Roberts, President of Arden Trust Company. "With this in mind, we are enhancing trust and estate planning support for advisors, while continuing our ongoing commitment to provide directed corporate trust services throughout the broker-dealer and wealth management community.

Michelle G. Gallo Joins Morris James' Commercial Litigation and Real Estate Practices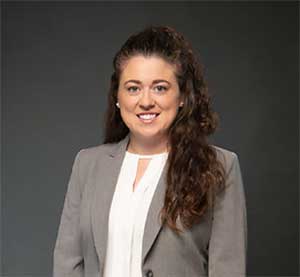 Morris James LLP is pleased to announce that Michelle G. Gallo has joined the firm as an associate in Morris James' Georgetown office. Her practice focuses on commercial transactions, real estate law, land use/zoning, and general litigation matters. Prior to joining Morris James, Ms. Gallo was a Judicial Law Clerk to The Honorable Kenneth S. Clark, Jr and The Honorable Rosemary Betts Beauregard for the Delaware Court of Common Pleas. She graduated from Widener University Delaware Law School in 2018 and received a B.A. from Washington College in 2011. Ms. Gallo is admitted to practice law in Delaware and Maryland. She can be reached at mgallo@morrisjames.com or 302-752-3344.

Census Business Coalition - Census 2020 - Vital to America's Economy and Private Sector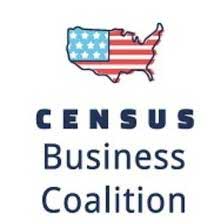 Governor John Carney signed an Executive Order creating the "Complete Count Commission" to get everyone organized for the next census. The DBA is part of the effort to help spread the word to the business community about the importance of the census. Please see the slides at the link below that outline the importance of the census to the economy, businesses and the entire community.

| | |
| --- | --- |
| | For more information on DBA programs and events visit www.debankers.com or click on the logo at right to redirect to our website. |


Delaware Bankers Association
8 W. Loockerman Street
Dover, DE 19903