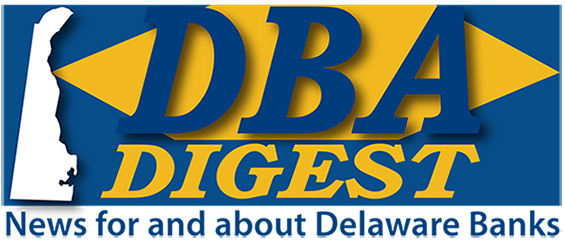 August 14, 2020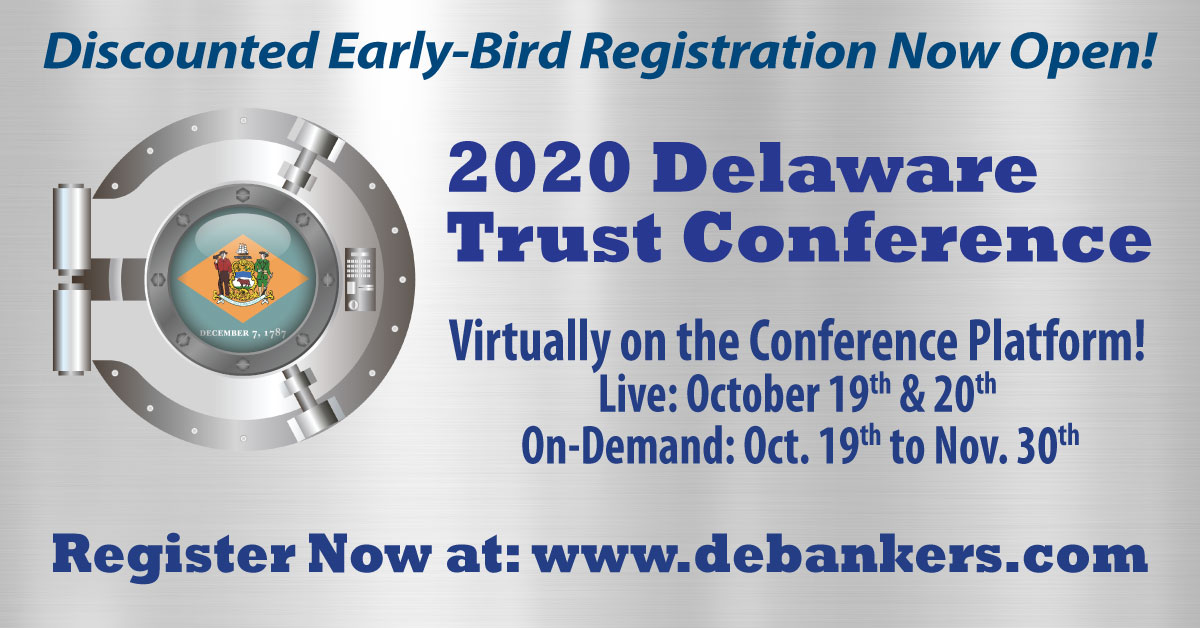 REGISTRATION IS STILL OPEN!
Economic Update - This Friday! August 14th!
Tom Barkin, FRB Richmond
and Patrick Harker, FRB Philadelphia

Moderated by Sarah Long, DBA President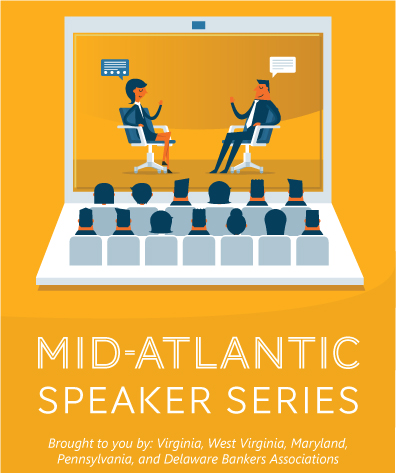 The next session in the Mid-Atlantic Speaker Series, is this Friday, August 14th at 9:00 a.m. Don't miss Tom Barkin, FRB Richmond and Patrick Harker, FRB Philadelphia as they provide an Economic Update, especially timely in these challenging times for businesses and individuals.


The DBA has partnered with the bankers associations in Maryland, Pennsylvania, Virginia and West Virginia to bring nationally recognized speakers to you each month. The series will take place once a month through December. One registration includes all six sessions!

JUST ADDED! BONUS SESSION: October 2: Regulator Panel (Moderator: Rob Nichols, ABA; Panelists: Acting Comptroller Brian Brooks, OCC, Chairman Jelena McWilliams, FDIC; Governor Michelle Bowman, Federal Reserve)

Each event will be at 9:00 a.m. See the link below for more information on other sessions and registration!


ABA, DBA Unveil New Ads
Highlighting Sen. Coons' Support for PPP, Small Biz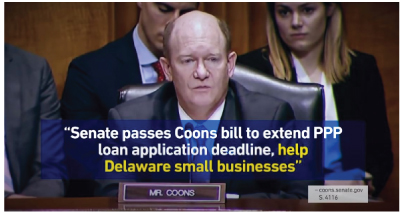 ABA and the Delaware Bankers Association yesterday began running new voter education ads thanking Sen. Chris Coons (D-Del.) for his support of the Paycheck Protection Program and small businesses during the coronavirus pandemic.

"Sen. Coons has been a champion for small businesses and a strong supporter of the Paycheck Protection Program, which has helped protect millions of businesses and jobs," said ABA President and CEO Rob Nichols. "His leadership has been critical during these challenging times, and it will be vitally important going forward."

"We are pleased to join ABA in releasing these new ads thanking Senator Coons for his efforts to help Delaware small businesses and workers weather the pandemic," added Delaware Bankers Association President and CEO Sarah Long. "He has a strong record fighting for jobs in our state, and his support for the Paycheck Protection Program is just the latest example of that commitment." View the ads.


Wealth Mangement Professionals... Don't Social Distance Your Career! Reserve Your Virtual Seat at the
2020 Delaware Trust Conference!
No need to social distance your career! Not when the 2020 Delaware Trust Conference will feature more sessions, more interaction, and greater flexibility for attendees, speakers, sponsors and exhibitors. The conference will be live October 19th and 20th, and sessions will also be accessible on-demand through November 30th! This isn't like Facetime or Zoom... this is fully interactive experience! Watch the video above to see what you can expect!

And there's still time to save on discounted early-bird registration!
Earn up to 22 credits, and at your pace through November 30th!

Sponsors and Exhibitors - you can reserve your space at the conference. All sponsors Gold level and above receive free booth space in the virtual exhibition hall!

Follow the link below to access on-line registration, sponsorship, and exhibitor information, and to see the conference agenda!
Urge the Senate to Pass Legislation to
Forgive PPP Loans $150K and Under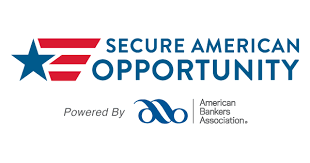 Since April 3, bankers across the country have assisted small businesses in their communities by providing loans through the Small Business Administration's Paycheck Protection Program . To date, small businesses have received over 4.8 million loans through the program. As the Paycheck Protection Program enters the forgiveness phase, the process should be easy, simple and less technical for small business owners who borrowed $150k or less, which account for 86% of all PPP loans. Ask your senators to support legislation to expedite the forgiveness process for most borrowers who received loans through the PPP.
Delaware Bankers Association
Launches New Member Portal for
Online Registrations and More!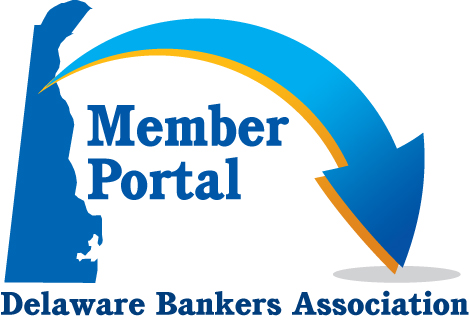 Have you checked out the Delaware Bankers Association's new online members portal? The portal will provide members easy access to update their personal information and to register and pay online for upcoming DBA events! Log into the portal via the link below, and use the Personal Profile link (on the left hand sidebar) to create your log in.

Questions, suggestions, or comments? Please email Corinne Stayton: corinne.stayton@debankers.com

ABA Announces Changes in CTFA Designation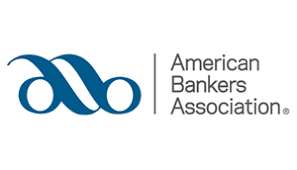 To help ensure that the CTFA professional certification remains relevant in the marketplace, ABA—in consultation with practitioners, certification holders and the CTFA Advisory Board—has announced that the designation will now be known as the Certified Trust and Fiduciary Advisor (retaining the same acronym: CTFA). This change reflects the evolving client relationship skills necessary to be a successful wealth manager. Along with the new name, the CTFA exam outline has also been expanded and reorganized to reflect these changes. However, most of the expected knowledge and eligibility requirements for the exam remain the same. Finally, the scope of eligibility for exam candidates has been expanded to include regulators with a state or federal regulatory agency who provide fiduciary regulatory oversight. These revisions will become effective on Dec. 1, 2020.
Northern Trust Insights Live Webinar - August 18th

Join Northern Trust experts, Carl Tannenbaum, Chief Economist, Jim McDonald, Chief Investment Strategist, for a discussion on economic recovery and setbacks amid COVID-19 and our expectations for markets going forward. August 18, 11:00 a.m. ET.
BMT Market Insights:
Equities Continue to Climb the Wall of Worry

Since the beginning of the third quarter 2020, the S&P 500 Index has risen over 7%, not including dividends, and is nearly at an all-time high despite rising COVID-19 cases across many states and an increased probability of a Democratic sweep during the November election. Irrespective of one's political views, an across the board Democratic victory increases the chances of higher taxes and more regulations, which could impede corporate profits – a scenario not typically welcomed by investors. The question we are asking – "is an equity market correction overdue?" as we enter the seasonally weak period from early August through the end of September.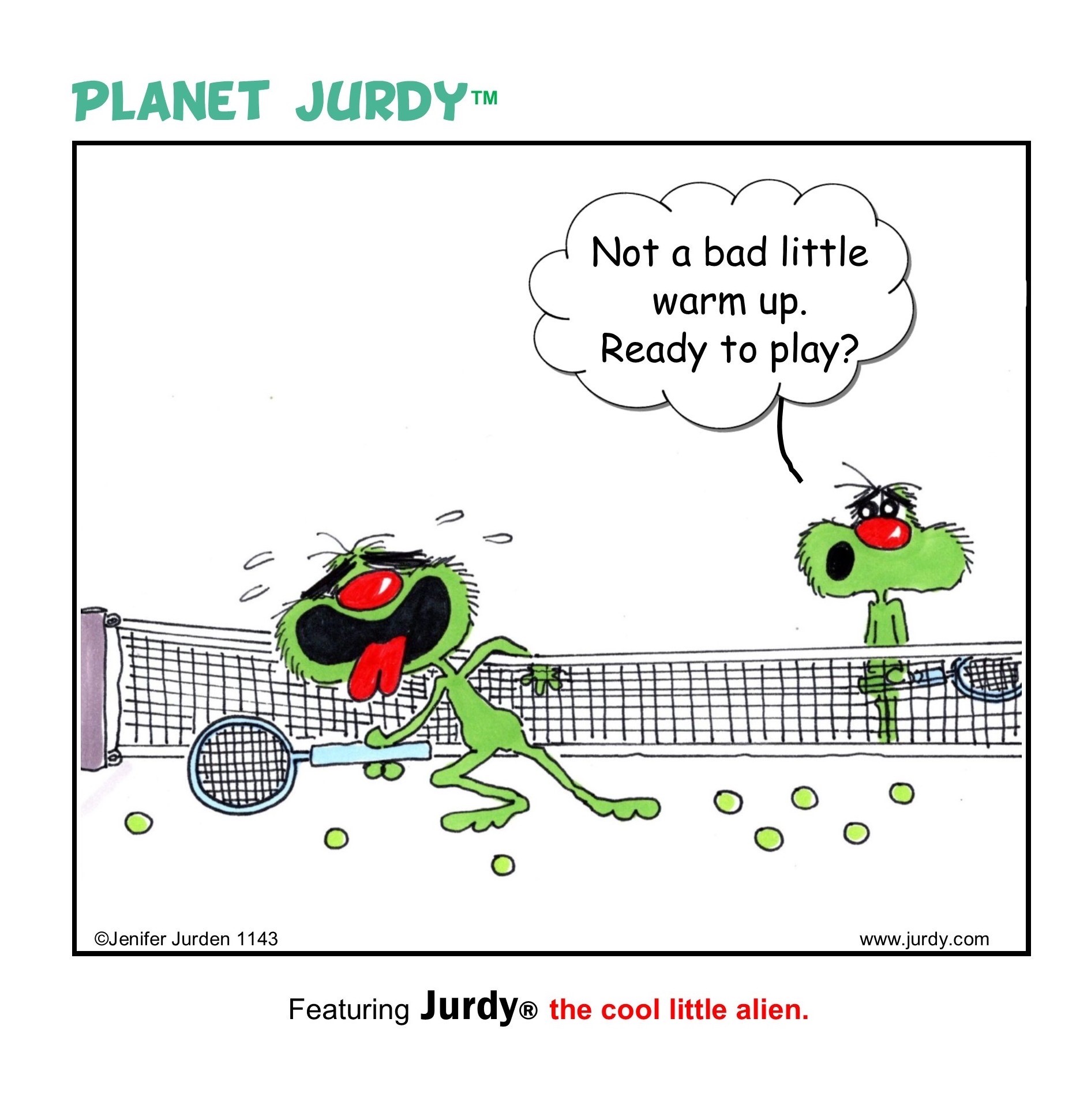 Jenifer Jurden is a Cartoonist from Wilmington who has graciously provided her Planet Jurdy cartoons for the DBA Digest. Jurdy® is her other-worldly "Hero of Happyness" whose cartoons bring levity to humans worldwide.
Richards, Layton & Finger's Mark Collins
Helps with "Creating a Pathway Forward"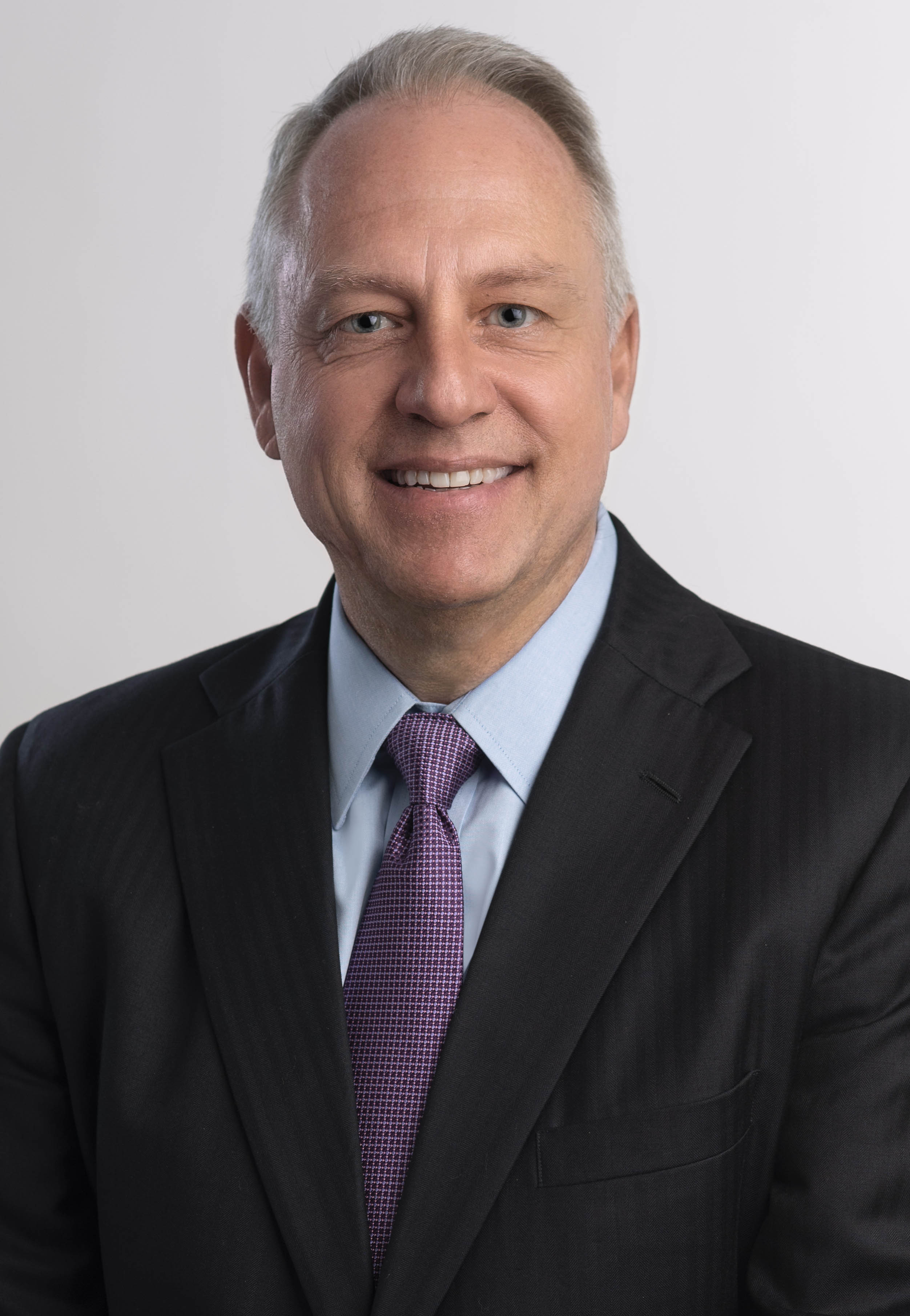 Richards, Layton & Finger director Mark D. Collins has been named in the inaugural Lawdragon 500 Leading U.S. Bankruptcy & Restructuring Lawyers. In the wake of COVID-19, Lawdragon has assembled a list of lawyers who have demonstrated "remarkable skills in financing, structuring, litigating and creating a pathway forward." Collins, recognized as a leading bankruptcy lawyer both in the U.S. and internationally, has been involved in hundreds of significant bankruptcy cases in Delaware. A fellow of the American College of Bankruptcy, he is top ranked in virtually every major legal directory and has been named a Star Individual in Chambers USA since 2012.


Troutman Pepper: Federal Reserve Adds Nonprofit Loan Facilities and Other Updates to the Main Street Lending Program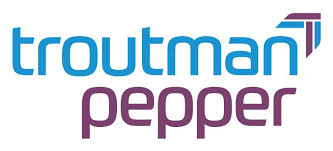 Since mid-July, the Boston Fed has updated the business MSLP FAQs twice (releases on July 15 and July 31) with additional details and clarifications. Significant changes and additions to the existing FAQs for MSLP facilities to for-profit Eligible Borrowers include: Specific guidance on determining when an Eligible Borrower that is a pass-through entity, such as a partnership or limited liability company, would be in compliance with the CARES Act restrictions on compensation and capital distributions.


Starting September 14th - Wilmington University:
Diversity, Leadership, and Innovation at Work




Wilmington University is excited to announce the introduction of our brand-new professional development course, Diversity, Leadership, and Innovation at Work. This online course offers hands-on training in high-demand skills, led by real-world-experienced instructors, to anyone seeking to enrich their career or personal development. Upon completion of this course, participants will be able to: 1. Understand key diversity and inclusion concepts, as well as their impact on the world of work. 2. Describe the importance of effective leadership in achieving and maintaining a diverse workforce. 3. Demonstrate the impact of workplace diversity on organizational success. The three-week, non-credit course has been changed to beginning on Monday, September 14th. Upon completion of the course, participants are eligible to apply one (1) college credit toward a Human Resource or equivalent academic program.

| | |
| --- | --- |
| | For more information on DBA programs and events visit www.debankers.com or click on the logo at right to redirect to our website. |


Delaware Bankers Association
8 W. Loockerman Street
Dover, DE 19903