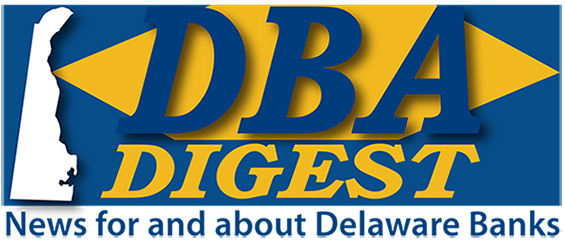 July 13, 2018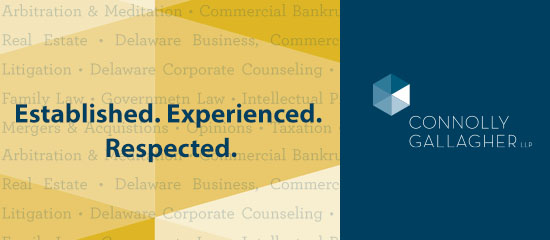 Volunteer Opportunities -
Kids Day at the Delaware State Fair - July 24th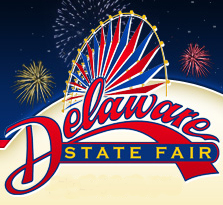 Volunteers opportunites are still open for the Delaware Bankers booth at Kids Day at the Delaware State Fair! Volunteers will greet vistiors, read stories, handout Savers Club kits, and more! The Great Investo and Penny will be performing two shows filled with Money Magic! Follow the link below for full schedule and registration information. Fair tickets are required. Registration is $25.00 per person and includes your admission and a $10 food voucher. Volunteers are welcome to wear their bank's shirts! And even if you're just coming to the fair you can use the registration and voucher for a day of fun! Kids under 12 may attend Kids Day free! Here the full schedule of Fair Events.


Save the Date: DBA Cybersecurity Meeting - July 26th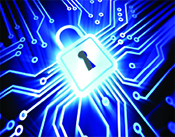 The next DBA Cybersecurity meeting will be held on Thursday, July 26th at the Delaware Information and Analysis Center (DIAC) in Dover. DIAC helps safeguard the community by serving as a dynamic security nexus. To detect, prevent, investigate and respond to criminal and terrorist activity, they disseminate intelligence and facilitate communications between state, local, federal agencies and private sector partners, to help them take action on threats and public safety issues. During the meeting we'll take a tour of the facility, learn more about the center and how we can interact with them, and have a Q&A session! The meeting will run from 9:00 AM – 12:00 noon. To register for this event and for more information, please email Corinne.Stayton@debankers.com. For more information on DIAC click on the link below.


Women Connect - August 15th - Dover Downs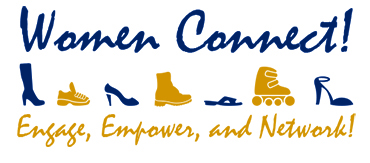 Join us for the next Women Connect event, August 15th, 8:30 a.m. to 1:30 p.m. at Dover Downs. Congresswoman Lisa Blunt Rochester will be the keynote speaker sharing her insights on issues affecting families in the State of Delaware. Other panels will feature conversations on integrating work/life issues, and a roundtable discussion with Delaware State Senators and Legislators. The event will also include a networking lunch. Don't miss this exciting, uplifting time to Connect! See the link below for the full agenda and registration form! Sponsorships also available! Join Silver Sponsor: The Bryn Mawr Trust Company of Delaware. Register today! Space is Limited!


2018 Delaware Trust Conference
Early-Bird Discounted Registration
NOW through July 31st!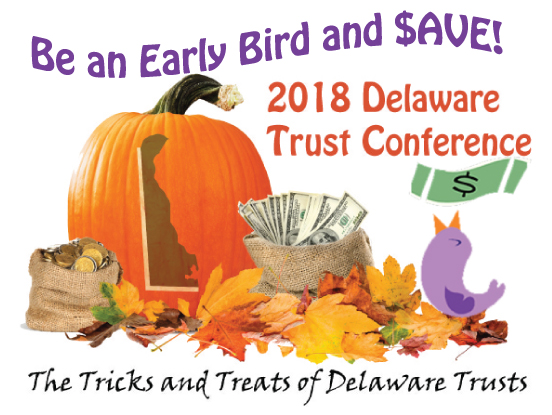 Attention Wealth Professionals! Discounted Early-Bird Registration for the 2018 Delaware Trust Conference is now open! This year's conference, the 13th annual, will feature the Tricks and Treats of Delaware Trusts! Learn all the tricks you need to treat your clients at this premiere wealth management event highlighting the advantages of Delaware trusts! Visit the Trust Conference webpage for the agenda and discounted registration form. Sign up today! Discounted registration ends July 31st!


WSFS Announces Leadership Succession Plan Mark A. Turner to be elevated to Executive Chairman of the Board Rodger Levenson to be named President and CEO



WSFS Financial Corporation, the parent company of WSFS Bank, announced that effective January 1, 2019, Mark A. Turner, Chairman, President and CEO, will become the Executive Chairman of the Board of Directors and that Rodger Levenson, WSFS' Executive Vice President and Chief Operating Officer, will become the Company's President and Chief Executive Officer and a member of the Board. As Executive Chairman, Mr. Turner will lead the Board of Directors with Lead Independent Director Eleuthère I. du Pont and facilitate the seamless transition to Mr. Levenson. He will also leverage his decades of experience in and knowledge of local markets and the banking industry to serve as an external champion for the Company, further enhance WSFS' culture and reputation, and help shape the next chapter of the Bank's growth story.


BNY Mellon: Realizing Women's Full Financial Potential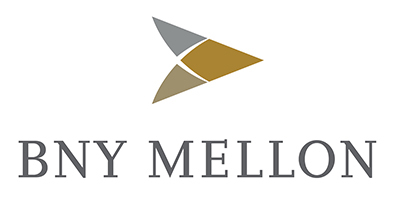 Globally, women influence or control more than 25 percent of wealth, but a lack of access to affordable financial products and services can hold them back. BNY Mellon helps increase women's financial inclusion to improve their lives, communities and society. Once women establish a financial footprint by opening checking or savings accounts, they can build their financial empowerment through the use of payment systems and loans, which help women achieve financial health and enable them to mitigate risk and plan and save for the future.


Maximize AmazonSmile Donations on Prime Day - July 17th - And Help Fund Financial Literacy in Delaware!



Amazon's fourth-annual Prime Day is coming up on Tuesday, July 17 and will feature one-of-a-kind deals exclusively for Prime members. This is one of the biggest shopping days of the year and a great time to remind your supporters to shop at smile.amazon.com and Amazon will donate to Delaware Financial Education Alliance. AmazonSmile is a simple and automatic way for you to support the DFEAevery time you shop, at no cost to you. When you shop at smile.amazon.com, you'll find the exact same low prices, vast selection and convenient shopping experience as Amazon.com, with the added bonus that Amazon will donate a portion of the purchase price to the DFEA and their efforts in financial literacy in the First State!


BMT ECONOMIC & MARKET QUARTERLY, SUMMER 2018:Global Economic Growth Divergence



The Summer issue of BMT Wealth Management's Economic & Market Quarterly analyzes economic growth in the United States, economic conditions internationally, and the recent performance of domestic equities (comparing the S&P 500 to international indices) and the fixed income markets. It also offers our outlook for the economy and financial markets going forward. Economic growth is showing no visible signs of abating in the United States. This is in spite of all the negative headlines surrounding tariff impositions and the threats of a global trade war between some of America's largest trading partners. In fact, a case could be made that U.S. economic growth is accelerating, which is almost unfathomable, given that it has been roughly nine years since the end of the last recession.


Richards Layton's Doneene Damon Named One of 2018's "Most Influential Black Lawyers"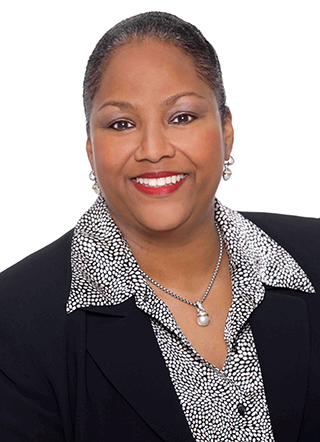 Doneene K. Damon, a director of Richards, Layton & Finger, has been honored as one of Savoy magazine's 2018 "Most Influential Black Lawyers." Identifying lawyers who are visionaries, leaders, and advocates, Savoy's annual list features African-American partners from top law firms and general counsel from Fortune 1000 companies who have demonstrated exceptional legal achievement and leadership. Ms. Damon is executive vice president of Richards Layton, co-chair of the firm's Business Department, and chair of the Corporate Trust and Agency Services Group. In addition to her key roles within the firm, Ms. Damon has held many leadership positions in the American Bar Association, the Delaware State Bar Association, and other legal organizations, and serves on the boards of the Delaware Prosperity Project and the Lawyers Committee for Civil Rights under Law. She is currently the chair of the board of directors of Christiana Care Health System.
Law Firm Gawthrop Greenwood named to "2018 Best Places to Work" by Philadelphia Business Journal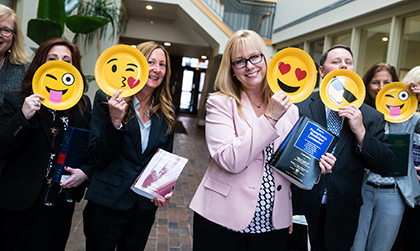 Gawthrop Greenwood, PC, a full-service law firm with offices in Greater Wilmington, DE, and West Chester, PA, has been named to the 2018 list of "Best Places to Work" by the Philadelphia Business Journal. The only law firm to be honored in its category, Gawthrop Greenwood, PC is also a 2016 recipient of "Best Places to Work." Each year, the publication teams up with Quantum Workplace to find the very best workplaces in the region based on employee surveys that tabulate work environment, personal growth, professional development, people and ability to embrace new ideas. Finalists from each category of "Best Places to Work" will be published in a special section of the Philadelphia Business Journal. They're also invited to attend an exclusive awards reception on August 2, 2018.
Cover & Rossiter New Location -
Little Falls Centre One, Delaware
Cover & Rossiter is excited to announce that on July 2, 2018, we relocated from their Rockford Road office to their new office located on the first floor of Little Falls Centre One, Wilmington. Little Falls Centre One is conveniently located on Centerville Road between Lancaster Pike and Faulkland Road. "We recognized that in order to be a CPA and advisory firm positioned for growth well into the future, we needed a new location to support our expanding client base," said Managing Director, Marie Holliday.
Belfint Lyons & Shuman, CPAs Announces Firm Promotions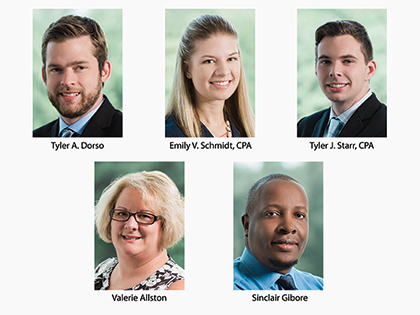 It is with great pleasure that Belfint, Lyons & Shuman, P.A. (BLS), a certified public accounting and consulting firm with offices in Delaware and Pennsylvania, announce the following well-earned promotions. Tyler Dorso has been promoted to Senior Accountant in the firm's Tax & Small Business Department. Emily Schmidt, CPA has been promoted to Senior Accountant in the firm's Accounting & Auditing Department. Tyler Starr, CPA has been promoted to Staff II Accountant in the firm's Rotational Development Program. Val Allston has been promoted to Lead Bookkeeper in the firm's Tax & Small Business Department. Sinclair Gibore has been promoted to Senior IT Specialist in the firm's subsidiary, BL&S Technologies.
Ballard Spahr: Key Developments in the
Mortgage Banking Industry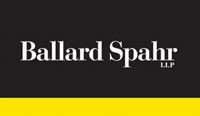 The CFPB recently issued a statement regarding the partial exemption from Home Mortgage Disclosure Act (HMDA) reporting requirements for certain lower mortgage-volume depository institution lenders that were adopted in the Economic Growth, Regulatory Relief, and Consumer Protection Act.
| | |
| --- | --- |
| | For more information on DBA programs and events visit www.debankers.com or click on the logo at right to redirect to our website. |


Delaware Bankers Association
8 W. Loockerman Street
Dover, DE 19903