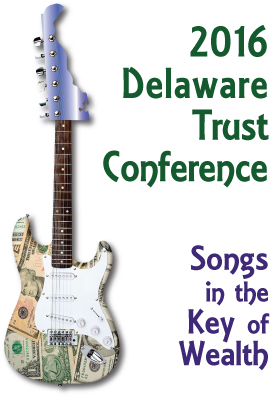 October 25th & 26th
Chase Center on the Riverfront
located at 815 Justison Street, Wilmington, DE 19801
The 2016 Delaware Trust Conference offers attendees a harmonious wealth planning experience with "Songs in the Key of Wealth!"Make sure your company is represented at the 11th annual edition of this unique event! Join these prestigious sponsors...
Platinum Sponsor

Diamond Sponsors



Gold Sponsors
Connolly Gallagher LLP
Cooch & Taylor, P.A.
Glenmede
Gordon, Fournaris & Mammarella, P.A.
J.P.Morgan Trust Company of Delaware
PNC Delaware Trust Company
RBC Trust Company (Delaware) Limited
Richards, Layton & Finger, P.A.

Silver Sponsors
BNY Mellon Wealth Management
Brown Advisory
Brown Brothers Harriman Trust Co. of Delaware, N.A.
The Bryn Mawr Trust Company of Delaware
Charles Schwab Trust Company of Delaware
Commonwealth Trust Company
Deutsche Bank Trust Company Delaware
Fiduciary Trust International
Morris James LLP
Morris, Nichols, Arsht & Tunnell LLP
The Northern Trust Company of Delaware
SunTrust Delaware Trust Company
Young Conaway Stargatt & Taylor, LLP
Bronze Sponsors
Atlantic Trust Company of Delaware
Belfint, Lyons & Shuman, CPAs
Cover & Rossiter, P.A.
Capital One
Citi Private Bank
Delaware Economic Development Office
Duanne Morris LLP
FideliTrade
Heritage Auctions
K&L Gates LLP
Newton One, LLC
New York Private Trust Co., a Delaware trust co.
Santora CPA Group
US Trust Bank of America
Exhibitors
Broadridge Financial Solutions, Inc.
First Republic Private Wealth Management
First State Trust Company
Management Planning, Inc.
Promontory Interfinancial Network, LLC
RBC Trust Company (Delaware) Limited
Reich & Tang
Santora CPA Group
Weiner Benefits Group
WealthHub Solutions, LLC
University of Delaware