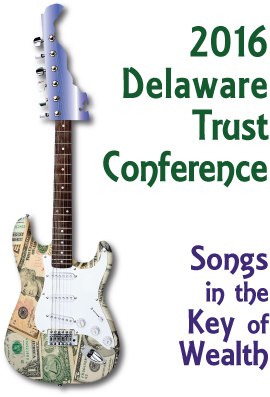 October 25th & 26th
The Chase Center on the Riverfront
Wilmington, DE
Thank You to all our
Sponsors,
Exhibitors,
Speakers,
Attendeees,
and Everyone who helped make this another great Delaware Trust Conference!
See You Next Year!

Platinum Sponsor

Diamond Sponsors


Gold Sponsors
Connolly Gallagher LLP
Cooch & Taylor, P.A.
Glenmede
Gordon, Fournaris & Mammarella, P.A.
J.P.Morgan Trust Company of Delaware
PNC Delaware Trust Company
RBC Trust Company (Delaware) Limited
Richards, Layton & Finger, P.A.
Silver Sponsors
BNY Mellon Wealth Management
Brown Advisory
Brown Brothers Harriman Trust Co. of Delaware, N.A.
The Bryn Mawr Trust Company of Delaware
Charles Schwab Trust Company of Delaware
Commonwealth Trust Company
Deutsche Bank Trust Company Delaware
Fiduciary Trust International
Morris James LLP
Morris, Nichols, Arsht & Tunnell LLP
The Northern Trust Company of Delaware
SunTrust Delaware Trust Company
Young Conaway Stargatt & Taylor, LLP
Bronze Sponsors
Atlantic Trust Company of Delaware
BDO
Belfint, Lyons & Shuman, CPAs
Cover & Rossiter, P.A.
Capital One
Citi Private Bank
Delaware Economic Development Office
Duanne Morris LLP
FideliTrade
Heritage Auctions
K&L Gates LLP
Newton One, LLC
New York Private Trust Co., a Delaware trust co.
Santora CPA Group
US Trust Bank of America