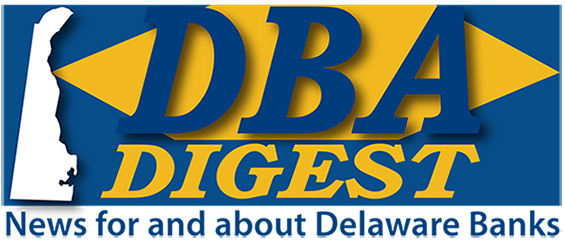 April 5, 2019

Governor Carney Proclaims "Teach Children to Save Week"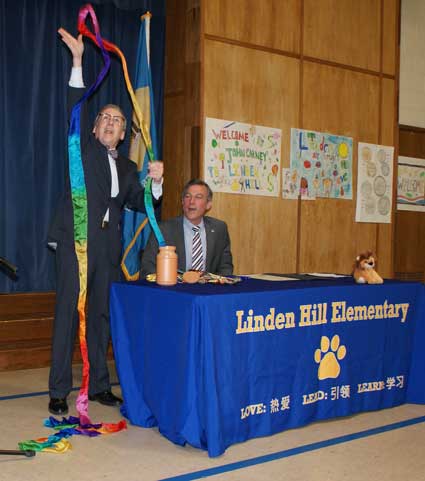 DBA's Greg Koseluk demonstrates the magic of compounding to Governor John Carney and students of Linden Hill Elementary at Wednesday's proclamation signing event.

Governor John Carney proclaimed the week of April 8th "Teach Children to Save Week" in the First State. The Governor signed the proclamation in a ceremony on Wednesday, April 3rd, at Linden Hill Elementary School, 3415 Skyline Dr, Wilmington, DE 19808. The DBA's Greg Koseluk used magic tricks to illustrate the importance of saving, and Dr. Bonnie Meszaros of the Center for Economic Education and Entrepreneurship spoke on the impact of the Teach Children to Save program. The school choir also sang: America the Beautiful. Special Guests included: State Treasurer Colleen Davis; State Bank Commissioner Robert Glen; State Representative Michael Smith; and, Red Clay School District Superintendent Dorrell Green.




Teach Children to Save Day is Next Week!
Volunteers: Don't Forget to View the Training Video!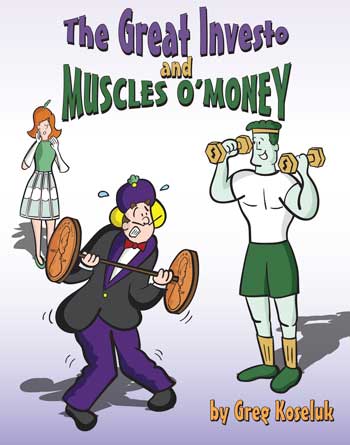 Attention Banker Volunteers, Teach Children to Save Week is here! Don't forget to watch the instructional training video to prepare for your lesson! The video can be found on the DBA's Teach Children to Save page (linked below) or on the DBA YouTube page.


Registration Now Open for the Next
Women Connect Event - May 7th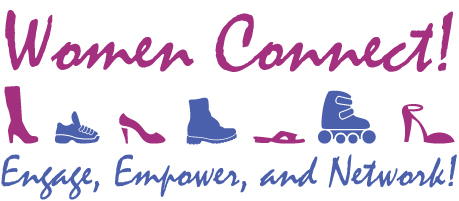 Registration is now open for the next Women Connect event to be held at Deerfield Country Club in Newark on May 7, 2019 from 8:30 AM – 4:00 PM. The conference will focus on personal, community, family, and professional well-being. The program features: keynotes from Mark A. Turner, Executive Chairman, WSFS, and Kathy Jennings, Delaware Attorney General; panel discussions on leadership and well-being; and financially empowering girls and young women through education. The afternoon sessions will feature speed sessions on Financial Fitness, Philanthropy, and Community. See the flyer (linked below) for the full agenda and registration form. Sponsorships are also available! Join Silver Sponsors: Bryn Mawr Trust Company of Delaware, Capital One, Charles Schwab Trust Company of Delaware, and Gordon, Fournaris & Mammarella (also found via the link below).



Registration Now Open for DBA Annual Dinner - May 16th!
Keynote Speaker: Jelena McWilliams, FDIC Chair!
Sponsorships Available!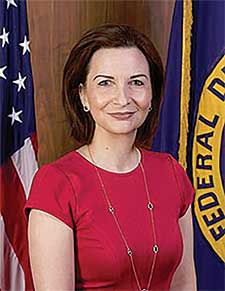 Don't miss the 124th Annual DBA Dinner, May 16th, at the Hotel duPont in Wilmington. We're honored to announce the evening's keynote speaker will be Jelena McWilliams, the 21st Chairman of the FDIC. Sponsorships are now available! Join Platinum Sponsor: Federal Home Loan Bank of Pittsburgh; Gold Sponsor: Young Conaway Stargatt & Taylor, LLP; Silver Sponsors: Connolly Gallagher LLP; Pepper Hamilton LLP; Richards Layton & Finger, P.A.; Bronze Sponsors: Gunnip & Company, CPAs; McCollom D'Emilio Smith & Uebler LLC; Potter Anderson Corroon LLP; Reception Sponsors: CAPCO; Santora CPA Group; Weiner Benefits Group; and Wine at Dinner Sponsor: Belfint, Lyons & Shuman, P.A.
Bank Table Sponsorships are also available; join: Barclays; MidCoast Community Bank; Sallie Mae; and, WSFS Bank!


David G. Bakerian Scholarship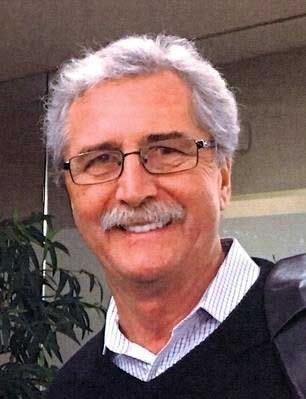 Contributions are still being accepted for the David G. Bakerian Scholarship fund. Previously known as the Keys to Financial Success Scholarship, the award was renamed in honor of past DBA President David G. Bakerian who passed away in October. David was a strong advocate of education throughout his life. The scholarship is open to Delaware students who participate in the Keys to Financial Success elective, and is decided on the basis of an essay on the importance of financial literacy education. The scholarships will be awarded at the DBA's Annual Meeting and Dinner on May 16th. Those interested in contributing, please send checks made payable to: The Delaware Financial Education Alliance. Please indicate "David Bakerian Scholarship" in the notation line. Checks may be mailed to: Delaware Financial Education Alliance, P.O. Box 494, Dover, DE 19903. Attn: Renee Rau


Geoffrey Rogers Elected to The Nemours Foundation Board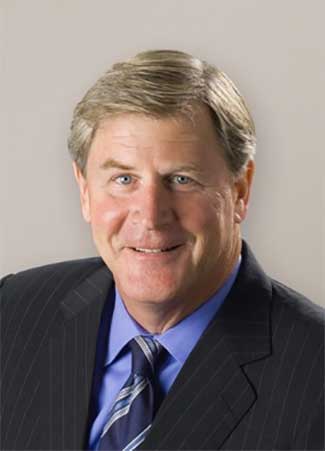 Robert G. Riney, Chairman of the Board of The Nemours Foundation, and Hugh Durden, Chairman of the Alfred I. duPont Charitable Trust, today announced the election of Geoffrey Rogers and Richard Walsh to The Nemours Foundation Board of Directors. Mr. Rogers is a Regional Managing Director for Glenmede Trust Company, Wilmington, Delaware and Mr. Walsh is Chairman and CEO of the Knob Hill Companies, a media, investment and strategic consulting firm in Orlando, Florida.


Taylor Bank's Alysson DuPont Earns MBA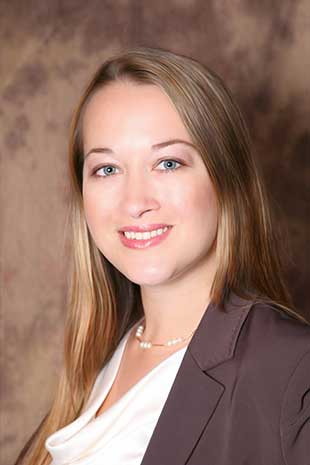 Alysson DuPont recently received her MBA from University of Maryland University College. Mrs. DuPont joined Taylor Bank in March 2008 and currently serves the bank as Vice President and Director of Human Resources. The announcement was made by Raymond M. Thompson, President and Chief Executive Officer. Thompson stated, "We feel very fortunate to have Mrs. DuPont on our team of banking professionals, and proudly congratulate her on this great achievement." DuPont also holds a Bachelor of Science Degree in Business, from Salisbury University, and is a Senior Certified HR Professional from the Society of Human Resource Management. She will participate in UMUC's commencement ceremony in May.


BMT Market Summary - Spring Has Sprung!





The calendar has transitioned to a new season of the year, and the differing and volatile weather patterns often associated with March can sometimes be seen playing out in the financial markets. Global equity markets moved up nicely from the lows of December 2018 and have recovered a good portion of the damage coming off their peak levels of September/October 2018. Of note, U.S. equity markets turned in their best first quarter performance since 1998. Also, the S&P 500 Index recorded positive returns in each of the first three months of 2019. After the Federal Open Market Committee's (FOMC) announcement and post-meeting press conference on March 20 indicating the central bank's intentions to hold rates steady (no increases in 2019), equity markets first rallied then stumbled on March 22 to close out that week before regaining positive ground.


You're Invited to the 5th Annual Delaware Pathways Conference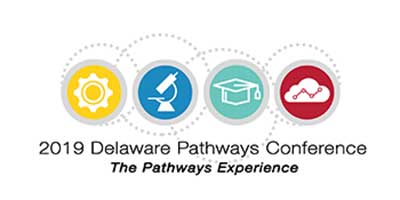 On April 8th, 2019, 8:00 a.m. to 2:00 p.m. employers, educators, school administrators, school counselors, parents and guardians, community-based organizations (CBOs), legislators and policymakers are invited to the Dover Downs Conference Center to learn more about the steps we're collectively taking to prepare all youth for career success. Central to this year's conference is the Pathways Experience, which is an opportunity for participants to interact with teams of students and educators from across the state, who will be ready to answer questions about their work, what Delaware Pathways has meant to them and share their first-hand experiences! Breakfast and lunch will be provided.



American Mortgage Conference: April 29th - May 1st at the Pinehurst Resort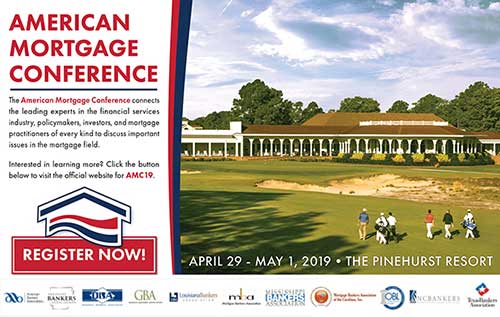 The American Mortgage Conference connect the leading experts in the financial services industry, policymakers, investors, and mortgage practitioners of every kind to discuss important issues in the mortgage field. Click the button below to visit the official website for more information.



Cover & Rossiter One of Five Firms Selected by AICPA for a Diversity Internship Program


Cover & Rossiter is pleased to announce they have been selected by the American Institute of CPA's to participate in the new Private Companies Practice Section (PCPS) George Willie Ethnically Diverse Student Scholarship and Internship program. Each selected firm will partner with the AICPA's PCPS to co-sponsor one student for an internship during the 2020 tax season (January through April). The AICPA will then award up to $20,000 per student to help with tuition costs during their final academic year. "Diversity is an important value to our firm and we couldn't be more honored to be selected to participate in this inaugural diversity internship program developed by the AICPA," said Marie Holliday, Managing Director. This internship program honors George Willie, former chair of the AICPA's PCPS Executive Committee and the AICPA Minority Initiatives Committee, who was a regular advocate for accounting careers and urged students to pursue CPA licensure.
Ballard Spahr Alert: Third Circuit: FACTA Class Plaintiff Lacked Concrete Injury Required for Standing Under Spokeo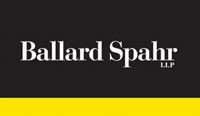 In a precedential opinion, the U.S. Court of Appeals for the Third Circuit concluded that because the named plaintiff in a class action complaint failed to allege a concrete injury, he lacked standing under Article III of the U.S. Constitution to bring an action against a retailer for a violation of the Fair and Accurate Credit Transactions Act (FACTA). The plaintiff alleged that the retailer violated the FACTA provision that limits the digits of a credit card number that can be printed on a receipt to no more than the last five. He claimed that the receipts he received from the retailer included the first six digits of his credit card number.
Pepper Hamilton Webinar: Mitigating Risk In The Merchant Cash Advance Industry - April 18 - 5:30 - 6:30 p.m.


As the merchant cash advance (MCA) industry is trying to achieve wider acceptance as a source of small business financing, there are a number of risks that need to be considered and mitigated. Among these are the securities laws that pertain to this space, which can be confusing and difficult to interpret. Please join us for a discussion on MCAs with a team of Pepper attorneys who will cover the full spectrum of issues — from regulation through litigation. Topics will include: Review of recent MCA court decisions; Securities-related risks; California disclosure rules; MCA contracts (including the use of guarantees and confessions of judgment); Stacking; and, Litigation update. This seminar is being offered as an in-person networking event in Pepper's New York office and nationally as a webinar for attendees outside the New York metro area. Follow the link below for registration information.
| | |
| --- | --- |
| | For more information on DBA programs and events visit www.debankers.com or click on the logo at right to redirect to our website. |


Delaware Bankers Association
8 W. Loockerman Street
Dover, DE 19903